Hey folks! Transparency Disclosure- Some of the links in this article are affiliate links. That means I'll receive a small commission if you decide to click on it and buy something. Don't worry, it doesn't cost you anything extra!
Sixteenth Month Update
Welcome to our sixteenth month update! This was our third month in row where we had over 1000 users, which was one of my major blog goals! And, we hit it this month without any huge features or viral pins! In think that's a huge win.
But first, I have to acknowledge that we started recording our stats a little differently this month. Instead of going from the 27th to the 27th of each month, I decided to look at the month in full. This was the perfect time to transition, since February only has 28 days. So, our sixteenth month report is for the full month of March!
Posting
I'm still doing an awesome job of being consistent with my blog posting schedule. And the best part is that it's becoming a habit! It's easy for me to come home and write up a blog post now, whereas in the past it was more of a struggle. We posted a new blog post every Thursday and Sunday, and we even managed to record new episodes of My Boyfriend Sucks with Money every week! That's a lot of work, but I'm happy to have the consistency.
Readership
We are still doing an amazing job with our readership. As I said above, we had over 1000 users for the third month in a row. Although we had fewer users than the last few months, we didn't have any viral pins or huge features (until the last day of the month – and we hit 1000 before that! But thank you Camp Fire Finance!).
We are seeing pretty consistent daily traffic, and that for me is a huge win. We averaged about 35-45 users per day, and only had four days with less than 30 users. But to be fair, two of those days were due to Google losing our tracking code after our redesign (more on that below!). I'm certain that we had more users during those two days that weren't recorded. The stats are even better than that too! We only had 11 days with less than 40 users this month. That means we had over 40 users for more than half of the month! That's freaking spectacular!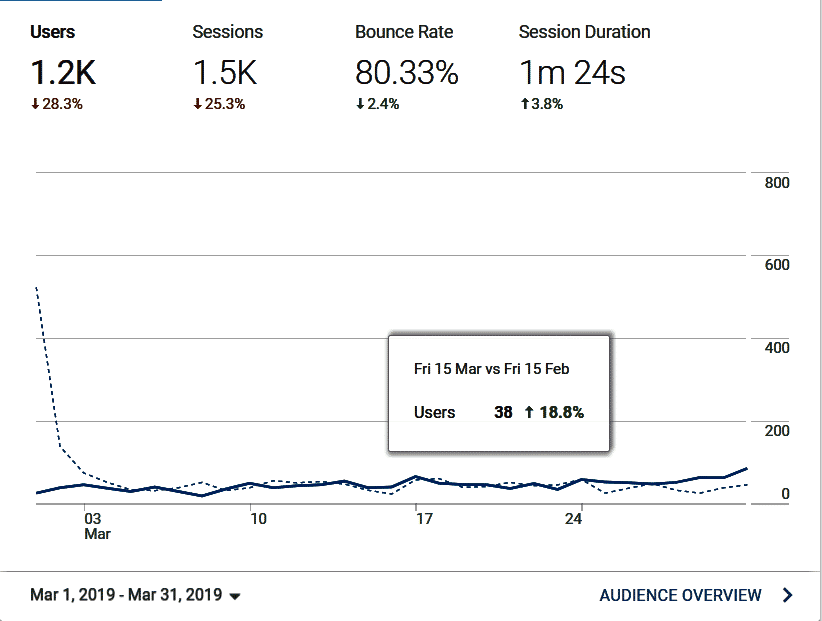 Traffic Drivers
Social Media
Social Media was the top driver of traffic to Partners in Fire during our sixteenth month blogging. Pinterest was the clear winner yet again (seriously, you need to get Tailwind!), but Twitter and Facebook are still bringing in consistent traffic. In total, we had 652 visitors from social media this month.
Pinterest
Pinterest continues its reign as the number one social media network for traffic in our sixteenth month, and this was without any viral pins! My new pins on what to do when you have nothing and my no spend February performed very well during this period. My other top performing pins are adult conversations and how to become a Twitch affiliate. One of the great things about Pinterest is that good pins can last a very long time and drive traffic to your site consistently. That's why getting a pin scheduler like tailwind is such an important investment. Use my code and get your first month free!
Click here to get one month free on tailwind
Overall, we had 480 users coming to the site from Pinterest. That's almost half of my blog traffic, and 200 more than last month. Pinterest is an amazing tool and I'm glad I'm finally figuring it out!
Twitter
Twitter came in as my second biggest source of social media traffic this month. My post "What to do when you have nothing" really resonated with a lot of people, and it was shared quite a bit on the platform.
I think this goes to show how important it is to write and share content that has an empowering or hopeful message. I could write solely about "traditional" finance topics such as returns, portfolios, mortgages, and investment vehicles; but let's face it, that stuff is rather dry. I get that it's important, but most people want a more human element – they want to read articles that they can relate to. It's important to share those every now and then.
I think another reason whey I got so many more users from Twitter is that I tried really hard to share an old post every day. Those didn't get tons of interaction, but it's nice to get your old stuff circulating again. I used to feel weird about reposting the same article, but then I realized that the lifespan of a tweet is so short that it doesn't really matter. You also probably have a bunch of new followers who didn't see it the first time (or first few times!) so you can't hold out on them! I think that really helped drive my traffic.
Facebook
Facebook traffic during my sixteenth month blogging was lower than the previous few months. We had 56 users from Facebook this month compared to 76 last month. I find this strange because I actually achieved my goal of getting to 200 likes (we got nearly 20 new likes this month!) but that didn't translate into more page views.
I'm still trying to post engaging content, but maybe my definition of engaging is different than other people's, because I'm not getting consistent likes or shares. Now that I've reached that 200 likes threshold, I'm going to start experimenting a little with the content I post on Facebook to see what people like and share the most. Hopefully I'll have a better idea of how to parlay Facebook likes into blog traffic soon!
Instagram
I got a big fat 0 users from Instagram this period. I wonder if I'm getting a few clicks from Linktree but it's being recorded as something else? I'm really not sure, because I grew my Instagram following by about 100 this month (up to 1640!). Instagram has never been a top traffic source, but I've had at least one or two per month consistently until this month.
But I'm not actually growing my Instagram to drive blog traffic (Clearly, since I've never gotten a lot of traffic from it). I'm trying to grow my Instagram because I hope to turn this blog (and everything that goes with it) into a money-making venture. Instagram is a great platform for making money via sponsored posts – if you have the followership. I would love to grow my Instagram to the point where companies I value would be willing to partner with me to share their brand. I also still want to get to 10K so that I can add links to my story, I'll get there someday!
Other
I actually had seven users from other social media type sites visiting my blog this week. We had three from Blogger, one from WordPress, and strangely enough, three from reddit. Now I love reddit for personal browsing, but I've never actually posted my blog to it (that I can remember), so I'm kind of curious as to what subreddit the traffic came from! Unfortunately, I don't know how to find that out.
Organic search
Organic search was our second biggest driver of traffic during our sixteenth month. We had 312 users visit our website through organic search, which is pretty consistent with last month. One of my main blog goals for the remainder of the year is to up my SEO game and increase the number of users that find us through organic search. I want to put my traffic eggs in multiple baskets.
Unfortunately, I don't have any real plan or idea of how to do that. I think I will start with writing more cornerstone content on the items that people are already finding us for (I have a whole lot to say about coast fire and barista fire anyway!) and I will try to do more guest posting to get high quality back links. Content and links are the keys to SEO, right? I guess I will find out!
Direct Hits
We had 273 users come to our website via direct hit during our sixteenth month. I still think some of these were in fact referrals, and I don't quite understand why traffic from some sites is considered direct while traffic from others is considered referral traffic. Maybe that's something I should work on figuring out this year as well!
Many of the direct hits are also due to our awesome subscribers, who get new Partners in Fire posts directly in their inbox! If you aren't subscribed yet, what are you waiting for? Sign up today!
Referral Traffic
Our final traffic driver was referral traffic. We only had 13 users referred from other sites this period, but most of these were totally legitimate! Thank you, Camp Fire Finance for featuring us and thank you Tread Lightly Retire Early for referencing us in your post! These links were definitely nice surprises!
Content
I love the content that I published this month (and I hope you did too!). My favorite was the post I got to reference Buffy in – What to do when you have nothing. That post was actually Emma's idea, and I'm so glad I was able to put a positive spin on it! I also wrote posts about splurging on travel, the American dream, how to not spend your money, and two posts on using POD websites as a side hustle. My goal is to publish a diverse mix of content every month. Every reader may not like every article I publish, but my hope is that at least one article per month will speak to every reader. I think that mixing it up and writing about a variety of topics each month will help me achieve that.
We also consistently recorded new episodes of My Boyfriend Sucks with Money throughout March. It was super nice to get back into the swing of things with the podcast. Recording is kind of therapeutic for us, and I know it's entertaining for you! We got down and dirty with Brian's budget, and he learned why it is so incredibly important to have an emergency fund. I think he made a ton of progress this month!
Thinking of starting a blog? Host it with Bluehost for less than $4 per month!
Monetization
I'm still working on monetizing the blog and I'm still failing at it. But I did something a bit crazy this month that I think will help. In case you haven't noticed, Partners in Fire got a complete redesign. I changed the theme, the background, the photos, and I even changed to a dynamic home page. I also added a legal page for disclaimers and privacy, and a "partner with us" page. The redesign made us look way more professional, don't you think?
I also created my first ever media kit, which I haven't shared it with any companies yet. But making it is half the battle, right? In addition, I signed up for many of the websites that offer to connect blogs with brands, including tapfluence, webfluential, and blog meets brand. I haven't had any viable connections with any of these websites yet, but I thought it would be a good place to start.
I also made a whopping sixty-eight cents on Amazon this month, which is like four times what I made last month! Totally moving up in the world!
What's Next?
We achieved our goal of getting over 1000 page views for three months in a row! Our next big goal is to get to 2000 monthly users, and to get over 20 users a day via organic search. I think that's incredibly doable with the SEO strategy that I outlined above (like the way I call my lack of a plan an "SEO strategy"? It's all about mindset!).
We've come a long way since our first update over a year ago, and I know we still have a long way to go. But there's no way to go but up!
Melanie launched Partners in Fire in 2017 to document her quest for financial independence with a mix of finance, fun, and solving the world's problems. She's self educated in personal finance and passionate about fighting systematic problems that prevent others from achieving their own financial goals. She also loves travel, anthropology, gaming and her cats.