Partner's in Fire killed it during our ninth month! Maybe this is what happens when you start growing as a blog and post consistently! Let's see how we did this month and how we got there.
Posting During our Ninth Month
We stuck to an extremely consistent posting schedule during our ninth month. We were able to publish a blog post every Sunday and Thursday during this period. I think that this consistency really helped us grow our readership, and it is something that I will strive for in the future. However, I am still going to live my life. This month, we already skipped a few posts due to a trip Germany. I'm sure my 10th month readership will suffer slightly due to the vacation (we will have to wait and see about that!) but traveling is one of my FIRE goals, and it's not something that I am willing to give up. Maybe someday I'll figure out how to schedule blog posts so that I can automatically post while I'm away, but that would mean having posts queued up and ready. Unfortunately, I'm not that organized.
Readership
We killed it with readership this month! This was our first month with over 500 page views (not counting our feature on Rockstar Finance, which was amazing!). We had 843 total users for the month. The best part is that it was fairly consistent. We had spikes in users on the days that we published and we had between 10 and 20 users on the days between posts. There's a lot of room for growth here, but since we are still new and just came off hiatus, I'll take it!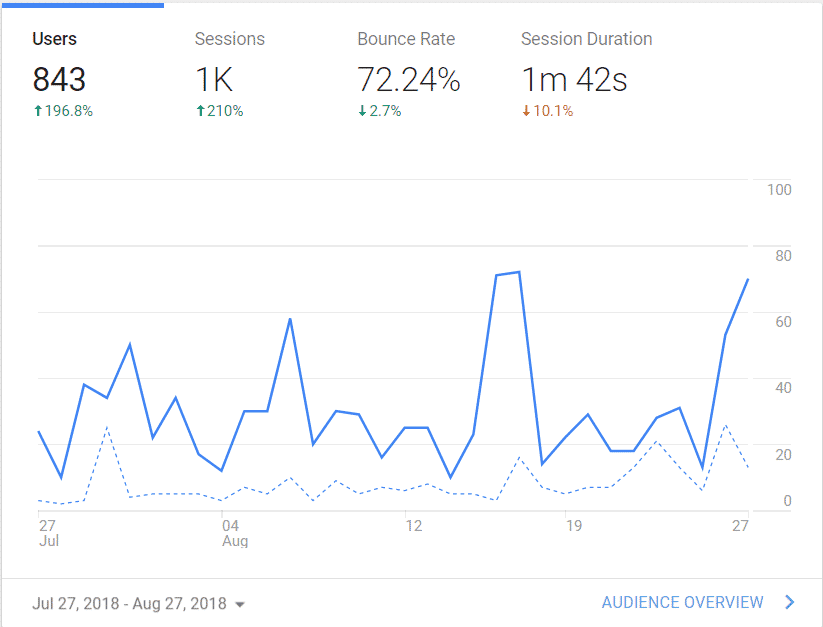 How we increased the readership
843 is a huge increase from the paltry 276 that we had last month. I think the biggest reason for the increase was the consistency in posting that we talked about above. However, I also think this month's content was interesting and valuable to a wide range of readers. I think talking about having children drove a lot of my family and friends to the blog as well. The lesson here is that great content leads to increased readership. But people have to be able to find the great content, so how did we make our content visible?
Social Media
One of the biggest drivers of traffic during our ninth month was social media. We had 244 users from our various social media platforms. We focus on the four big social media platforms, Facebook, Pinterest, Twitter, and Instagram.
Facebook
My awesome boyfriend invited all of his Facebook friends to like my page, which led to a nice increase in page likes. But I also started posting more (and better) content on my page. I've been sharing interesting finance articles, memes, cartoons, and pictures in addition to my own blog posts. In the past, I had only been sharing my own articles on my Facebook page, and to be honest it looked a bit spammy. Sharing more than just my own articles has led to greater engagement on my page and more organic likes. Also, because people have come to trust my page to have interesting content, I am able to convert more page likes into blog post clicks. 81 of my 843 users came from Facebook this period, the highest of any of my social media avenues. I still have a long way to go on Facebook, but I think this is a great start.
Pinterest
Our second biggest social media traffic driver this month was Pinterest, with 67 views. I'm still not entirely sure how to use Pinterest correctly, but I try to make pretty, appealing pins with Canva and I schedule my pins with Tailwind. I still use the large group boards, even though there are rumors floating around that Pinterest doesn't like them. Maybe one day I will learn how to use Pinterest more effectively, but it seems to be working pretty well for time being.
Twitter
Oh, how I love my Twitter community. It was the first social media platform that I started working with, and it is still one of my favorites. People on Twitter are so supportive with their follow threads, social media threads, chats, and all-around engagement. Although it's not the top driver of traffic, we still had 64 users from it, which makes it a close third. But to me, Twitter is about more than driving traffic. I use Twitter to talk to like minded people, share my random thoughts, and find interesting articles to post to my Facebook page. I look forward to continuing to build my Twitter community, and to finding new Twitter friends to engage with.
Instagram
Instagram is a platform that I've largely ignored until this past month. My ex-boyfriend had built a following last year when we were still together, and I really didn't want to deal with it. But I know that it can be a great driver of traffic, so this month I dug in and started working on it. First, I had to curate my followers/following. There were quite a few inactive accounts and "bot" accounts on those lists. Next, I increased my posting. I made a concentrated effort to post to Instagram at least once per day. I try to post a variety of image types and am working hard on my hashtag game (although I think that still needs improvement). So far, my new commitment to Instagram has been successful. We had 34 users from Instagram this month, a huge increase from the big fat zero of previous months. As we continue to grow our Instagram account, this number will only increase.
Other Traffic Drivers
We had a lot of referral traffic during our ninth month, and my major concern is that some of this might be spam. Unfortunately, I do not know how to tell the difference between a spam user and a legitimate user. And even if a user was referred from spam website, does that mean the user was a spam user? I honestly don't know the answer to that. But I do have the A-kis-met spam blocker activated, so at least the spam users can't do much damage.
We also had some users come from organic searches, but unfortunately the keywords were not provided, so I can't really tell what people are searching for when they find my blog. The last chunk of users during our ninth month came from direct hits. These are the folks that are subscribed to the blog and get the e-mail updates, and the ones who type our URL directly into the search engine. I'd like to think that we have a few fans who do that, but let's be honest those are probably mostly me.
What's Next?
Our goal for this next month is to get over 1000 users. It will definitely be a challenge, especially with the vacation we took for the first week of the month, but we have a lot of interesting content planned so I think it's very doable.
We are also going to continue focusing on building our social media platforms, especially Instagram, Facebook, and Twitter. What we are currently doing seems to be working, so we are going to stick with it.
Another thing we are going to work towards is monetizing Partners in Fire with a few more affiliate articles (non-spammy and relevant, of course!). Maybe someday we will even write some guides and do some sponsored posts! I don't think we are quite there yet though.
Our biggest focus is to continue to provide useful, relevant, interesting content for you, our readers. Without you, we wouldn't be anything. We greatly appreciate your continued support. Here's to another great month!
Melanie Allen is an American journalist and happiness expert. She has bylines on MSN, the AP News Wire, Wealth of Geeks, Media Decision, and numerous media outlets across the nation. She covers a wide range of topics centered around self-actualization and the quest for a fulfilling life.