Do you want to make money playing video games? That's the dream for a lot of us, and one of the best ways to do it is to live stream on Twitch. What most people don't tell you is that a lot goes into starting a Twitch stream. You have to get the technology right, consider your game choice, and then work on growing your stream. This guide will teach you how to stream on Twitch, including everything you need to know to start your stream, and how to start building your audience.
How to Stream on Twitch
Step 1: Curb Expectations.
First, I think it's important to curb expectations. It's extremely difficult to make big money as a gamer. You might be able to reach affiliate level, get a few subscribers, and make a few extra bucks, but it will take a lot of hard work and dedication. Making a full-time income from your Twitch stream is even harder.
This post isn't about how to make it big, or make a full-time income streaming. This post is about how to start a Twitch stream– what equipment you need, what downloads you need, what platforms you should look at. It will also dive into the basics of building an audience to give you a headstart.
Streaming For Fun
There's also something to be said about streaming for fun. The main reason I stream is so that I can find people to play Jackbox with me. I enjoy it, they enjoy it, good times are had by all. I have no expectation of replacing my primary income with streaming basically ever, but I enjoy doing it. That's okay too.
So, with all that being said, here's your guide to starting a Twitch Stream: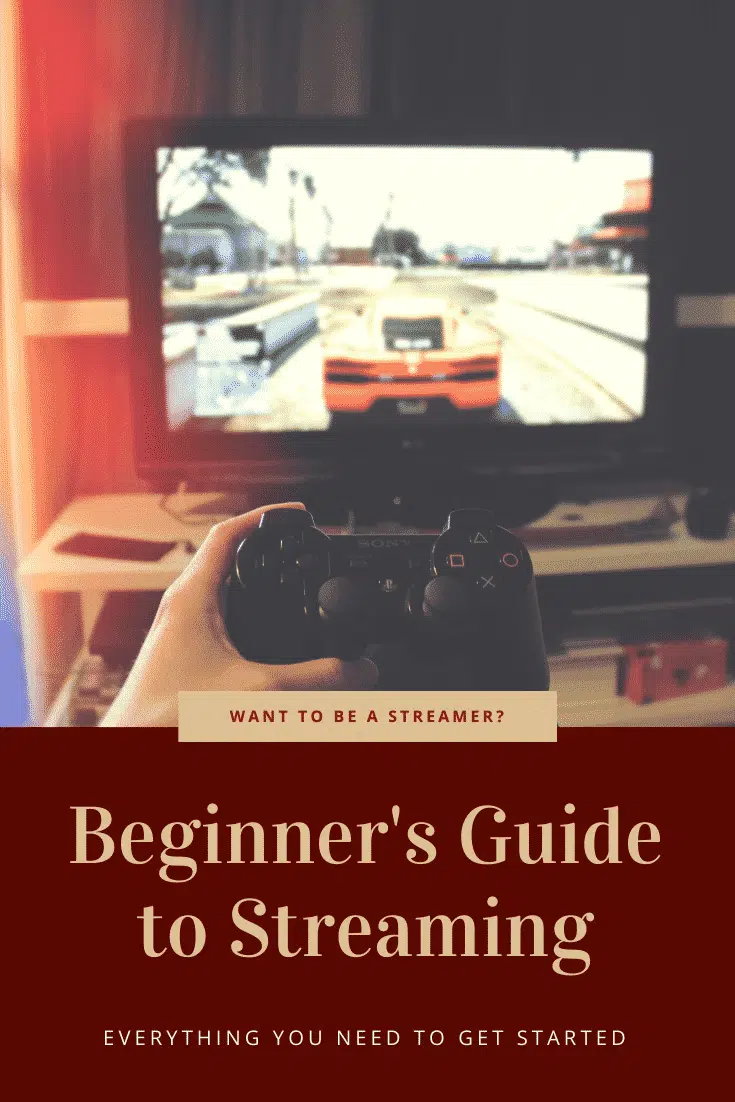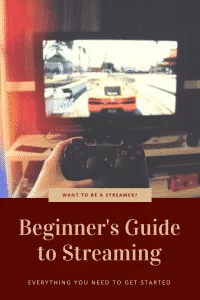 What is Twitch?
First – a rundown of the basics. Twitch is a live-stream platform that allows you to broadcast your gameplay on the internet. It's an excellent way to engage with people who are interested in the same games that you are and connect with other players. It's my favorite streaming platform, especially now that Mixer no longer exists.
A great thing about Twitch is how easy it is to start monetizing your stream. Getting set up, reaching affiliate, and turning your gaming session into a side hustle is easier on Twitch than on any of the other gaming platforms, such as Youtube live or your Facebook page.
What Equipment Do I Need to Start a Twitch Stream?
Computer or Console
The most important thing you will need when starting your Twitch stream is a computer powerful enough to handle gaming and live streaming simultaneously. I love my MSI Stealth Pro. I've had it for over two years and it's been amazing. Hopefully, if you're really interested in gaming you already have a computer that's powerful enough to handle it, but if not, I can't speak highly enough about MSI as a brand.
Some people start their streaming adventure without a computer. Playstation and Xbox both have live streaming options. These are great for folks who just want to plug and play, but they offer limited functionality for building overlays and controlling your tech. If you want to take streaming seriously, a computer is a must-have.
Internet Connection
You will also need an internet connection with a fairly decent upload speed. Live streaming takes a ton of bandwidth, so make sure your ISP can handle it. If you don't have a good connection speed, you will drop frames and your stream will lag, leading to a poor user experience.
A Note About Mobile Streaming
It is possible to stream to Twitch directly from your mobile device. If you do this, you won't need a computer or any of the other software we talk about. Some folks have been successful with it, but in my opinion, it isn't ideal.
Capture Card
The next thing you need in order to start a Twitch stream is a video capture device. This is a tiny little box, also called a capture card, that coordinates signals between your computer, your tv, and your console. It "captures" the screen from your tv, and shares it with your computer via HDMI or USB3 connection so that you can stream it on Twitch.
There are a few capture cards on the market, all with different features. Make sure the card you choose is compatible with your console and your computer. I went with the Razer Ripsaw HD, because it's compatible with the PC, PS4, XBOX, and Switch. I'm currently only using the Switch for streaming, but you never know when I might want to switch it up and use something different. And at $130, you'd better believe that I want to make the capture card a one-time purchase!
Many others go with the Elgato. It's also compatible with all the console games, and it's pretty user-friendly. Either option will allow you to stream from most consoles without any issues.
Cheaper options are available, but be careful! Make sure they are meant for streaming video games, and that they will work with your console before making the purchase.
You can also stream from certain consoles without a capture card. Microsoft includes game capture software on the Xbox so you can stream from it directly. The PlayStation 4 has this option as well. Even most Microsoft computers offer some type of screen capture software. Although the capture card, and a computer in general, aren't required for these types of streams, using them will enhance your stream quality.
Microphone
One of the main components of streaming is the interaction between you and your audience. People want to hear what you're saying and understand your thought process. Most computers do have some type of built-in audio, but the sound quality with the built-in microphones leaves a lot to be desired.
If you're serious about streaming, you will want to get a good microphone that lets you adjust the settings. I use a Blue Yeti – it's one of the best microphones on the market. Customizing the sound settings is simple and straightforward, and the microphone picks up everything you need it to.
I went with a top-of-the-line model because I've also used it for podcasting, so you can probably get something a little less expensive if the cost is prohibitive. However, if you want to have a professional sounding stream, your sound needs to be stellar. The Yeti will make sure that happens.
Headphones
I don't use headphones when streaming. Really I just hate wearing them. But, there are some limitations to not wearing headphones, and the most striking one is that you can't hear your game. Trust me, it's not easy to sit and play in silence, with only your own voice keeping you company.
You see, if you have the volume of your tv up so that you can hear the game without headphones, your microphone will pick up the sound. And since the capture card is already grabbing the audio along with the video, your viewers will hear both. That means you will have double sound on your stream, which will lead to annoying feedback that no one will want to listen to.
Sometimes, I put the tv volume on extremely low so I can just barely hear it, and I bring the microphone much closer to me than the tv. Then, I set it so that it doesn't pick up low-volume sounds. That way, I have a tiny bit of background music, but it doesn't interrupt my stream. Although this works for me, it's probably not the ideal setup for most streamers.
Amazon has a pretty great selection of headphones – check them out!
WebCam
You don't exactly need a webcam to start steaming. You can easily stream and start building a following without one. But, it's nice to have. People like to see who they are talking to and interacting with. And yes, most computers do come with a built-in camera, but if you've ever face-timed or skyped with it, you know it's not the highest quality. Also, you might need to consider the positioning of your laptop when you stream. It might not be in an ideal spot for the camera. An external webcam can be adjusted and moved so that it's in the best location for your stream.
You don't need anything fancy. I use a live streaming webcam that comes with a built-in microphone, which I don't need, but it's an ideal solution for those who want to get started with minimal start-up costs. Although webcams aren't a requirement, viewers prefer to watch streams that have one. Keep that in mind if you are trying to become a Twitch Affiliate.
Green Screen
You don't need a green screen. Plenty of streamers don't use one, and they do just fine. However, if you want to be a super cool gamer who has their face literally on the game, the green screen is the way to go.
It's incredibly easy to set up. You just need to get a green fabric and put it up behind you. When I helped an ex get his stream set up a few years ago, we just went to JoAnn's and bought a piece of green fabric for like five bucks. We hung it up with clothespins! If you're creative, you can find a way to do it fairly cheaply.
But, if you want the professional-grade one, Amazon has tons of options. I got this entire studio kit for about $150 – I use it for lighting when I paint and taking high-quality pictures of models.
What Software Do I Need to Start a Twitch Stream?
OBS
One of the best things about streaming is that the software you need is free. OBS is open-source software for live streaming and video recording. Once you have all your physical equipment set up, go to this link to download it.
Once it's installed, you will have to play with the settings a little bit to get the stream right for you. You can change the audio settings, the visual settings, and even update your stream information right from the OBS platform.
Streamlabs
After I played with OBS for a while, I decided to switch to Streamlabs. OBS is great, and it has a lot of options, but in my opinion, Streamlabs is easier to use. It offers a few free overlays, which helps your stream look a little sleeker and more professional. You can also upgrade to Streamlabs pro, which allows you to choose a more professional overlay for your stream, and gives you the option to stream to multiple platforms simultaneously if you chose to do so.
Regardless of which software you chose, there will be a slight learning curve. It took me about a month to be able to turn everything on and have it just work right. There's a ton of different settings in each software, and you will have to configure everything to get things right for your system and your stream.
A bonus about both OBS and Streamlabs is that they can be used for more than broadcasting live videos. Both of these broadcasting software options also include screen recording functionality. If you prefer uploading edited to your Youtube channel to broadcasting live, both of these programs will still work.
How Do I Start a Twitch Stream?
After you have all of your equipment set up, it's time to start your stream. First, you will need to decide which platform you want to use. There are quite a few alternatives to Twitch available, including Facebook Gaming and Youtube Live, but in my opinion, Twitch is still the best for new streamers. Before you become an affiliate, you can use a Streamlabs premium license to simultaneously stream to multiple platforms. This might help you decide which live streaming platform is best for you.
Setting up a Twitch Account
It's incredibly easy to start a stream on Twitch. Go to twitch.tv and create a free account. If you already have a Twitch account, all you have to do is connect your account to your streaming software.
To do this, go into the settings in the "Controls" dock, then add in your primary stream key from Twitch to get connected. OBS makes it really easy – just make sure you are logged into Twitch and click the "get my stream key" button. It should take you directly to your channel dashboard.
Alternatively, you can go to Twitch, go to your settings, and go to your channel settings. Your stream code will be hidden, but you can view it to copy and past it into OBS. You don't ever want to share your stream code with anyone, so make sure you aren't live streaming while you're looking at it!
Now that you've connected Twitch and OBS, you are ready to start streaming! Hit the "go-live" button and start your first stream!
How to Stream on Twitch: Viewers, Affiliation, and Monetizing
Hitting that go-live button is only the start of your journey. To successfully stream on Twitch, you will need to get viewers, build a following, become an affiliate, and monetize your stream.
How to Get Viewers on Twitch
Hitting that go-live button is the start of your journey. The next step is to gain viewers on Twitch and build a following. Networking is the key to this, especially when you are just starting out. You will want to join Discord servers dedicated to helping streamers, network on Twitch itself, and promote yourself on social media. There are tons of ways to gain more Twitch viewers, and every streamer will find the things that work best for them.
Becoming a Twitch Affiliate
Becoming a Twitch affiliate is the first step towards monetizing your stream. In order to be an affiliate, you need fifty followers, have to meet a few time requirements, and need an average of three concurrent viewers.
Typically, the concurrent viewers are the hardest part. If you follow our guide on how to become a Twitch affiliate, you should be able to achieve this status in about 30 days.
Monetizing Your Stream
Once you become a Twitch affiliate, you will be able to monetize your stream. Twitch affiliates make money in a number of ways, but the easiest for new streamers is via bits and subscriptions.
Bits are in-app currency that allows viewers to cheer for you, and subscriptions are a way for your biggest fans to support you.
Beyond Learning How to Stream on Twitch
As you can see, learning how to stream on Twitch is just the beginning. Although a lot goes into setting your stream up, there's far more to being a successful streamer than configuring bitrate and ensuring that your audio mixer is perfect.
Most of the work in becoming a Twitch streamer comes after you get started. It's the countless hours of networking, perfecting your performance, learning how to engage with viewers. All these things take time and effort but are important to becoming a successful streamer.
Melanie launched Partners in Fire in 2017 to document her quest for financial independence with a mix of finance, fun, and solving the world's problems. She's self educated in personal finance and passionate about fighting systematic problems that prevent others from achieving their own financial goals. She also loves travel, anthropology, gaming and her cats.