26th Month Update
Our 26th month of blogging wasn't too shabby! We didn't get over two thousand users like we did last month (that SEO fluke was fun), but we did stay consistent and see a little bit of organic growth over the previous months. The tortoise always wins in the end, right?
Readership
Our overall readership increased slightly during our 26th month. We had a little over 1300 users this month, which is slightly more than we had last month if you disregard the fluke. We're still averaging between forty and sixty users per day, but this month we saw more spikes and valleys than in previous months. We still only had one day below thirty users, but we had quite a few days between 30 and 40. But, to average that out, we also had a few days with above 60.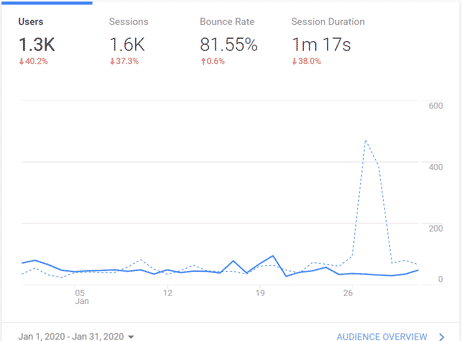 Traffic Drivers
Organic Search
Organic search was our biggest driver of traffic for yet another month. We didn't have any wild spikes this month either, which shows that our organic traffic is at least becoming consistent. The only thing I did this month to help with SEO was update one older blog post. Unfortunately, being sick for a week set me back with a lot of things, and I didn't have a lot of time to focus on blogging this month. On the plus side, I did at least keep with the posting schedule, even on my worst days. It's amazing how much being sick can set you back with the things you need to do. It's been three weeks and I still don't think I'm all caught up (or feeling 100%).
We had 518 users via organic search during our 26th month, which is similar to what we would have gotten last month without that weird fluke.
Social Media
Social media was our second biggest driver of traffic during our 26th month. We only had 416 users from social media this month, a decline of about 25 users. That's not a huge difference, but any decline is troubling.
Pinterest
Surprisingly, we had more users coming to us from Pinterest this month than we had in the last few months. We had 305 users from that platform, as opposed to 238 last month and less than that the month before.
This increase comes as a huge shock to me. Not only did I let my Tailwind scheduler run out, but I also canceled my subscription to Tailwind all together. I'm no longer scheduling pins and automatically pinning. It was a huge time suck and I wasn't seeing the kind of results that I wanted to for the money I was paying. Instead, I just manually pin one or two images for my blog post to my own board.
My plan was to manually pin more often, but I wasn't able to do that this month because my Pinterest account got suspended (the day after I canceled Tailwind – how is that for suspicious?). It took about a week, but I finally got it back. Unfortunately, I wasn't able to pin at all during that time, and I got a little behind on posting even my own pins. I'm incredibly surprised to see growth from the platform given all this, but I'll take it!
Twitter
Twitter is where we lost users from social media. We only had 84 users from the platform this month, a 100 user drop off from the previous month. I think a big part of this was being sick. I didn't post old posts for over a week due to the illness. In addition, I didn't engage with people on the platform nearly as much this month.
I know I've mentioned before that I need to improve my engagement on the platform, but seeing such a large decrease in engagement on the platform was eye-opening. Engaging on Twitter is just as important as sharing older posts. The platform is so fast that even a few days without being active on it can seem like an eternity to your users. I clearly have to do better.
Facebook
Facebook still isn't a big focus of mine. Since I'm not spending as much time on Pinterest, I'm trying to decide if it would be worthwhile to try to build up either my Facebook or Instagram accounts, but I haven't yet decided between the two. I did remember to share my blog posts to my Partners in Fire Facebook page this month, and because of that I got 24 users from the platform. That's 10 more than last month, so not a huge increase but still better than nothing. .
Direct Hits
We had 256 users coming to us via direct hit during our 26th month, which is a slight increase from the previous month. This is good news because we had been seeing a decline over the past few months, so it was nice to see a bit of an increase this period instead.
This is interesting because my hypotheses was that we saw a decrease due to the holidays, and we bounced back this month when there weren't any major holidays. Maybe I'm onto to something. Or maybe my other hypotheses, that nobody wants to read a "what I'm thankful for" post is more accurate. Either way, these are good things to think about for the next holiday season.
Referrals
A big boon for Partners in Fire this month was being featured on Camp Fire Finance. They shared our post "Being Sick is a Privilege" and got us some nice page views. In addition, they gave us a pretty valuable back link for SEO, and that's greatly appreciated!
We are also seeing some referral traffic from Personal Finance Blogs. We are included on their blog feed, and our post "Lessons Learned from a No Spend Year Challenge" was one of their daily features.
A big thanks to both platforms for helping us out!
Content
We published a ton of great content this month. I might say that every month, but why would I publish stuff I'm not proud of? I got a little personal and transparent with my first ever net worth update, and finished out my series on a no spend year with a review of how December went and some lessons learned from attempting such a travesty.
Partners in Fire also dabbled a little bit into policies and politics this month. First, I wrote about how nothing is really free, and companies use our data as payment for goods and services. I think this is an important thing to remember as technology advances and politicians call for taxes on data/technology. Then, I got really sick, and it made me realize how privileged I am to be able to take time off to get better, and to have health insurance to be able to see a doctor. Millions of Americans don't have that luxury.
I rounded out the month with less serious posts – one related to finance (cash or card) and another related to my fire goals lifestyle (what type of RV are we getting?). I prefer to write a variety of content that could be appealing to everyone. Some people visit Partners in Fire because they want to live the RV life, so they want to see our plans. Others visit for the social commentary, and still others like the strictly financial content. I enjoy writing about all of it, and it all ties into finance in one way or another.
Monetization
I'm not sure why I have a section on monetization every month. It doesn't ever change. I don't do well with my Amazon affiliates, and I make a few bucks a month with my ad network. It's nothing fancy.
I do know that I'd make more money with ads if I had more visitors to the sight (basic math, right?) so instead of focusing on trying to make money, I'm going to focus on trying to get visitors and improving our readership.
How We Are Going to Improve Our Readership
So how are we going to do it? Well, we've seen that focusing on SEO has led to a little bit of growth, so I'm going to continue doing that. Updating at least one blog post a month shouldn't be that difficult, but I'm going to shoot for two.
But I am not going to ignore all of my social media baskets either. I'm not going to spend as much time on Pinterest, like I said above, but I'm going to focus on something else. My choices are basically Facebook or Instagram. Although I want to grow Instagram so I can get sponsorships on the platform, I need at least 10K for that, and don't think that's doable any time soon. I hardly see any traffic from the platform, even with nearly 2K followers, so it might not be the best thing to focus on.
I think Facebook can be an amazing resource if I can just figure out how to grow it. I'm in a few blog growing communities, but I haven't even seen any posts for most of them lately. Maybe they gave up, or maybe Facebook's algorithm isn't showing me the content. Regardless, I think that if I post more often and engage on Facebook under my page rather than myself, it will lead to growth on the platform. I'm going to try that this month and see what happens.
I'm very happy with how our 26th month blogging went, and I'm excited to see how month 26 goes if we try implementing these small changes!
Melanie launched Partners in Fire in 2017 to document her quest for financial independence with a mix of finance, fun, and solving the world's problems. She's self educated in personal finance and passionate about fighting systematic problems that prevent others from achieving their own financial goals. She also loves travel, anthropology, gaming and her cats.