Journals are amazing. I've written numerous posts talking about the benefits of journaling, not only for self-care and wellness but for inspiration and fun. Productivity and organization are also great, and I've written about being more productive, planning your day, and getting stuff done. But did you know that there's a tool that seeks to combine these two amazing concepts into an epic ball of journaling productivity? Let me introduce you to the bullet journal.
Everyone is bullet journaling these days and exclaiming about how amazing it is. Here is everything you need to know about starting a bullet journal.
What is a Bullet Journal?
A bullet journal is a journaling tool that doubles as a productivity tool. On the surface, it looks like any other journal. But when you open it up, you'll notice that instead of lines (or blank pages if you're looking at an art journal), you will find a grid of little light grey bullets.
When I picked up my first bullet journal, I was confused. How can this page with its light little grid help me journal? I don't want little dots on my paper – I want a traditional lined journal!
This was before I understood how to bullet journal. Now, it all makes so much sense.
How Do I Start Bullet Journaling?
To get started with your bullet journal, you need to decide what type of spread you want. There are tons of options for monthly and weekly spreads, and you can make up your own as well. The beauty of a bullet journal is that it can be whatever you want it to be.
Next, use the grid as a guide to draw in your spread. It's designed with a grid so that you can draw in your own labels, schedules, plans, to-do lists, or anything else that you might need. You might want to add a space for notes – draw a little square there. Instead, you may need to draw in a to-do list with little check boxes next to each item so you can mark them off. There are so many possibilities with a bullet journal. To get started, all you have to do is pick what is right for you and draw it on in!
How Do You Structure a Bullet Journal?
You can structure a bullet journal however you want. Many people use one side for a planner with a section for the tasks they need to accomplish and the other side for note-taking. This helps them keep their days organized. Others have their journal divided into sections for work and home. This way, they only need one journal for everything.
Many people like to structure their journals with weekly or monthly spreads. These are standardized formats that others have developed, which you can copy for your own journaling needs. Here's a Pinterest Idea Pin with some weekly spread examples to help you get started!
What is the Point of a Bullet Journal?
A bullet journal is a notebook, task list, and life planner all in one. The main purpose of a bullet journal is to help you stay organized and ensure you get everything done that you need to get done.
I first learned about bullet journals from one of my best friends, Becky. This girl's journal was her bible! She had her to-do list, her notes, her calendar, her errands, and every other important thing in her life written in that thing. I asked her why she needed it, and she said it helped her remember important dates and prioritize her tasks.
She had tabs for work, tabs for errands, tabs for chores, tabs for shopping – she would often joke that her entire life was in that journal! I never once saw her without it.
What Tools Do I Need for a Bullet Journal?
To start bullet journaling, you really only need two things: the bullet journal itself and pens. Moleskine makes great journals, and you can get your perfect one at staples.
Although all you need is a standard pen, I prefer to get fancy. I like to usecolored pens so that important things pop out. Red is for checking off my task list to easily see what is done and what I still need to accomplish. Pinks and Purples are used to jot down notes, while general blacks and blues are for things like my shopping list and daily to-do list. Sometimes I mix it up and use different colors for different things, but having these options will really make your bullet journal pop out and help you make it whatever you need it to be.
A final thing that I use in my bullet journal is post-it notes. Weird, I know. The journal by itself is usually enough, but I like to section it off and mark important pages. I guess I kind of use them as a bookmark. Sometimes I'll put the due dates on the post-it note, so I can toss it when I finish the task. But the beauty of the bullet journaling process is that this is all up to you. Explore a few different tools and options and discover what works best for you.
Shop Bullet Journals
Are you ready to get your bullet journal? Here are my favorite types of journals and favorite places to get them!
Moleskine
I already talked about Moleskine – they are the most well-known brand of journal, and you can get them at most major retailers. Staples has a great selection. If you want to go with a big brand that knows journals, Moleskine is a great option.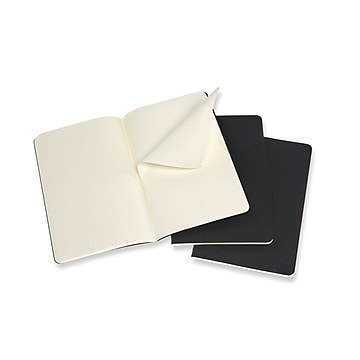 Barnes & Noble
Barnes & Noble is my favorite place to shop for journals. They have an amazing selection of lined, blank, and bullet journals for all of your journaling needs.
Shop Journals at Barnes & Noble
Canvo Journal (A Cherry on Top)
If you want to support a small business rather than a big company, check out the Canvo Journal at A Cherry on Top. Technically, this isn't a bullet journal because it doesn't have the little grey bullets to help you draw things out. However, the pages are blank and thick, so if you're artistic and can draw a straight line by yourself (unfortunately, I am not), this can be a perfect blank slate for your bullet journaling needs.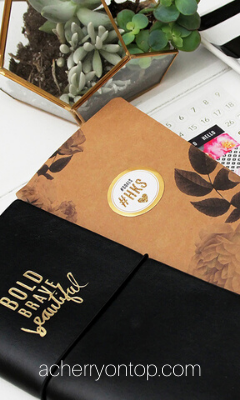 Soothi
Soothi has the absolute best leatherbound journals. Unfortunately, at the time of this writing, they are sold out of the Bullet Journals. However, they have a ton of other styles of journals, and like I said above, blank pages will work for the most artistic among us. If you want a gorgeous leatherbound journal, Soothi is the first place to start.
Start Your Bullet Journal Today!
Now that you know how amazing a bullet journal can be, what are you waiting for? Grab yours and get to journaling!
Melanie launched Partners in Fire in 2017 to document her quest for financial independence with a mix of finance, fun, and solving the world's problems. She's self educated in personal finance and passionate about fighting systematic problems that prevent others from achieving their own financial goals. She also loves travel, anthropology, gaming and her cats.