Autumn brings a spectacular burst of fall colors, cooler weather, and tons of fun things for people of all ages to enjoy.
To help you plan a spectacular fall, we've developed a list of 83 fall activities, divided into fun things for families with small children, for adults, for kids of all ages, and fall bucket list activities you should do at least once in your life.
Ready for a fantastic fall? Dive In!
17 Fall Activities for Families
Enjoy these 17 fall activities with your little ones to create memories that will last a lifetime.
Head To The Pumpkin Patch
The pumpkin patch is the quintessential fall activity for families. Most offer family fun, like face painting, pony rides, haystacks, fair food, and plenty of pumpkins.
Most local pumpkin patches ship the pumpkins in from farms, but some, like the epic Bengtson's Farm just south of Chicago, have a massive pumpkin field allowing visitors to pick pumpkins right off the vine.
Take a Hay Ride
Kids love tractors. What better way to let them enjoy a fun farm tractor than via a fall hay ride?
Hay rides combine the very best of the autumn spirit. The harvest bundles stacks of hay onto giant tractors, and kids get to play in it while being pulled around in one of their favorite massive machines.
Trick-or-Treat
Halloween is a magical holiday. It's the one day of the year when everyone opens their doors and gives something to everyone who asks.
Trick-ot-treating is falling off in some circles, but it's a tradition worth saving. Let your kids get dressed up and roam the neighborhood for candy. Escort them from house to house to ensure their safety, but let them revel in the magic of a Halloween night for as long as possible.
Lose Each Other in a Corn Maze
Corn is the king crop of the harvest season. The delicious treat is perfect for end-of-summer barbeques, but the giant stalks serve an even better purpose: Corn Mazes.
Many fall farms and festivals have epic corn mazes, forcing families to work together to find their way out. Navigate through the giant plants to find your way out while enjoying the bounties of harvest.
Craft a Thanksgiving Centerpiece
Highlight your delicious turkey dinner with a hand-crafted centerpiece this Thanksgiving. Let the kids craft a homemade cornucopia or diorama celebrating the season's spirit.
Working on paper crafts at home with the kids is a perfect way to spend a chilly fall evening.
Make Home-Made Apple Cider
Embrace the taste of fall with warm apple cider. Boil freshly picked apples with spices such as clove and cinnamon to create a delicious treat that pairs well with your after-dinner snacks.
The kids will love making a homemade drink, giving you something to do with all those extra apples.
Learn the Story of Thanksgiving
Holidays are ideal for learning about our history and culture. Take the opportunity to teach your kids about the pilgrims, natives, and the true story of Thanksgiving.
Don't neglect the negatives as they do in school. Showing the whole story, warts and all, will help your kids understand the mistakes of the past and help them build a better future.
Pet Farm Animals
Fall is a perfect time to visit the petting zoo. Watch your kids fawn over adorable baby goats and feed the fluffy little lambs.
Use the petting zoo as a teaching experience to help your kids understand how vital animal husbandry is to our society. Don't forget to capture adorable photos of your kids swarmed with baby goats looking for a snack. This fall activity will create memories that last a lifetime.
Make a Scarecrow
Grab an old pair of pants and an old sweater and stuff them with leaves, hay, and all the other by-products of fall.
Tie the parts with belts or string, and use a winter facemask to create the head. The kids will love making a new friend.
Bob for Apples
Fill an old bin with water and watch the apples float to the surface. Then, see who's fastest at grabbing one with just their mouth.
Bobbing for apples is an age-old fall tradition, fun for the whole family.
Collect Leaves
Most of autumn's beauty is fleeting. The trees burst with color for a few spectacular weeks, offering a gorgeous display before settling in for winter.
Make the beauty last by collecting the best fall leaves and collecting them in an album. You can preserve the leaves by pressing them or coating them with preservatives.
Create Fall-Themed Art
Indulge your kid's imaginations by helping them create fall-themed artwork. Let them trace their hands for the traditional turkeys, make pipe cleaner spiders for Halloween, or create a leaf collage with foilage they find in the yard.
Enjoying a craft night is one of those fall activities you can engage in whenever lousy weather sets in.
Make Boo Bags for Family and Friends
Grab some candy and decorative bags to create boo bags for a fun family activity leading up to Halloween.
Consider filling the bags with candy, stickers, crayons, or small toys you might give to trick-or-treaters and gift them to friends and family. Creating boo bags helps your kids get into the spirit of giving on Halloween.
Trunk or Treating
Trunk-or-treating is quickly replacing the traditional door-to-door Halloween activity, but when they're scheduled on different days, why not do both?
If you're part of a club or organization that conducts truck-or-treating, take the kids and score extra Halloween candy while engaging with the community. It's a great way to build bonds.
Halloween Movie Night
Host a movie night with your little one to show them all the children's Halloween classics. Start with It's the Great Pumpkin, Charlie Brown, and throw in some newer favorites with Frankenweenie and The Haunted Mansion.
If the kids are a little older, introduce them to cult classics like The Nightmare Before Christmas and Hocus Pocus.
Play in the Leaves
Nothing beats a fall romp in fallen leaves. Why not turn a traditional autumn chore into a fun playtime?
While raking the leaves, make extra time to swoop them all into a gigantic pile, then take turns leaping into it. The kids will enjoy the new fall tradition, and you'll create lasting memories while recreating your own childhood magic.
All the Christmas Activities
Though Christmas takes place in the winter, most of December is technically in the autumn, so you should plan most of your Christmas activities for the fall.
Select and decorate your Christmas tree, visit Santa in the mall, and have a holiday sleigh ride in the waning days of autumn to prepare for the coming winter.
Autumn Fun for Kids of All Ages
Plenty of autumn activities lend themselves to kids of all ages. Teenagers, adults, seniors, and young kids alike can enjoy these 22 great fall activities.
Enjoy a Haunted House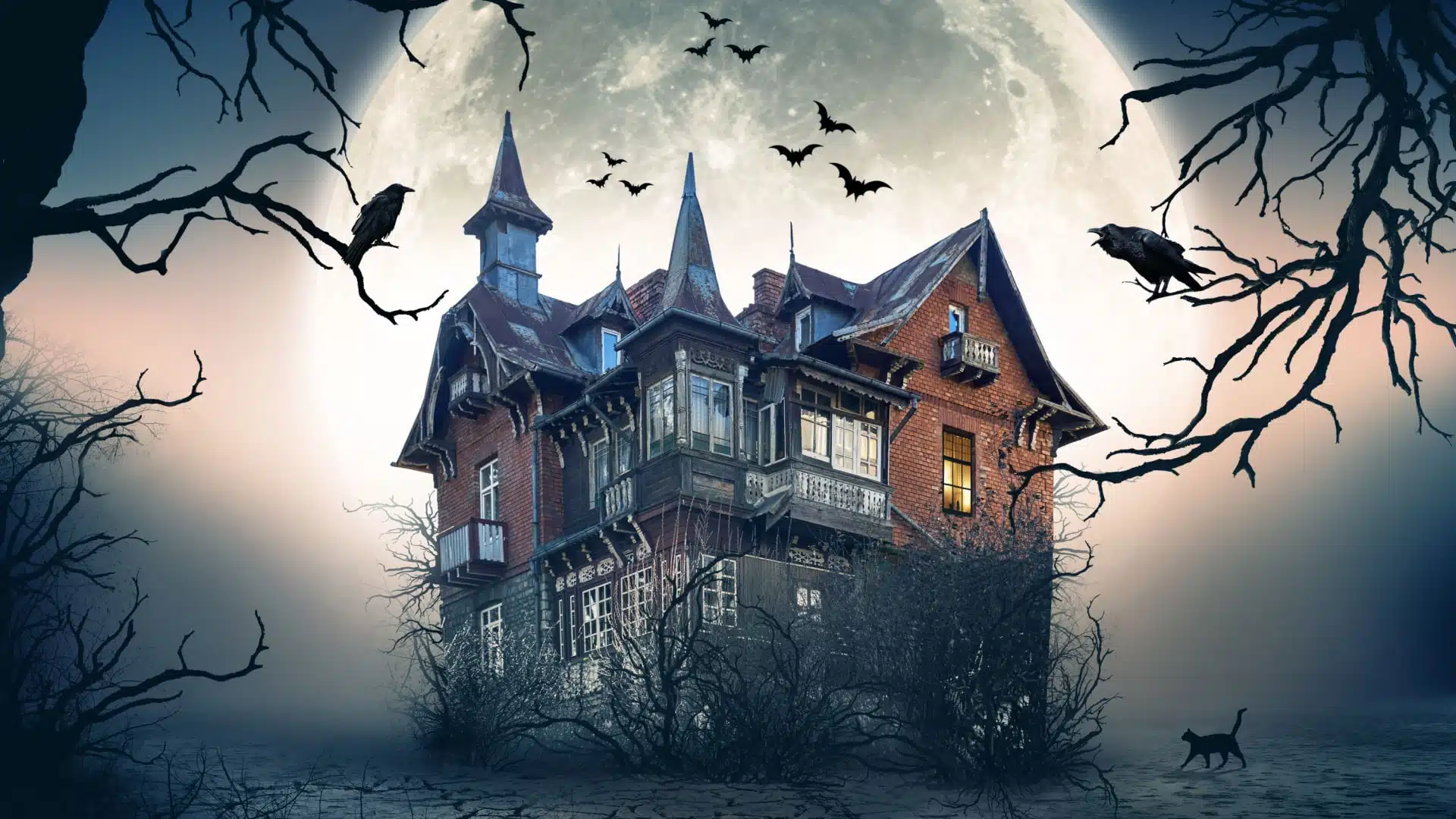 Haunted mazes pop up all around communities around Halloween. Get into the spirit by exploring the different haunted houses in your area.
Be sure to check the age requirements. Some haunted houses provide delightful scares for all ages, while others are too scary for young kids.
Hiking
Everyone can enjoy a crisp autumn hike. Head to your local forest preserve, nature trail, or state park to enjoy the cooler weather while getting some exercise.
Bring a cooler and some snacks along to recharge with a lovely fall picnic after your hike.
Dress Up
Embrace your inner child by dressing up as your favorite monster for Halloween. Transform yourself into a classic villain like Dracula or Wolfman, or create your own scary monster for the season.
Families may consider a coordinated costume. Become the family from the Incredibles, or dress up as Mario, Luigi, Princess Toadstool, and Bowser.
If you need inspiration, head to Spirit, the Halloween store that pops up in empty spaces around September.
Camping
Spend a few nights in the wilderness with campfires, hot dogs, scary stories, and the last hurrah to outdoor activities before winter.
Camping is a perfect fall activity for kids of all ages. Families can teach their kids some basic survival skills, young adults can enjoy good beers and company around a fire, and older folks can relax in the crisp fall air without worrying about the burdens of home.
Pumpkin Carving Contest
Jack-o-lanterns make perfect fall decorations. While cutting up a pumpkin for your porch by yourself is fun, why not make a game of it by inviting friends and family over to see who can carve the best design?
Make a night out of carving pumpkins with friends and family. As a bonus, you can roast and salt the seeds for a delightful snack.
Harvest Festivals
Many communities embrace the season by hosting fall festivals. Fall state fairs usually have livestock and harvest competitions, pig races, fair food, and corn mazes, all designed to celebrate the best of the autumn season.
Check your local community to see what's happening near you.
Embrace Thankfulness
Thanksgiving provides an opportunity for everyone to take a moment for thankfulness. Share your gratitude with your friends and family this year, and try to expand it beyond one day.
It's a great time to start a gratitude journal or instill an attitude of thankfulness into your children. Use it to create a tradition of embracing gratitude all year long.
Enjoy Candied Apples
One of the most treasured seasonal treats appears at fall fairs and grocery stores around the country: the candied apple.
Candied apples place one of the best fall fruits on a stick, dip it in succulent caramel, and cover it with nuts, sprinkles, or other confectionaries. The sweet treat is a fall favorite, so be sure to enjoy one this season.
See a Football Game
America's favorite sport comes to life in the fall. NFL preseason starts in the summer, but the sport is in full swing come fall. Score tickets to watch your favorite team battle it out on the 50-yard line for an exhilarating fall Sunday.
If NFL tickets are too pricey, consider catching a college game instead. NCAA football is just as competitive as the NFL, and many people prefer watching college kids play over the pros. It's easier to catch a game as prices are usually lower, and more college teams are scattered throughout the US than pro teams.
Stargazing
Shorter days mean longer nights, providing better opportunities to gaze at the cosmos. Grab your family and head to a low-light area on a clear night to watch the stars dance across the sky.
Bring a blanket and lay in the grass, getting lost in the vast universe in the great beyond. If you get really into it, you can purchase a low-cost telescope to get an even closer view of our neighboring stars and planets.
Wreath Making
Fall harvests leave bountiful byproducts perfect for weaving into decorative wreaths. Weave straw, berries, sunflowers, and colorful leaves into a gorgeous display for your front door.
Late fall is also the perfect time to start your Christmas wreath. Grab some holly, pinecones, and evergreen branches to craft a dazzling door mount or centerpiece for your Christmas display.
Flag Football
Watching football is great, but playing it is even better! Grab your friends and toss the old pigskin around in a game of flag football.
A Thanksgiving Day flag football game lets you work up an appetite running around in the mud before coming home to a bountiful Thanksgiving feast, but any chill day in the fall is great for a spontaneous football game.
Watch the Sunset
Shorter days mean the sun sets earlier, which gives you time to head out and watch the show.
Grab your favorite people and head out to an open space providing a great view of the coming show. Watch the sun dance among the clouds and enjoy the spectacular burst of reds, pinks, and purples as it descends below the horizon.
Keep eye safety in mind. Don't look directly at the sun until it's safely in the red zone.
Boardgame Night
Cold fall nights are perfect for hosting a board game night with friends. Stay inside and battle for capitalistic supremacy with Monopoly, show off your drawing skills with Pictionary, or show off your vast library of useless facts with Trivial Pursuit.
Swap out the board games for party games like Cards Against Humanity or video games like Jack Box Party Pack for even more fun-filled gaming options.
Watch the World Series
Fall marks the end of America's pastime for the year. Baseball's World Series occurs in late October/early November, providing a final hurrah for the celebrated sport.
Take one final trip to the ballgame to determine which team reigns supreme and takes the MLB championship.
Visit Family
Fall marks the beginning of the holiday season and is a perfect time to visit family who lives far away. Dedicate a weekend to visiting your parents, grandparents, aunts, and uncles who live too far away to see regularly.
If you have a loved one in a nursing home, make a point to see them this fall. It will mean the world to them.
Make a Halloween Playlist
Music sets the stage for our most significant life events. Celebrate the season in song by crafting a perfect Halloween playlist.
Head to Spotify and add iconic songs about monsters to your playlist. Get in the spirit with the Monster Mash and Purple People Eater. Discover songs about witches that embrace the Halloween spirit and remind us that witches aren't always evil.
Celebrate Fall Holidays Around from Around the World
Cultures worldwide developed unique fall holidays and celebrations to embrace the harvest season and prepare for the coming winter.
Explore these traditions by exploring the world around you and your fellow humans. Learn about Mexico's Dia De Los Muertos celebration, Discover Diwali, India's Festival of Lights, and Celebrate the Moon Festival with much of Eastern Asia.
Understanding others' traditions helps us uncover the common threads of humanity and allows us to build empathy for our fellow humans.
Volunteer
Fall is a great time to give back to your community. Consider volunteering at a homeless shelter, running a food drive, or helping build shelters with organizations like Habit for Humanity.
Hundreds of organizations need a helping hand. Search your local area for a charity that speaks to you and see how you can help. Bring the kids to instill a sense of service in them, and make giving back a family activity.
Donate
If you don't have time to volunteer, consider donating instead. Food drives and toy drives ramp up in the fall, making it easy to find ways to give. Drop new toys in bins for Toys for Tots, buy a food bag for the shelter while making your weekly grocery purchase, or pay for an extra book during your next visit to Barnes & Noble.
Monetary donations are even better. Many charities rely on holiday giving to pay their bills all year, so consider writing a check to your favorite charity if you can afford it.
Watch the Parade
The Macy's Thanksgiving Day Parade is a time-honored Thanksgiving tradition. Gather around the tube to see the iconic floats drift down 6th Avenue to Herald Square while enjoying silly commentary from the biggest tv personalities.
Most people don't actually watch the parade, but it's the perfect thing to have on in the background while preparing a Thanksgiving feast.
Thanksgiving Games
Liven up your fantastic Thanksgiving Day feast with games explicitly created for the day.
Create a Thanksgiving scavenger hunt, play turkey trivia, and make a wish while wrestling for the iconic wishbone. Enjoy Thanksgiving-themed mad libs, word hunts, or crossword puzzles while relaxing with your tasty after-dinner coffee.
26 Fall Activities for Adults
There are tons of fall activities for adults without young children to enjoy. Here are the best ideas for autumn fun that aren't well suited for young kids but adults of all ages will enjoy.
Apple Picking
Head out to the local orchard and spend a day enjoying the fresh bounties of nature. Fill your barrel with varieties of apples to enjoy the fall harvest.
Use the apples for cider, pies, bobbing, and the rest of the apple-based fall activities on this list.
Halloween Parties
Most bars and clubs host thrilling Halloween parties for young adults to dress up and mingle. Don your best costume and hit the best events with your friends for a spooktacular night out on the town.
Many people like to throw their own parties, so if bars aren't your thing, see if someone in your friend group knows a guy who loves to host Halloween parties.
Ghost Tours
Let your town's haunted history come to life by embarking on a ghost tour. Most cities offer tours highlighting the nefarious underground and sordid tales of past residents turned ghostly.
Check out what your town offers, grab your friends, and learn a little history while seeking the spirits haunting your own backyard.
Moonlight Concerts
If you live near a big city, an orchestra or band will probably perform an evening Halloween show.
Score tickets to enjoy string renditions of your Halloween favorites and some spooky classical hits that leave your skin crawling in a good way.
Decorate the House
A fantastic fall activity for adults is decorating the house to give your neighborhood a delightful Halloween show.
Throw a giant spider on your lawn, put up gravestones, and make your house the "haunt" of the neighborhood. It's fun to show community spirit while celebrating your creative side.
Give Out Candy
When you're tired of the Halloween parties and too old for trick or treating, why not stay in to give the local kids some fun?
With so many folks out and about on Halloween, it's great to stay home and hold down the fort, passing out candy to all who come by. Dress up to give the kids a delightful spook when you open the door.
Start Your Christmas Shopping
Black Friday marks the official start of the Christmas shopping season. The fall stampede to the stores to score fantastic deals on Christmas gifts is a time-honored after-thanksgiving tradition.
You can also avoid the crowds by starting your Christmas shopping early. Head to the malls in late October/early November to score good deals and avoid the chaos. Don't forget to grab yourself an incredible Christmas present while you're out!
Scary Movie Marathon
Stay in on a chilly October night and host a horror film fest. Watch the old classics like Night of the Living Dead and Halloween, but mix it up with newer realms of terror with Paranormal Activity or The Conjuring.
Consider the scariest movies, like Alien and Exorcism, if you really want a thrill, or classics like Nosferatu and Psycho to celebrate the genre.
Be sure to lock the doors before you start!
Horror Conventions
Though horror conventions happen all year round, the fall is the best time to embrace them. Visit a convention to celebrate all things horror, from film to costume design. Meet with your favorite celebrities in the genre, and cosplay your favorite characters.
Lexington's Scarefest and Granbury's Spooky Spectacle are two horror conventions that typically occur in the fall.
Cider Tastings
Autumn is cider season! Embrace the adult version of the iconic concoction by heading to your local brewery or cidery for a cider tasting.
Alcoholic ciders became popular in the US over the past decade with brands like Angry Orchard and Reds, but local brew masters quickly caught on and began making their own delicious versions. Now, many craft breweries offer ciders in addition to their traditional brews.
What better time to try them than during a fall tasting?
Try New Crock Pot Recipes
With the weather turning colder, our stomachs crave warmer, heartier fare. It's time to dust off the old crock pot and feast on fantastic stews and soups!
It's also the perfect time to test out new delicious crock pot creations. Try new chili, chicken noodle soup, or beef stew this season in the crock pot.
Regional Oktoberfest
Most cities host Oktoberfest, the German celebration of beer, sausage, and fall. Grab your friends and head to the fest near you to taste German culture.
Drink beers, do a chicken dance, and eat all the bratwurst you can handle while enjoying the festive spirit of fall.
Friendsgiving
Many young adults embark on their own journeys far from home. Job opportunities lead them to move across the country, far from the Thanksgiving traditions of families, and tight budgets make getting home for the holidays too expensive.
If you're in this situation, why not host a Friendsgiving? Invite all your friends in similar situations and enjoy the holiday festivities with the family you choose in your new town. Ask them to bring their favorite dishes from home for a delicious potluck.
Tailgating Party
Fall marks the start of one of the best American traditions: tailgating season. Head out to the stadium with your friends and BBQ hours before the big game starts to host a cookout with all the fans.
Have some beers, smoke meat, and promote team spirit with the thousands of people rooting for the home team.
Bake a Pie
Nothing says America like homemade apple pie, and fall is the best time of year to bake this quintessential fall dessert.
The apples are ripe, and the weather is just chilly enough that you don't mind spending a day indoors with a warm oven.
Bonfire
Embrace the longer nights by lighting a bonfire with your friends. Sit around the toasty fire, sharing stories, roasting marshmallows, and making smores.
Remember that safety comes first, though. Only light bonfires in approved places, and check the weather for red flag warnings or dry conditions before proceeding.
Wine Tasting
Fall is the perfect season to enjoy the latest wines from your local vineyards. It's harvest season at the vineyard, so they may have deals on older stock.
The cooler days make it an ideal season for winery hopping and strolling through a vineyard with a sample.
Cabin Getaway
Book a weekend getaway to a cabin in the woods to enjoy the mystical nature of an autumn forest. Relax by a toasty fire, roam through a wooded trail bursting with color, and spend the weekend hiking, fishing, or kayaking before the dog days of winter set in.
Don't let scary movies prevent you from enjoying one of the best times of the year for a relaxing getaway.
Splurge on Candy
If you have a sweet tooth, hit the drug stores and big box stores on November first for great deals on leftover Halloween candy.
Most stores cut prices on the big bags of candy after the holiday, so those who want to indulge can grab some sweet confectionaries for lower prices if they time it right.
Enjoy the Scents
Research shows that smells can trigger memories, unlike any other sense. Embrace the science and unlock your fall memories by indulging in the iconic autumn scents.
Grab some pumpkin spice and apple cider candles, take a trail walk to get a whiff of fresh fall foliage, and bake homemade pies to indulge in the real thing. Unlock the happy feelings of your youth, and create those same treasured feelings in your own children.
Outdoor Markets
With cooler weather, fall is the perfect time to stroll through outdoor markets. Go thrifting at the flea market, grab fresh fall produce at the farmers market, and support your local community's end-of-year parking lot sales.
Many cities also have pop-up Christmas markets, copying the European tradition. These markets have homemade wares, trinkets, mulled wine, and other Christmas gift ideas but typically occur in late fall.
Embrace Fall Produce
Pumpkins, squash, and all varieties of gourds make their way to shopping centers every fall. Enjoy the season by buying fresh fall produce from local farmers and experimenting with it to make delicious seasonal meals.
Make butternut squash soup, zucchini bread, and sweet potato casserole to celebrate fall with food.
A Cozy Night In
Older adults with worlds of responsibility may find the best fall activity is doing nothing at all. Dedicate a night to cozy comfort with a warm flannel, cozy blanket, and good book.
Allow yourself a night without any care or responsibility to recharge and ensure you're ready for the rapidly approaching holiday season.
Halloween Theater
Check your local listings to see if there's a Halloween play showing at any local community theater. Halloween is perfect for classics like Rocky Horror Picture Show and Wicked or local spins on fairy tales.
Many colleges and art towns put on shows for every season. See what's playing near you to celebrate fall with live theater.
Graveyard Tour
October is the perfect month to embark on a haunting graveyard tour. Many historical cemeteries allow visitors to wander the grounds, learn about the famous people interred, and enjoy the fascinating architecture displayed in mausoleums.
While visiting a graveyard, remember to show respect. People's loved ones are among the historical figures. Only visit cemeteries that are open to the public, and be respectful of anyone grieving a loss.
Learn to Knit or Crochet
Cold days provide ample opportunity for learning a new skill at home. Spend a chilly November evening learning needlework. Learn how to crochet a scarf or knit a potholder.
As a bonus, you can use your newfound skill to make Christmas gifts for family and friends or create stylish winter gear for yourself.
Fall Bucket List: 18 Fall Activities You Need to Do at Least Once
The world abounds with fantastic fall adventures that you have to try at least once in your life. These fall activities may be time-consuming, expensive, or challenging to conquer, but you should attempt them all at least once.
Add these fall activities to your bucket list and see how many you can achieve in your lifetime.
Make Your Own Costume
Most of us buy our costumes from Halloween stores. It's cheap and easy, and the costumes fit well enough for most Halloween adventures.
Just once, though, try making your own. Create your own character with unique fabrics, fashion pairings, and make-up. Scour thrift stores and flea markets for vintage items and learn to sew to combine fabrics into a new design that's the perfect fit.
It's a lot of work, but the sense of accomplishment you'll feel from making something unique from scratch will be well worth the effort.
Visit Universal Studios Halloween Horror Nights
Universal Studios Hollywood puts on one of the best haunted mazes in the country. What else would you expect from a real Hollywood studio?
During Halloween, the Studio's back lot is open to the public. You can see the iconic clock tower from Back to the Future while waiting in line to experience a terrifying Halloween maze. You can also get up close and personal with Norman Bates by the Psycho House and wander through the site of a plane crash filled with zombies or swamp creatures.
Take a Road Trip to View Fall Colors
Nothing beats a scenic fall drive on country roads lined with colorful trees. Add a scenic fall drive to your bucket list to experience the country's best fall scenery.
Roads in the Northeast tend to offer the best fall foliage, so consider a trip to Vermont or Maine in September for stunning bursts of colorful and quaint New England flavors. Those closer to the Midwest can enjoy gorgeous fall scenery in Wisconsin and Minnesota, while those in the South should head to the Great Smokey Mountains National Park or the Appalachian Mountains for scenic views.
Wherever you are in the US, a fall road trip is likely within a few hours' drive. Dedicate a weekend to leaf peeping at least once in your life.
Work on a Real Farm
Autumn is one of the busiest times of the year for the farming community. It's harvest time, which means a ton of work to collect the bounties of the field.
Consider working on a farm during harvest season to better appreciate where your food comes from. Many farms offer "working vacations," allowing families to come in for a week or two to work the land and see how it feels. Others are always looking for help in the busiest time of year, so if you find yourself out of work around fall, see what seasonal jobs are available.
You'll develop a new appreciation for the industry and the comfy office or retail jobs you're used to.
Balloon Festival
Each fall, Albuquerque, New Mexico, hosts an enormous balloon festival. The Albuquerque International Balloon Fiesta celebrates balloons of all stripes, showcasing gigantic character balloons, hot air balloons, balloon tents, and plenty of entertainment.
Take a hot air balloon ride over the New Mexico skies while discovering the history of the unique mode of transportation. The festival has musical guests, strolling entertainers, and scores of shops and food stands.
Visit Plymouth Rock
What better way to celebrate the fall than by visiting the site of America's founding?
Plymouth Rock, MA, is the historical site where the pilgrims first landed in the Mayflower. Though the "rock" is just a tiny boulder, the town embraces its historical roots with a Mayflower replica, small museums, and programs showcasing the site's history.
It may not be the most popular tourist destination in the US, but it's someplace everyone should check out at least once.
Have a Séance
They say the veil is the thinnest around Halloween. Why not test that theory and try communing with the nether realms?
Light some candles, hold hands, and call out to the surrounding spirits. You may be surprised by who is listening.
Be sure to cleanse the area with sage after the Séance to ensure the door's closed to lingering spirits.
The Real Oktoberfest
The official Oktoberfest takes place in Munich, Germany, from late September through early October. What better way to celebrate the fall and German culture than by participating in the real thing?
Buy your tickets early. Oktoberfest sells out quickly, and plane tickets to Germany get more expensive as the event gets closer. You should book your hotel well in advance, too, to make sure you get a room.
Stay at a Haunted Hotel
Historical hotels are renowned for spiritual guests who checked in and never checked out. Many celebrate their haunted history, offering ghost tours and special events for those looking to glimpse the otherworldly spirits.
Join the fun by booking a stay in one of the many haunted hotels scattered throughout the US around Halloween. Ask the staff to share their creepy stories and discover the true history for yourself.
Cook Thanksgiving Dinner
Enjoying a tasty Thanksgiving feast is one thing, but it's an entirely different ball game to prepare and host Thanksgiving on your own.
Make dinner and all the fixings, by yourself, at least once in your life. Dress the turkey, prepare the side dishes, bake the pies, and host the family for the holiday. You'll gain a new appreciation for the mothers and grandmothers who flawlessly host Thanksgiving every year.
See the Nutcracker
The Nutcracker is one of the most iconic ballets in the world and a holiday season staple. It appears in theaters around Thanksgiving and runs until Christmas, making it a perfect show in late fall.
Ballet may not be everyone's thing. Even if it's not yours, you should step out of your comfort zone and see what all the fuss is about at least once.
Leaf Peeping Train Ride
Enjoy spectacular fall foliage without having to drive by taking a train ride through colorful hills and mountains.
Fall foliage train rides offer the best of autumn, showcasing the majestic beauty of nature through the wide glass panes of a train cabin. Riders can view the scenery comfortably while enjoying snacks and beverages from the train's galley car.
Day of the Dead Festival
Add a trip to Mexico around November 1st to your fall bucket list to celebrate el Día De Los Muertos. The Mexican Day of the Dead honors our ancestors by celebrating their life rather than mourning their death.
Many Mexican cities celebrate with parades, gifts, parties, and songs. Families make offerings to their dearly departed loved ones, and friends offer each other small tokens of love and appreciation.
The Moon Festival
The Chinese celebrate the season with a mid-autumn festival, often called the Moon Festival. The festival honors the moon at what the Chinese believe is the brightest time of the year.
Travel to China in the fall to celebrate the Moon Festival, where it began. The tradition dates back centuries, but current festivities include decorative lanterns, dragon dances, performances, and moon cakes.
Lantern Festival
Thailand celebrates the end of fall with light. The country hosts two iconic lantern festivals each year around November.
Loy Krathong observes the festival with a spectacular show of floating lanterns. Revelers nationwide release lanterns into flowing streams to honor the water goddess and Buddha.
Yi Peng takes place in Chiang Mai, a city in Thailand's northern province. Here, people release lanterns into the night sky, watching the light dance across the sky in a spectacular display.
Host a Halloween Party
Hosting a party is a lot of work, but it's worth the effort, at least once. Embrace the Halloween spirit by throwing a Halloween party for all your friends.
Take time to decorate your house, Craft Halloween cocktails, and prepare spooky party snacks to delight your guests. Show off your Halloween playlist while parties enjoy good times, good company, and plenty of Halloween festivities.
European Christmas Market
Head to Europe in early December to enjoy one of the most beloved traditions of the old world: the Christmas market.
Though the tradition is becoming increasingly common across the US, nothing beats the real thing. The streets come alive with Christmas lights, pop-up markets, and stalls as shoppers search for the best homemade gifts for their loved ones.
Most European countries have Christmas markets scattered across their cities, but the best can be found in Germany, Poland, Austria, Hungary, and the Czech Republic.
Work a Haunted House
Visiting haunted houses is a time-honored fall tradition, but at least once, you should get a glimpse behind the scenes and sign up to work at a haunted house.
Work behind the scenes by building sets and mazes, or try your acting skills out by chasing guests and scaring people as they work their way through the mazes. You'll gain a new appreciation of all that goes into creating a thrilling guest experience and make a few extra bucks while at it.
Embrace Everything Autumn Offers
Embrace the bounty of the harvest and the fall season by enjoying these fantastic fall activities. You'll create lasting memories, build upon time-honored traditions, and recreate some of the magic of your own childhood.
Take epic fall adventures and knock some excellent autumn activities off your bucket list. The world is your oyster. Make it a point to enjoy every moment, big and small.
Melanie Allen is an American journalist and happiness expert. She has bylines on MSN, the AP News Wire, Wealth of Geeks, Media Decision, and numerous media outlets across the nation. She covers a wide range of topics centered around self-actualization and the quest for a fulfilling life.