28th Month Update
It's getting harder and harder to remember which month of blogging I'm in. It's like forgetting how old you are once you hit your thirties. The months and years just sort of start to blend together, and it's hard to remember exactly how long you've been at it. Or that just might be my social distancing talking. Either way, our 28th month blogging was pretty much in line with previous months. I'll take the consistency!
Readership
Our readership was down slightly during our 28th month when compared to the previous month, especially when you consider that February is a shorter month.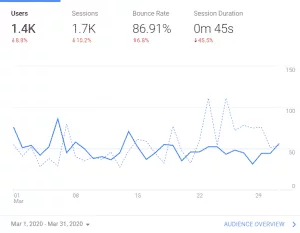 As you can see, our readership was really solid during the first few weeks of the month, then started to decline. Our average number of users per day was much higher in the first half than in the second half. I have a few theories as to why.
Traffic Drivers
Organic Search
Organic search continues to be our biggest traffic driver. We had close to 700 users visit our site via organic search during our 28th month – one of our best months yet! I will be so happy when we finally start to see over 1000 users via organic search on a steady basis. We're not there yet, but it's slowly creeping up.
Our top page from organic search continues to be "How to be Twitch Affiliate in 30 Days". I suspect it might be getting so much traffic because everyone is stuck inside with nothing better to do than play video games, but hey, I'll take it! I've been playing more video games myself lately, and I'm going to go for affiliate too, so maybe I'll be able to write some related content. I also realized that I should update that old one to take out most references to my ex, and maybe add links to my own Twitch account instead of his.


One thing I didn't do this period is update posts for SEO. I know, I said I would, and I then I didn't – I suck. I really was on a roll there for a while! Since I'm working from home, I do have a tad bit more time, and I should dedicate that to blogging, but I don't. I think I'm in a bit of a rut, and I need to work to get out of it.
Social Media
Our second biggest traffic driver during our 28th month was social media -which isn't surprising. It's held fast in the number two spot for quite a few months. What is surprising, however, is how few users came to us vie social media this month. We only had a little over 320 users from all the platforms this month, a drastic decrease from last month, considering there were 4 more days this month. If everyone is stuck inside, why aren't they clicking on links?
Honestly, I think one of the main reasons why I didn't see a lot of social media traffic this month was my content. Although I enjoyed writing about awesome women, and it was relevant for Women's History Month, it was a little off-topic for a finance blog (though Sue Hendrickson's story is the epitome of Passion Fire!), and a lot off-topic in the wake of COVID-19. I tried to balance it by writing a few pieces on social distancing, but obviously that didn't work out.
Pinterest
Surprisingly, our traffic from Pinterest increased during our 28th month. We climbed back up to 270 users from the platform, which was the vast majority of our social media users.
I've been struggling with what to do with Pinterest since I left tailwind. It was super easy to schedule content with that program, but I wasn't seeing a return on my investment in the form of page views. Instead, I've been using Pinterest as an easy way to find my old blog posts for resharing them, and pinning manually very rarely. I'm still a little gun shy from my suspension a few months ago, and I don't want to appear spammy by pinning too much manually. Because of that, I don't know how helpful the group boards have been for me lately, but I'm not ready to drop out of them just yet.
Over the course of the next few months, I'm going to start trying to build content on my personal boards by pinning manually, and we will see if having more content directly from the web (rather than Pinterest) works to increase the amounts of views and shares that my content gets.
Twitter
We saw a huge drop in traffic on Twitter during our 28th month. I think a big part of that was the aforementioned mini-series on awesome women. That series just wasn't getting clicks. That's ok though – I tried a thing, got to learn and write about some amazing women, but it just wasn't something that people were interested in at the time. You win some you lose some.
I'm pretty sure I remembered to share an old blog post on Twitter every morning this month, but when you never leave the house, things tend to get muddled. Also remember I'm very active on Twitter (at least I try to be) so if you aren't following me already – what are you waiting for? Follow me!
Facebook
Another main issue I still have with social media is that I suck at Facebook. Seriously, we only had four users from Facebook this month. I usually remember to post my blog post on my Partners in Fire page, but I rarely remember to share it on my personal page, and I never post any other content. I keep saying I'm going to do better, but I never do. Do you think this is the month that I get out of my Facebook rut and actually start posting more? I'm taking bets now! You'll have to like my page to see how I do.
Direct Hits
We also saw a decrease in the number of direct hits during our 28th month. I attribute this decrease to the content as well….
Content
Speaking of content – I loved the content we put out this month. Maybe it wasn't the right time (but isn't it always the right time to talk about awesome women?) or the right place (People aren't exactly coming to a finance blog to learn about Junko Tabei and Katherine Johnson), but I think it was important. It's important to acknowledge trailblazing women, and important to celebrate them – even if it means a small hit on your blog traffic.
I'm also proud of the rest of the content we put out this month. Keeping in line with Women's History Month, I published a post on the Gender Pay Gap and a snarky bit of Financial Advice for Men. This piece was written like some financial advice for women is written. It was fun to flip that gender script.
My original plans for blog posts were scrapped due to the quarantine (it's completely unreasonable to publish a post on cheap date ideas for spring when we can't go outside) so I substituted them for more apt posts, such as Fun Things to do While Maintaining Social Distancing and Ways to Stay Connected. I think these posts saved my views for the month, since they are much more relevant to the situation that we find ourselves in than any of my other posts.
How Are We Going to Improve Our Readership
I still have a few ideas up my sleeve for improving our readership. First, I need to get back on board with improving SEO. I haven't updated a post in months. I think our SEO game is doing pretty well considering that though. Another thing I need to do to improve my SEO is write more content related to my highest-ranking posts. That means a few more posts about Twitch streaming (which also means I get to play more video games, yay!).
A second thing I can do to improve my readership is get more involved with the social media platforms that I don't use very much. I'm looking at you Facebook! Clearly, I need to work harder to grow my page and get traffic from it. I know it can be done; I just need to find the motivation to do it.
But hey, I'm also open to new ideas. What did you do to improve your readership? I'd love to hear about it!
Melanie launched Partners in Fire in 2017 to document her quest for financial independence with a mix of finance, fun, and solving the world's problems. She's self educated in personal finance and passionate about fighting systematic problems that prevent others from achieving their own financial goals. She also loves travel, anthropology, gaming and her cats.