Hey folks! Transparency Disclosure- Some of the links in this article are affiliate links. That means I'll receive a small commission if you decide to click on it and buy something. Don't worry, it doesn't cost you anything extra!
Seventeenth Month Update
Welcome to our seventeenth month update! We've been blogging for quite some time now, and I think we are finally finding our groove. We had a little over 1700 users this month – without any features or viral pins! We are growing slowly but surely!
Posting
I'm doing an awesome job of being consistent with my blog posting schedule. We posted a new blog post every Thursday and Sunday, and we even managed to record a few new episodes of My Boyfriend Sucks with Money. Unfortunately, with our work schedules being so different (and all the craziness of the last few weeks), we haven't been able to record as many episodes as we would have liked. We're hoping to have more time together in May, but it doesn't look like his schedule is going to be cooperating. Lame.
Readership
We are still doing an amazing job with our readership. As I said above, we had about 1700 users during our seventeenth month. That means we increased our readership by 15% without any features. That's amazing!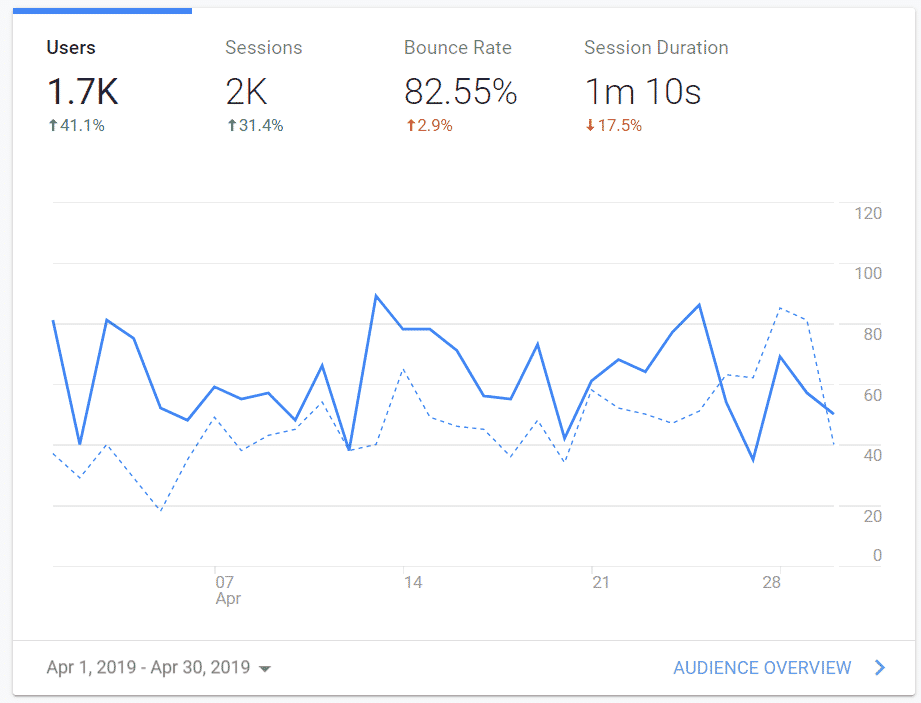 This month, we only had two days with less than 40 users. Last month, we had 11 days with under 40 users. We're averaging about 50 users per day, but we had more days this month with over 60 than under it (barely, but it's something).
Traffic Drivers
Social Media
Social Media was still the top driver of traffic to Partners in Fire during our seventeenth month blogging. Pinterest was the clear winner yet again (seriously, you need to get Tailwind!), but Twitter and Facebook are still bringing in consistent traffic. In total, we had 765 visitors from social media this month.
Pinterest
Pinterest continues its reign as the number one social media network for traffic, and this was without any viral pins! Interestingly enough, none of my pins from April were big traffic drivers. The biggest traffic drivers are the same as they were last month – adult conversations and becoming a Twitch affiliate. An older pin on not being able to have biological children also drove some traffic to the site. I rescheduled that pin using tailwind this month, which was a great call because it drove traffic! I love tailwind – and if you aren't using it yet you can use my code to get one month free!
Click here to get one month free on tailwind
Overall, we had 613 users coming to the site from Pinterest, a 27% increase from last month. This really shows how important it is to make awesome pins and use a scheduler. Pinterest has been a lifeline for my blog traffic! A quarter of my traffic came from Pinterest, but it's best to not have all your eggs in one basket.
Facebook
Facebook was my second biggest driver of traffic from social media this month, but it's not even close to where our pinterest traffic is. We had 90 users from Facebook this month, compared to 56 last month. I think a big portion of this was my post on my cat's surgery. Many of my real-life friends know how important Caesar is to me, and they tend to find my blog through Facebook.
I'm using Design Wizard to make engaging posts for Facebook. They have tons of awesome templates and images to chose from, and I think it's been helping increase my engagement on the platform.
Twitter
Twitter came in as my third biggest source of social media traffic this month. We had 61 users visit Partners in Fire from Twitter this month, which is way less than last month.
I wasn't nearly as active on Twitter this month as I had been previously. I broke my phone for a few days which limited my ability to post, but I also was very distracted by the emergency with my cat, so I didn't interact with people or post as much as I would've liked. I completely failed at reposting old blog posts too. I think that was a good experiment though, now I know that those tweets do actually drive some traffic!
Instagram
I got a big fat 0 users from Instagram again this period. I even lost about 20 followers. I clearly have not been focusing on this platform. When I broke my phone, I lost tons of photos that I was saving to post on Instagram. I also lost my favorite app for tracking unfollowers, and I can't find it again on the Play Store. All the apps now make you watch annoying 10 second videos before you can do anything. I'm not big into the follow/unfollow game, but I hate it when I follow someone who has followed me only to have them drop me. I use the app to unfollow anyone who does that.
The worst part about my Instagram failure is that I actually tried to make my account pretty. I did this fancy blue-blue-white pattern which looked awesome when the white was in the middle. I gave up on it though and decided to just start posting whatever. That strategy seems to work on Twitter, so I may as well give it a go on Instagram as well!
Organic search
Organic search was our second biggest driver of traffic during our seventeenth month, and the category that we saw the largest growth in. We had 575 users visit our website via organic search this month, an 82% increase over last month. That's freaking huge!
The main thing I did to increase my viewership from organic search was increase my page speed. Page speed is a huge part of SEO – nobody wants to visit a site that doesn't load properly. I used the hummingbird plug in to identify and fix things that were slowing me down, and I've seen a noticeable increase in traffic. My site still isn't as fast as it could be though, so a goal this month is to increase the speed even further.
I also did one guest post this month for Government Worker FI (backlinks really help SEO!) and went back to my first four posts to update them. It's weird to see how much I've learned since then! My first pictures were horrible, and my meta-data didn't make any sense! I don't think I even knew what meta data was back then.
I'm going to continue to work on my SEO this month, because it seems like my strategy helped a lot! I'm going to update a few more posts and look into deleting some heavy plug ins that slow my site down.
Direct Hits
We had 381 users come to our website via direct hit during our seventeenth month, a 39% increase. Getting those subscribers is really paying off! If you aren't subscribed yet, what are you waiting for? Sign up today!
Referral Traffic
Our final traffic driver was referral traffic. We only had 12 users referred from other sites this period. Clearly we need to step up our referral game! Guest posting will do more than just help out our SEO, it should also help drive some referral traffic.
Content
I love the content that I published this month (and I hope you did too!). The most personal post I wrote this month was Is a Leg Worth 4k, which was about my cat's accident and surgery. That was a rough week!
I also had a bit of fun with my content this week, writing the Anthem of Financial Independence and Being a Spoiled Brat. Those were fun posts! I did a great job of diversifying content this month, mixing those fun posts with a post on blogging, a post about side hustles, and a post about the psychology of money. We went from fun to deep to informative – you can't beat that type of content diversity!
We also got super deep on My Boyfriend Sucks with Money this month. We decided to go a little off topic and discuss big picture financial topics, like universal basic income and the finances of addiction. It was fun to explore these topics from our two unique perspectives. If you only listen to one podcast episode, listen to the one on addiction. I think that was one of our rawest and most emotional podcast episodes yet.
Monetization
Although we are seeing improvement in lots of places, the monetization piece just isn't there yet. I get a few clicks to Amazon every day, but none of those resulted in sales during the month of April. I'm also affiliated with Bluehost and Inmotion for webhosting (I'm happy to promote both because I've used both and love both of their services. I'm currently with Inmotion because I have two blogs, but I started out with Bluehost which is perfect for beginners) and Ultimate Bundles for a variety of different packages. None of these affiliates has resulted in any income yet, but I believe in all of these companies so I will continue to work with them.
What's Next?
We still have tons of room to grow, and we are going to get there. Our goal is still to get over 2000 monthly users. We were close this month, but we didn't quite get there. I did achieve the goal of averaging over 20 users per day via organic search, but I still had plenty of days below that. The goal is now to get 20 or more every day! I think that's definitely doable if I keep on track with my SEO strategy!
I'm looking forward to our 1.5 year mark to be spectacular!
Melanie launched Partners in Fire in 2017 to document her quest for financial independence with a mix of finance, fun, and solving the world's problems. She's self educated in personal finance and passionate about fighting systematic problems that prevent others from achieving their own financial goals. She also loves travel, anthropology, gaming and her cats.