Partner's in Fire did pretty well during our tenth month. However, we didn't meet our goal of a thousand users and we had about 150 less users than last month. What did we do wrong there?
Outside of not reaching our user goals, we had some big blog wins during our tenth month and did a lot of things right. Read on to find out what our strengths and weaknesses were during our tenth month blogging!
Our Tenth Month
Posting
As I mentioned in my ninth month updated, I skipped three blog posts this month due to a trip to Germany. Outside of that, I stuck to a very consistent posting schedule. We published seven blog posts this month; publishing every Thursday and Sunday that I was home. I do think that consistency is important when blogging (or you-tubing, podcasting, and pretty much anything that requires a return audience). If you stop providing content, people will stop coming. I learned that the hard way during my six-week hiatus, so outside of planned vacations, I hope to not skip anymore blog posts. It was extremely hard this month though, because I also had a good friend visiting from the other side of the country for five days. I sacrificed a small bit of time with her to ensure that I stuck to my posting schedule, but good friends are understanding and supportive of your goals.
Readership
I knew we were going to struggle with readers this month due to the vacation, even as I was hoping it wouldn't happen. You can clearly see in my stats where my average daily users dipped for a few days in the beginning of the month. Other than that, my readership remained fairly consistent during the course of the month. I had between 20 and 40 users almost every day during this period (except during vacation time). What I found interesting was the fact that I lacked the huge spikes in readers on certain days that I had last month.
I think this is kind of a good thing. Those spikes generally corresponded with a lot of spammy looking user registrations, which I didn't get a lot of this month. I'm hoping that means the majority of my users this month were real, engaged visitors rather than robots.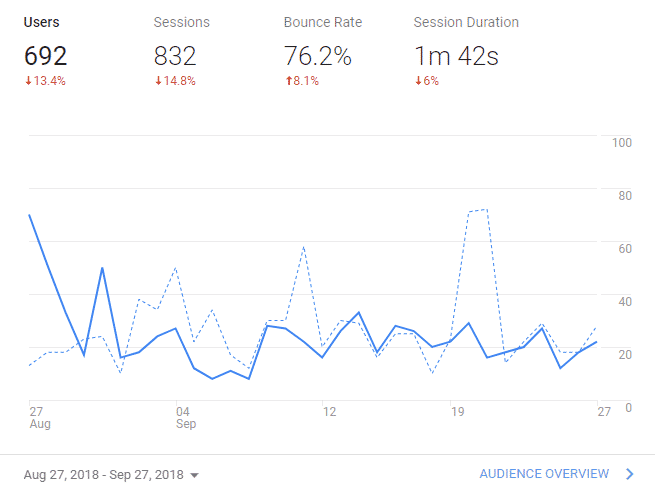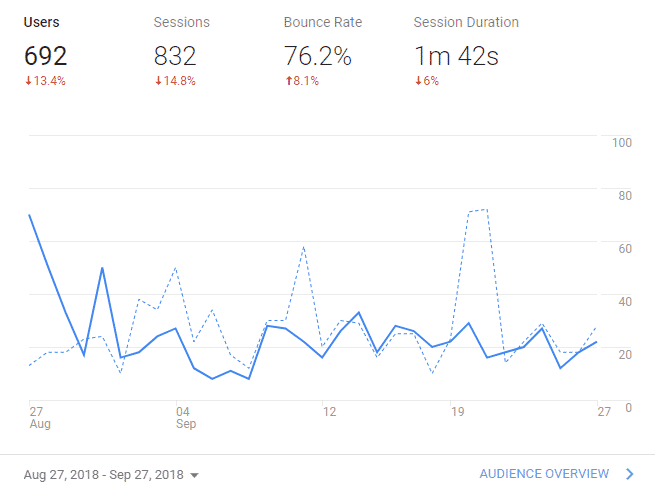 Traffic Drivers
Organic search
Organic searches were our biggest driver of traffic for the first month ever. We had 203 users from organic searches this month! I think this increase is due to the fact that our domain authority is steadily growing. For our first few months, our domain authority was at a paltry one. When you typed Partners in Fire into a google search, you'd have to scroll through pages upon pages of firefighters to find our website.
I recently checked my domain authority, and it was at 20! I know that's not great, but it's way better than one! Also, I ran a google search of Partners in Fire on a computer without the website in the cookies, and we were the first result! Apparently, we are doing something right with SEO.
Unfortunately, I still can't see what people are searching for that brings them to our site, but they tend to stay for more than a minute and look at more than one page, so that must be good!
Direct Hits
We got quite a bit of traffic through direct hits this month as well. We had 175 users come to us directly during our tenth month. I think this is because we are slowly but surely increasing our subscribers (I think the pop-up, although annoying, has helped!) and people are remembering our name. That's what I'm going to tell myself anyway.
Social Media
Social media was only our third biggest driver of traffic during our tenth month. We had 162 users from social media this month. This is obviously quite a decrease from the 244 we had last month. With my vacation and my friend visiting, I wasn't as active on all of my social media pages as I was last month. I'm definitely ok with that though. I sacrificed some time with my friend to post an article and market it at least once, but I wasn't going to sacrifice more time with her to participate in Facebook groups and remain active on Twitter and Instagram. She is more important to me than marketing, and I'd definitely make the same choice again.
Pinterest
Pinterest was our top social media traffic driver during our tenth month. We had 72 views from Pinterest, which is the only traffic source that increased during the period. Thank you, Tailwind! I use Tailwind to schedule my pins, and my queue is full weeks in advance. So technically, I was still active on Pinterest even though I wasn't doing much else.
Twitter
I still love twitter, and it was the second largest social media driver of traffic this month! We had 46 users from twitter, which is only twenty less than last month. This is great considering I didn't post as much! I think that really goes to show how important it is to engage with and grow your Twitter community.
Facebook
I had less than stellar performance with my Facebook page this month. Only 27 users came from Facebook, a huge decrease from the 81 we had last month. Unfortunately, I think the main reason for this is the content I was producing this month as opposed to last month. Our friends and family were really interested in my shift in mindset about having kids, and a lot of them found those articles via Facebook. Unfortunately, those relatives aren't as interested in becoming a Twitch Affiliate or Complaining on Twitter.
However, people in other communities are interested in those topics, and I'm not just writing for our families. I'm writing for myself, and for everyone else. Not everyone is going to care about every topic that I write about, and that's ok. Finance is related to almost every facet of our lives, so there are thousands of things to write about. I'm sure most people will get some value from at least one of my topics. At least that's what I tell myself.
Instagram
I had half the number of users from Instagram this month as I did last month. Only 17 users came from Instagram during this period. And I even tried to post consistently! I think that I had the same problem here as I had with Facebook…Instagram users (at least the ones in my community) seemed far more interested in articles about children than they did about the content I was producing this month. Like I said above though, that's ok. Different people like different things. My Twitter audience (where I have gamer friends) loved my article about Twitch. My Instagram audience did not. In the future, I may try to take this into consideration and avoid posting content that a certain community may not care about.
Referral Traffic
We had 157 users come from referral traffic this month. Unfortunately, I think the majority of this traffic is spam, because it has the highest bounce rate of any traffic source. This is really bringing down my average! Not all of it is spam though. We got featured on Little Bytes News somehow, which brought some decent traffic, and we also got a bit of referral traffic through two awesome financial blogs, Tread Lightly, Retire Early and Wise Money Home.
Blog Win for the Month
Though we had less users this month, we did have one awesome blog win. We are working towards monetization, and to that end I posted an article about skincare with affiliate links to products that I use and I strongly believe in. We actually had a few people purchase the products that I recommended! I'm so happy that I can provide useful information, and that our fans trust us enough to try something that we recommend. Thank you so much for your continued support, and I promise you won't be disappointed with the moisturizer.
What's Next?
We are going to stick with our goal of trying to get over 1000 users. I don't have any vacations or visitors planned for the month of October, so I should be able to stick to the posting schedule and remain active on all of my social media accounts. We also have a bunch of useful, interesting, and engaging content planned for the month, which I'm hoping will attract even more users!
We are still going to work on monetizing (hosting a blog isn't free you know!) through affiliate links, but we are also going to sign up for Patreon to see if we can at least recoup our hosting fees through donations.
Our biggest new project is a financial Podcast. We did a practice run this week which I think went really well. We are going to rely heavily on Patreon for the podcast, as monthly hosting fees can get costly. Be on the lookout, it's coming soon!!
Melanie Allen is an American journalist and happiness expert. She has bylines on MSN, the AP News Wire, Wealth of Geeks, Media Decision, and numerous media outlets across the nation. She covers a wide range of topics centered around self-actualization and the quest for a fulfilling life.