Well, here we are at two months in! It just flew by, didn't it? I feel like we made some great strides towards growing our blog in this second month, but let's see how we did!
Blog Growth Strategies for our Second Month
Readership
We really improved our readership over this second month! According to google analytics, we had 305 individual users during this second month, as compared to 89 during our first month. That's an increase of 216 readers!
How did we increase our readership?
The majority of our readers are still coming from Twitter. One of our major blog growth strategies has been continuing to grow and develop our Twitter community. Seriously, I love the PF Twitter community!
I also started a free trial of Tailwind early in the month, and we have seen a pretty nice increase in traffic from Pinterest. However, just adding pins isn't enough. Another thing I did to boost the traffic from Pinterest is create better pins. I started using high quality photos from Unsplash and worked a lot harder to improve the aesthetics of my designs, which I think that was a huge success. We went from 2 referrals from Pinterest during the first month to 22 by following this strategy. I bit the bullet and signed up for a paidTailwind* account for the year, so hopefully our Pinterest traffic will continue to grow.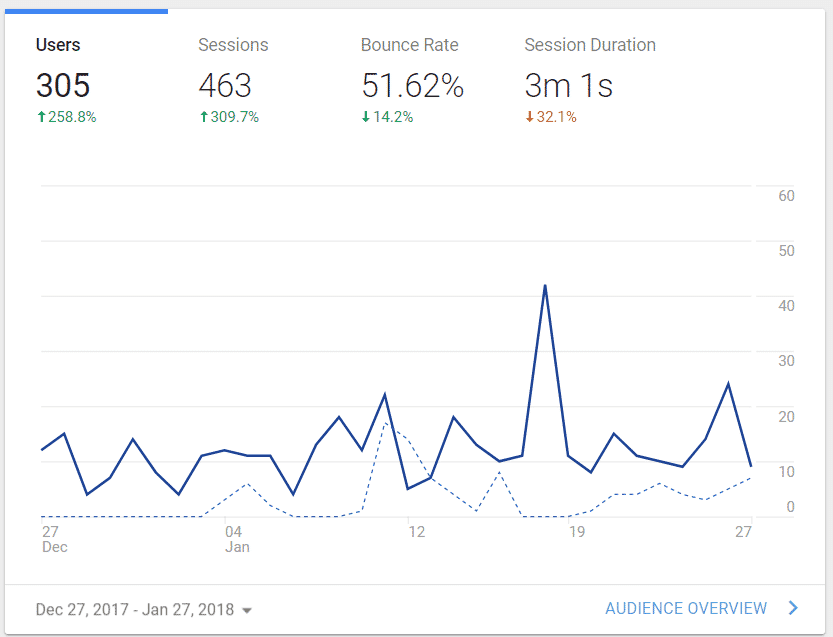 Posting
I think sticking to a regular posting schedule for this month also helped contribute to our increased readership. We posted twice per week (generally Sundays and Thursdays) so that gave us a total of seven posts for the month. I think it's easier to get users and page views if you have new, relevant content to share at least on a weekly basis. You can seem kind of spammy if you are re-sharing the same content over and over, but sharing things regularly keeps you on people's radars. It's a thin line!
Social Media
We totally kept up with the killing it on social media game for our second month. Partner's in Fire has over 1000 Twitter followers and almost 500 Instagram followers! We even increased our number of Facebook likes by a tiny bit even though that wasn't a major focus (maybe once we get over 1000 Instagram followers we will focus on Facebook!) The best part about this is that I feel like the Twitter community is even more engaging as it was before. I'm definitely achieving the goal of maintaining an engaging follower-ship as the numbers increase!
Education
We are still learning so much when it comes to blogging! I've done much better with Canva and creating images – I just learned that using the blog banner template makes the featured image look way better! I'm creating multiple pins per blog post rather than just re-pinning the same image.
We are also learning a lot about SEO. There are a few really cool keyword research tools that I've been utilizing to help me find better keyword phrases (though that's not really transferring to pageviews yet…I'm still learning!)
My writing skills have greatly improved over the past month. I'm regularly getting green readability scores after my first edit, which is great! During the first month all I saw was red! I'm learning how to separate my content into easily digestible sections, rather than just posting a huge wall of text. I think that really enhances the user's experience!
Monetization
Affiliates
We added a bunch of affiliate links (tastefully, I hope) to the blog this month to begin the process of monetization. We know these things take time, but thought think it's best to get started as soon as possible.
Amazon
One of the limitations of using Amazon as a new blogger is that the Amazon* affiliates program kicks you out if you don't have a qualified sale within the first 6 months.
Luckily for us, we did get a few Amazon sales this month! We got them by being supportive of other bloggers. Being supportive and lifting each other up is seriously the best way to start. We reached out to our Twitter friends asking for links to their affiliate stores, so that when we need something from Amazon, we can support them. I started my list and bought the thing I needed from one of my blogger friends (and will continue to use the list every time I need something) and miraculously, someone decided to pay the favor back and purchase something through our store!
Related: Are you interested in starting a blog but don't know where to begin? Check out the Blogging For Dummies series on Amazon. This series can always be counted on for relevant, useful advice*
We also created a google docs spreadsheet with a huge list of bloggers that we can support, so if you are interested in having it or adding your blog to it, please send me an email (melanie@partnersinfire) and let me know! I'm not going to post the list on this blog because I don't want to get banned from Amazon. I don't think having a list is specifically against any of their rules, but why risk it?
Other Affiliates
We also signed up with some additional affiliate programs, to include Clicky-Homes* and Flex-offers. Flex-Offers is interesting because it's a website that's just a conglomerate of affiliate links. You have to register to access the website, and then you have to apply for each company you'd like to partner with. Most of the companies that are members aren't really applicable to the field of personal finance (lots of retail) but I did sign up for a few of the travel affiliates and incorporated them into my travel blog.
Ads
We are still using Adsense to generate ad revenue for our blog. Currently, we've made about twelve bucks total with it (and they don't give you a payout until you reach 50). We are hoping to get enough unique visitors and page views in the next few months to upgrade to a better ad program.
What's Next?
Our goals for February are to work really hard at alternate forms of marketing. My biggest challenge is E-mail marketing. The goal is going to be to get ball rolling on e-mail subscribers, though I'm not entirely sure how to do that yet. It's probably going to take a lot of research, but I'd love your input! Also, if you aren't already subscribed, don't forget to sign up in the side bar!
My other big goal for this month is to continue growing our readership. I want to increase by 200 readers again, so that we have 500 total users for this next month. It's a hefty goal, but I think its achievable.
I also signed up for the Share-a – Sale affiliate program. I haven't used it yet, but I'll be sure to add it to my updates for next month!
What are your favorite blog growth strategies? Leave a comment and let us know!
Melanie Allen is an American journalist and happiness expert. She has bylines on MSN, the AP News Wire, Wealth of Geeks, Media Decision, and numerous media outlets across the nation. She covers a wide range of topics centered around self-actualization and the quest for a fulfilling life.