Wow, three months of blogging in the books. I am halfway to becoming a real blogger! Let's see how I did!
Blog Growth Strategies for our third Month
Readership
The blog readership is continuing to grow, slowly but surely. According to Google Analytics, Partners in Fire had 516 users during this month, compared to 305 during month two and a paltry 89 during the first month. We are chugging right along!
How did we increase our readership?
A lot of our users are still coming from our various social media platforms, and we are continuing to grow and expand these while maintaining the sense of community. Two hundred seventy of our monthly users came from social media. Our top performing platform this month was Facebook, and that was due to both of us sharing our posts regularly on our personal pages. Sometimes building a following starts with your own network.
We also got quite a few direct hits (198!) during this third month. A large portion of that was J publishing his struggles and sharing them with people that he used to know. A lot of his friends and family didn't know about his bipolar disorder or his struggle with alcohol, and they were interested to learn those things.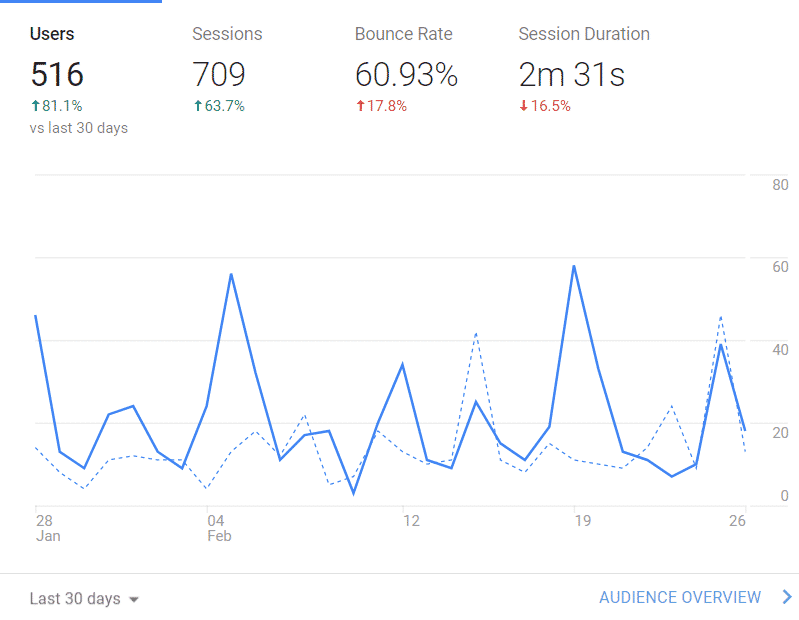 Posting
I'm pretty amazed that I (mostly) stuck to my posting schedule this month. I only missed one day; and considering how crazy this month has been I'll count that as a win. Instead of posting that day, I redid the "About Us" section and changed some photos around on the blog. It was cathartic and a good move for me personally.
Things are a bit calmer in my personal life now, so I should be able to stick to Sundays and Thursdays for month four. Here's to hoping anyway!
Social Media
We are still doing amazing things with social media. A huge portion of our traffic came from Twitter; and although I didn't gain a ton of new followers this month, I'm super happy with the community that I've built there.
We killed it on Instagram. We increased our Instagram following by over 600 followers! I really think our Instagram game and engagement helped increase our traffic this month. Although Google Analytics only recorded 18 referrals from Instagram; I'm going to venture a guess and say that number is a bit higher. You can't directly link from Instagram to a website; so I am fairly certain some Instagram users indirectly copied and pasted the URLS that we posted with our photos. I'm guessing this because I don't think all 198 of the direct referrals were due to his friends reading about his drinking problem. But hey, they may have been. It's hard to know for sure.
This was also my first month as an official Tailwinduser. I've seen an uptick in my traffic from Pinterest, but it isn't a crazy amount yet. I'm going to continue plugging away at it and hopefully we can grow from there.
Monetization
Affiliates
I am still working on monetizing the blog through the use of affiliates. We actually aren't doing too badly on Amazon! We had 16 total clicks and 4 ordered items from Amazon in the last 30 days; and made about five bucks total. Obviously, that isn't enough to gain financial independence; but it's a great start! Although I'm pretty sure most of it is still from the list I made; but I'm ok with that, I'm super happy that we were able to put together a list that helps other bloggers! I've been paying it forward as well.
I've utilized the other affiliate programs too, but so far we haven't seen any results from them. We are members of Flex Offers, Share-A-Sale, and Clicky-Homes affiliate programs, and although we've received a few clicks; we haven't had any sales from those platforms.
Ads
We are still using Adsense to generate ad revenue for our blog. Currently, we've made about twelve bucks total with it (and they don't give you a payout until you reach 50). We are hoping to get enough unique visitors and page views in the next few months to upgrade to a better ad program. I keep eyeing mediavine; but I don't have nearly enough users yet for that!
What's Next?
This next month is going to present a unique challenge for me. With Jonathan and I no longer living together, he will no longer be contributing to the blog. He insisted on still managing the Instagram account, but we will see what happens with that.
For this next month, I'm going to continue to focus on improving as a writer and I'm going to focus heavily on gaining traffic from Pinterest. I'm hoping to maintain over 500 users for the month on my own; without the help of Jonathan's network. I think it's doable!
What are your favorite blog growth strategies? Leave a comment and let us know!
Melanie launched Partners in Fire in 2017 to document her quest for financial independence with a mix of finance, fun, and solving the world's problems. She's self educated in personal finance and passionate about fighting systematic problems that prevent others from achieving their own financial goals. She also loves travel, anthropology, gaming and her cats.