Hey folks! Transparency Disclosure- Some of the links in this article are affiliate links. That means I'll receive a small commission if you decide to click on it and buy something. Don't worry, it doesn't cost you anything extra!
Well ladies and gentleman, Partners in Fire has been an active blog for one full month! We actually kept up with a blog for a full month! I think that's a feat in and of itself! Though the true test will be to see where we are 6 months down the line…don't most people quit before the 6-month mark? That's pretty much what happened with my travel blog. Maybe when I get to financial independence I'll get back to it (Traveling is one of my main FIRE goals, after all!).
So how did we do during our first month blogging?
Posting
We did a great job with posting regularly this first month. We've published 4 posts, including this one! I work full time and I'm still trying to work on Travels Near and Far in my spare time (read-never!); so I really hustled to get all these posts up. I'm proud of that.
Social Media
I think our greatest achievement during the first month blogging by far was our social media presence. Social media is incredibly important when blogging. It's the best and easiest way to market a blog! We killed it on social media during our first month!.
We have about 700 Twitter followers (though I started on Twitter three weeks before we published the blog, so I'm kinda cheating), 350 Instagram followers , and almost 30 likes on Facebook . But its not all about numbers. I feel like we've build some amazing communities and partnerships with our social media presence. I've meet some awesome members of the personal finance and blogging communities via Twitter, and I've learned so much from them already. I love how supportive everyone on Twitter is! My goal is to build the Twitter account but maintain the sense of community that I've cherished so much. I'm hoping to build that kind of community through the Facebook and Instagram accounts as well. The community is so much more important than the number.
Readership
Well, as is to be expected, our readership isn't stellar. According to google analytics, we've had about 89 users in our first month blogging (most of that was due to my awesome work in getting 500 Twitter followers…a lot of you were super interested in that!). Jetpack on WordPress gives me far different stats; according to them we've had over 346 users! I think I'll go with Jetpack when I make my media kit! I'm just kidding, I know Jetpack counts my own previews as unique views. That probably won't help me get sponsors!
I do, however, think that 89 users for the first month is fantastic! I'm super happy with that number. When I first started my travel blog, it took over 6 months to reach 80 users. I feel like we are way ahead of the game with this one, and we can only get better from here!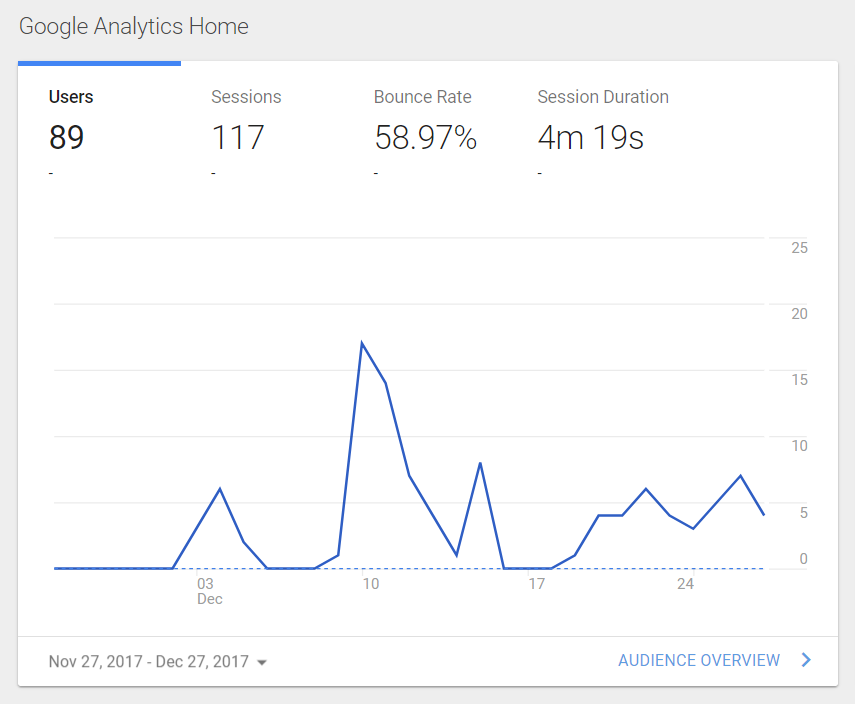 Education
Another huge achievement is how much I've learned during this first month blogging! I learned how to use Canva to make pretty images for Pinterest. I'm learning how to increase my Pinterest presence, and how to leverage that to drive traffic to the site. I'm learning how to take better pictures, and how to use the free pictures available online. These are things I never even considered with the travel blog, and I'm very grateful that I've found the resources to learn them now. Blogging seriously increases your skill sets in so many different areas! It's amazing.
What's Next?
The next step is to monetize the blog. During the final days of this month, I signed up for a variety of affiliate programs. Our goal is to chose partners and products that add value to you, our readers. We are also trying to avoid being spammy about it. We hope to increase our readership, even if just by a little. Maybe we can get to 100 for the month! I think that would be awesome.
We will see what the new year and the new month brings us! Wish us luck! Thanks for being with us on this journey!
*Links with this next to it are the affiliate links that we talked about above. We appreciate your readership!
Melanie launched Partners in Fire in 2017 to document her quest for financial independence with a mix of finance, fun, and solving the world's problems. She's self educated in personal finance and passionate about fighting systematic problems that prevent others from achieving their own financial goals. She also loves travel, anthropology, gaming and her cats.