Fourteenth Month Update
Welcome to our fourteenth month update! This was a crazy month for us! We moved, rented a room for a while, bought a house, and moved again. So much craziness! With all that going on in our personal lives, let's see how blog life treated us during our fourteenth month!
Posting
I was so close to sticking to my posting schedule this month – I only missed one day. With everything that's been going on, I think that's pretty impressive. The only day I didn't post was the day that we actually closed on the house. We decided to spend the night in the new house even though we didn't have any internet or furniture. It was a cozy night of talking to each other – who does that anymore?
We've still been failing at recording "my boyfriend sucks with money". We haven't done a thing with that. But we will be getting our stuff next week, and we will start recording again as soon as we get unpacked!
We are also recording some awesome DIY on Fire videos for you guys, but we haven't had the chance to edit any of them yet. I think you are going to really enjoy this series!
Readership
Our readership freaking exploded this month! We had over three thousand visitors to Partners in Fire during our fourteenth month! That's freaking spectacular! This is our best month ever – lets see how we did it.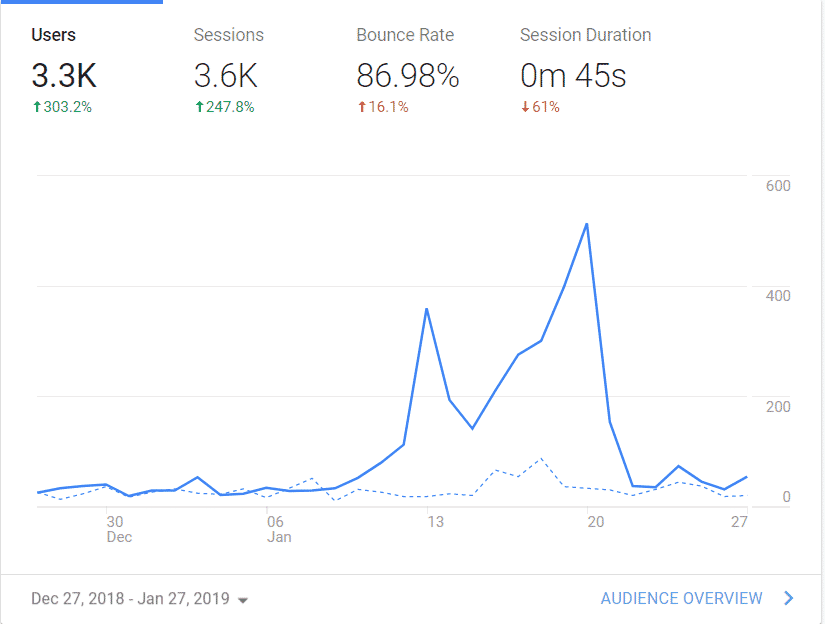 Traffic Drivers
Social Media
Social Media was the top driver of traffic to Partners in Fire during our fourteenth month blogging. Pinterest was the clear winner, but Twitter and Facebook both brought more traffic this month than last month. In total, we had 2810 visitors from social media this month.
Pinterest
The number one driver for traffic during our fourteenth month blogging was Pinterest. I had a pin that went crazy viral. Apparently, lots of people wanted to know about our No Spend Year – all three of the pins I created for that post got over 100 clicks. One of them got over 1500 clicks though, which is insane! Most of the traffic came from this. Now if only I could recreate that kind of success regularly…I'll try to figure that puzzle out!
Twitter
I did an awesome job of getting traffic from Twitter this month as well. We had 93 users, which is one of our best months from Twitter yet. Obviously, it's not as good as the two thousand users we saw from Pinterest, but I'll take any growth on any platform.
Twitter is the social media account that I've been focusing on the most, and it shows. I've been trying to share my friend's posts, engage with others, and help those just starting out get a bit of a boost. I think my efforts on Twitter have been successful, and it shows with my growth in users from the platform. The moral of this story is that if you want Twitter to work for you, be generous on Twitter. Help others and be a good Twitizen. What goes around comes around.
Facebook
I made an effort to post more engaging on content on my Facebook page this month than I have in previous months. I did get two more likes, so maybe that strategy helped a bit. We got 76 users from Facebook this month, an increase of 7 users. It's not much, but an increase is an increase, right? I'm going to try to continue with that strategy for my 15th month.
I also participated in a lot of Facebook blogger groups during my fourteenth month blogging. These are great ways to get your content shared and in front of a new audience. Unfortunately, this is something I've been slacking on. I don't want to participate in the group posts if I won't have time to reciprocate engagement or follow the post rules, so I tend to not participate. It's bad form to just post your content and not share the content of others!
Instagram
I'm still struggling with Instagram. I did a bit better with posting pictures this month, but I still only got five users from the platform. My main goal is to get to 10K followers so that I can add links to my story – but it's so hard to get followers on Instagram! I've been stuck at 1450 for the longest time, and I've struggled to see growth. I also don't post as often as I should and don't comment much on other people's content. I might see more growth if I engaged more with others, but struggle with engagement on Instagram. How many times can you comment "beautiful scenery" or "nice shot" on pictures? I feel like there isn't much to say on the platform. I know it's weird, but I feel much more comfortable engaging with people on Twitter.
Direct Hits
Direct hits were our second largest source of traffic this month. We had 274 users via direct hits this month. Most of these are coming from our email subscribers who are super awesome and visiting whenever we post. We love you subscribers!! And if you aren't yet subscribed, just fill in your info to get updates directly to your inbox!
Organic search
Organic search was our third biggest driver of traffic for our fourteenth month. We had 213 users visit our website through organic search, which is only two less than what we had last month. Pretty cool, huh?
I used the Alexa keyword tool to determine what people are searching for when they come to our website, and it's definitely the stuff we write about! The number one search term directing people to Partners in Fire is "barista fire" which is pretty cool because I wrote an article focused on just that. People are also heading to our site after searching for "regal assets affiliate" and "coast fire". I'm glad that people are finding us after searching for related topics.
I also used the online tool to check my domain authority, and we are up to 25! We were at 20 just a few months ago, so I'm really proud of the fact that I've finally been able to improve on that. Perseverance for the win!
Referral Traffic
Our final traffic driver was referral traffic. We only had 33 users referred from other sites this period, but as a bonus some of them were totally legit. We had some traffic from both Camp Fire Finance and Fat Tailed and Happy this month, and I'm incredibly grateful to both of them for including us.
Content
I'm really proud of the content that I put out this month (but I always am, why put out content that you aren't proud of?). My favorite post was "How I made $16 in one-year blogging", which I thought was hysterical. It didn't get as much traction as I had hoped, but I enjoyed writing it. My "No Spend Year" post was a huge hit though, I didn't realize so many people would be curious about the idea.
Monetization
Monetization still alludes me. I am a part of the Ultimate Bundles affiliate program, but I failed to sell any of the healthy eating bundles (even though they are a great deal!). I think I'll have more success if I use my bundle throughout the year and can show people the advantages of it. That's something I will definitely work on this year; probably through my Instagram stories. It will be a great way for me to try to use Instagram as well!
My other affiliate program, Bluehost, hasn't fared much better. I have gotten clicks, but nothing has translated into sales. I still believe in the program, and I think Bluehost is one of the best hosting platforms for bloggers just starting out, so I will continue to offer links to their services in my blog posts about blogging.
My increase in page views this month did not lead to an increase in sales on Amazon. I am getting a few clicks every day, so that's a step in the right direction, but I need to turn those clicks into sales, and that hasn't been happening yet.
What's Next?
Now that we've achieved our goal of getting over 1000 users in a month, our focus is going to be to maintain that! We did go viral with that one pin on Pinterest, but after that fizzled out our page views went back down to almost where they were before. If we can get 1000 users for two or three months in a row, we will know that we've "arrived" as a blog.
We are going to continue to try to monetize the blog. I've been saying this every month since I started, but someday it will work out (and I promise to share what worked with you when it does!). The next bundle that I want to support doesn't come out for a few months, but in the meantime, I will continue working with Amazon and Bluehost.
What are your thoughts on our fourteenth month blogging? How do you think we did? Give us some ideas for increasing our readership for month fifteen and beyond!
Melanie launched Partners in Fire in 2017 to document her quest for financial independence with a mix of finance, fun, and solving the world's problems. She's self educated in personal finance and passionate about fighting systematic problems that prevent others from achieving their own financial goals. She also loves travel, anthropology, gaming and her cats.