Thirteenth Month Update
Welcome to our thirteenth month update! Now that we've surpassed the one-year mark, we really feel like a legitimate, established blog. I think that shows in how well we did for the month without having the time to do a lot of marketing! Let's see how we did!
Posting
I am truly amazed that I was able to stick to a consistent blogging schedule this month. We had a whole lot going on in our personal lives with a big move, starting a new job, and the holiday season. But even with all of that craziness, I still managed to publish a post every Thursday and Sunday. I consider that a huge win!
We did fail at recording and posting new episodes of "My Boyfriend Sucks With Money" though. In fact, we accidentally packed our microphone up in the moving pod, so we won't be able to record a new episode until we buy and get settled into the new house. That might be awhile! In the mean-time, you can binge listen to our previous episodes on I-Tunes!
Readership
Astonishingly, we were able to grow our readership this month in comparison to last. With 805 total users, our thirteenth month was one of our best yet!! The month we got featured on Rock Star Finance is still number 1; it's hard to top that kind of traffic. But we will get there organically someday soon!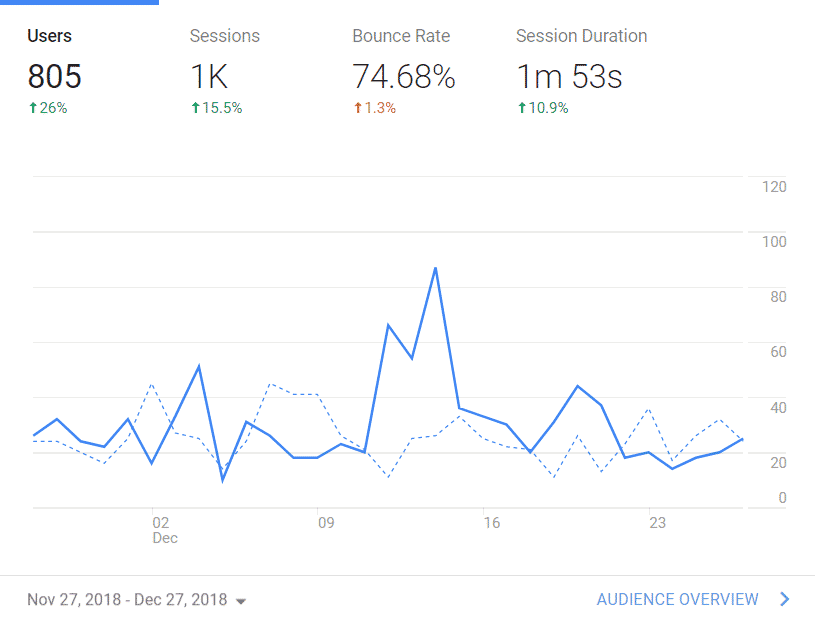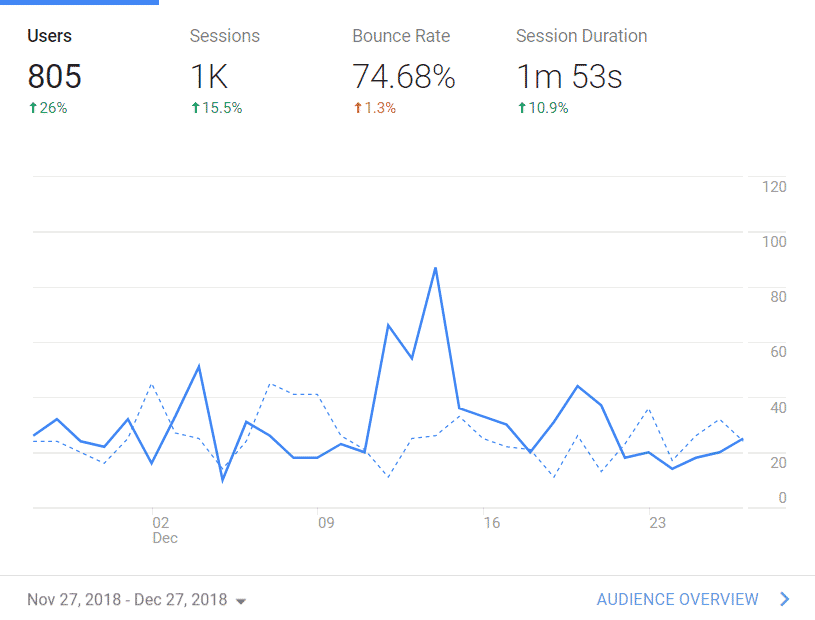 Traffic Drivers
Direct Hits
Direct hits were still our number one source of traffic this month. We had 315 users via direct hits this month. Most of these are coming from our email subscribers who are super awesome and visiting whenever we post. We love you subscribers!! And if you aren't yet subscribed, just fill in your info to get updates directly to your inbox!
Social Media
I did a lot better at social media this month than I did last month, but I'm still not where I'd like to be. We had 236 users from social media this month, which was a pretty good improvement on last month. But still, with everything going on in my life, I haven't had the time to be as active as I'd like to be. My social media game will definitely improve once we get settled. I'm hoping that won't be more than three more months from now.
Twitter
I rocked it on Twitter this month. I had 82 users from Twitter during month 13, almost double my twitter traffic from last month. I'm pretty sure being featured in the Money Mix's daily round up helped, because I wasn't as active this month as I have been in previous months. A lot of my Twitter friends also have been sharing my posts, and that helps a lot. Thanks Twitter friends! I'm sorry for not reciprocating as much this month (and in advance…next month!).
Pinterest
I did do better on Pinterest during my thirteenth month than I did in my twelfth month, but not by a lot. I have yet to break 100 users from Pinterest in any given month, and that's with using tailwind to pin to group boards, pining to tribes, and sharing other people's content. I'm working really hard on creating nice images for the platform with calls to action as well, it's just not something that I've been able to crack yet. If someone wants to do me a huge favor and check out my main Pinterest board to tell me what I'm doing wrong, I'd be eternally grateful!
Facebook
Although I didn't post interesting things on my Facebook page like I would have liked to, I still got a pretty decent turnout from Facebook during my thirteenth month. I got 69 users visiting from Facebook this month, a small but relevant increase over last month. A slow and steady increase is an increase, right?
Instagram
I failed at Instagram yet again this month. It's been so hard to find the time to take and edit pictures for the platform that it falls to the wayside. I don't want to be spammy and just post blog header photos, so I haven't even tried to get users from this platform. I still got 6 users from it without putting in any effort, so that's a huge win, right?
Organic search
Organic search was our third biggest driver of traffic this month, but it did increase by 15 users over the previous month. I tried writing a post specifically related to the major search terms that people have been using to find my site (barista fire), and I think that helped improve my traffic from organic searches. I'm also still working on improving my DA through link building and positing engaging content.
Referral Traffic
We had 55 users coming from referral traffic this month, which is fairly in line with what we saw last month. However, the referral sources look pretty spammy, so I'm guessing most of these users were bots. I did get featured on an awesome year end round up by Smile & Conquer, so some of those users came from that. Many Thanks!
Content
I'm really proud of the content that I put out this month (but I always am, why put out content that you aren't proud of? We posted some awesome content about Barista Fire and Geoarbitrage that I think are extremely relevant to the concept of financial independence. We also posted about the Best Cash Back Apps and Using Acorns for Investing, which I think are super helpful topics for our readers. Moving forward, we are going to continue to write awesome content that is engaging and helpful.
Monetization
I did dabble a bit more in monetization this month, publishing a nice little gift guide for the holiday season. And, I did get some sales from Amazon this month! That's a step in the right direction. I'm working on other avenues of monetization as well, so hopefully I'll have more information for you on my next update!
What's Next?
We are going to stick with our goal of trying to get over 1000 users, we were super close this month! My other big goal is monetization. As I've been regularly saying, we have found some new affiliate partners that we will be working with shortly, so we hope to be able to report success with those.
Our biggest focal points for monetization at this point are affiliate marketing and increasing our readership to gain access to better ad networks. Maybe someday we will venture into sponsored posts, but at this point that isn't our focus.
What are your thoughts? What else can we do to improve our readership? I'd love to hear your ideas!
Melanie launched Partners in Fire in 2017 to document her quest for financial independence with a mix of finance, fun, and solving the world's problems. She's self educated in personal finance and passionate about fighting systematic problems that prevent others from achieving their own financial goals. She also loves travel, anthropology, gaming and her cats.