Twelfth Month Update
We made through our twelfth month of blogging! Partners in Fire is officially one year old! I'm so excited to finally reach this milestone. Unfortunately though, our numbers for this month weren't as great as I had hoped. We didn't make it to that coveted 1000 users mark; in fact we took a huge step backwards on total users for the month. But we are still trekking along! Let's see what happened this month to find out where we lost users.
Posting
We stuck to our posting schedule during our twelfth month blogging, publishing a post every Thursday and Sunday like clockwork. We also managed to post a weekly episode of "My Boyfriend Sucks with Money", which has been great fun. I did a bonus post on my one-year blogiversary which was completely unrelated to finance but I thought it would be fun to write about. It's my birthday and I can write what I want to, right? I actually got decent page views out of that too. Weird.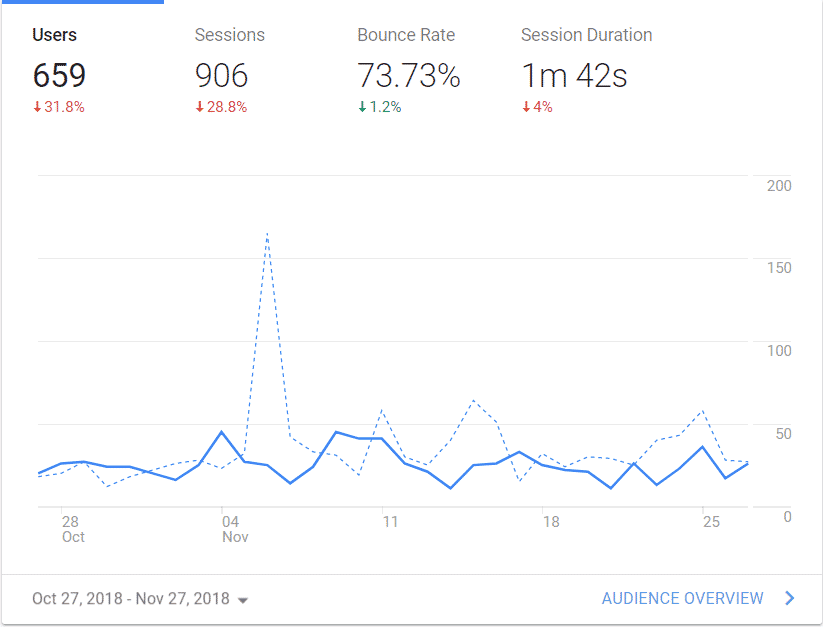 Readership
Our readership really took a hit this month. We went from an average of 30 users a day to under 20. We didn't get any big features this month, so that may have contributed to our decline in users. I think some other factors played a part as well though. I didn't comment on nearly as many blogs this month as I did last month, and I wasn't as active on social media. Unfortunately, I just didn't have time, as I am getting ready for another big move. I would like to say that I'll do better in December, but I'm actually moving in December so I doubt that will happen. My goal is to at least stick to my consistent posting schedule.
Traffic Drivers
Direct Hits
Direct hits were still our number one source of traffic this month. We had 276 users via direct hits this month. Most of these are coming from our email subscribers who are super awesome and visiting whenever we post. We love you subscribers!! And if you aren't yet subscribed, just fill in your info to get updates directly to your inbox!
Organic search
Organic search was our second biggest driver of traffic this month. Maybe I'm starting to figure out this SEO thing! We had 190 users from organic searches this month, which is very similar to the last few months. The same keywords "Barista fire" and "Coast FI" are driving traffic. Maybe I should write about those topics more!
Social Media
I failed at social media during my twelfth month. In month 11, I was posting older articles every day, posting to Instagram every day, and posting relevant content to Facebook to increase my following there. I hardly did any of that this month, and my lack of effort shows with my users. We only had 174 users from social media this month, almost 100 less than last month. I really need to find time for social media to get those numbers back up.
Pinterest
Pinterest is still a work in progress. We only had 66 users from Pinterest this month, which is a small decrease from last month. I did just recently sign up for Tailwind'sSmart Loop feature, so hopefully I'll start seeing results from that in the next month. Other than that, even with tailwind, my traffic from Pinterest has been fairly stagnant.
Facebook
I did not work on my Facebook presence like I wanted to this month. I did cultivate some good content to share, but unfortunately other things get in the way and I forget to do it on a regular basis. Still, I did get six new likes this month on Facebook, and I got ten more page views from the platform during my twelfth month than during my eleventh. It's the only social media platform that gave me an increase in page views this month, so I'm going to count that as a win!
Twitter
I failed the most at Twitter this month. I only had 47 users from the platform this month, a huge decrease from the 114 of last month. Why did this happen? I have a few ideas. First, I wasn't posting as much older content to Twitter. Last month, I tried to share an older post at least once a week for fresh views. Second, and more importantly, I wasn't as supportive of other bloggers on Twitter as I was last month. I rarely shared content or retweeted, and I just wasn't as active on the platform in general. When it comes to twitter, giving love is super important. I'm definitely going to try to do better next month!
Instagram
Instagram was a complete failure this month. Although I did post regularly for the first half of the month, I failed at posting during the second half. I only had nine users visit the website from Instagram. My following even decreased – I was close to 1300 and now I'm back down to nearly 1200. Instagram users are super finicky, aren't they? I want to do better on the platform, but I don't think I'll have the time to create compelling photos this month. I will post a bit, but I'll focus more of my energy on Twitter and Facebook until I get settled in my new job and house.
Referral Traffic
We had 52 users coming from referral traffic this month, which is fairly in line with what we saw last month. However, the referral sources look pretty spammy, so I'm guessing most of these users were bots. I'm going to try to do some extra guest posts in the coming months to get better referral traffic (and increase my DA as a bonus!).
Content
I think the content I posted this month was unique and engaging, but the lack of users to the site tells me otherwise. I tried to write for a general audience interested in saving money on basic things and normal life stuff (pets, giving thanks, groceries, etc). I don't know if this has just been written about so much that it's no longer relevant, or if I did a poor job of marketing my content. I guess I'll find out this month when I post more super exciting content and do a better job of sharing it!
Monetization
I actually made a few bucks off of Amazon this month! Isn't that exciting? I'm still not making enough money on the blog to pay for anything, but it's nice to see a few more clicks and purchases every month. We are monetizing slowly but surely! I'm going to try to dabble in sponsored posts and research more affiliate programs in the near future. Hopefully I'll be able to turn this blog thing into a decent income generator some day!
What's Next?
We are going to stick with our goal of trying to get over 1000 users, even though we were pretty far from it this month. I know it's doable! It is going to be hard this month though, I plan on moving in mid-December, so a lot of my free time will be dedicated to packing, cleaning, and getting ready for the move. Unfortunately, that won't leave a lot of time available for blogging, but I'm going to stick to my Thursday and Sunday posting schedule! It won't be easy, but I can do it.
What are your thoughts? What else can we do to improve our readership? I'd love to hear your ideas!
Melanie launched Partners in Fire in 2017 to document her quest for financial independence with a mix of finance, fun, and solving the world's problems. She's self educated in personal finance and passionate about fighting systematic problems that prevent others from achieving their own financial goals. She also loves travel, anthropology, gaming and her cats.