As you know from my post about having adult conversations before moving in together, I'm all about getting difficult conversations out of the way before they are 100% necessary. So of course we would have plenty of conversations before having kids! We already had quite a few talks about what our lives would look like with children and how we would raise them.
Childcare Vs Stay at Home Parent
Given that childcare is one of the biggest contributors to the outrageous cost of having children, our first conversation was about whether one of us should be a stay at home parent.
The first thing to consider is whether it would make financial sense for one of us to stay home. With daycare costs averaging over $900 per month in the United States (and being higher in cities!) one of us could end up working just to pay for the daycare!
But there are more things to consider than just the financial. First, we would have to think about what's best for the baby. I would assume that a parent would be more attentive to the baby than a day care worker, but maybe we could find a super awesome daycare. And, the child might miss out on some early socialization with children its own age if one of us stays home.
Another consideration is whether whoever stays home with the baby will be fulfilled in doing that. I wouldn't want either of us to be miserable. I make more money than my boyfriend does and my job provides much better benefits. It would make more financial sense for him to stay home than for me to stay home.
But would he be happy staying home? This is something that we have discussed at length. He does love streaming video games, and being a stay at home dad would give him an opportunity to grow his audience even more. He's more than willing to give it a try, and we are both understand that it's something we will have to continuously readdress to make sure we are both happy. If it turns out that he hates it, we can make other arrangements.
Priorities
Many relationships suffer after having kids. There's suddenly this brand-new person who basically requires all of your time and energy. We understand that the first year will be hard, because obviously the baby won't be able to take care of itself. But we also understand that we have to prioritize our relationship.
I think a lot of parents get their priorities wrong. A lot of parents prioritize the kid's needs, kid's wants, parent's needs, then parent's wants. I don't think it's intentional. It's just as easy to get the child's needs and wants confused as it is to get our own needs and wants confused.
We are going to make a concentrated effort to adjust our priorities. Our goal is to have our priority order more like this: child's needs, parent's needs, parent's wants, child's wants. We know it will be difficult, but I think it will ensure that we continue to have a healthy and happy relationship. And I think that is important for the kid's sense of stability. A child needs to see a healthy relationship between his parents more than he needs to be coddled. At least that's my opinion, and that is what we are going to strive for.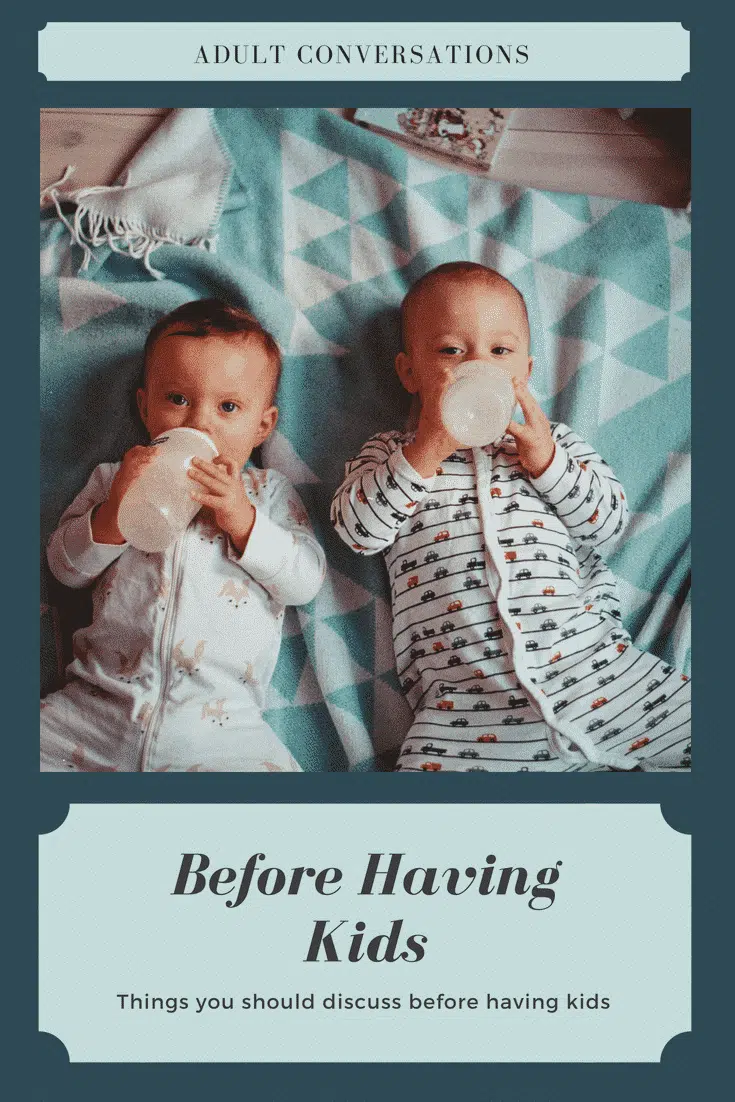 Discipline and Parenting Styles
It's important that you and your partner are on the same page in regards to parenting styles. Is one of you going to be a helicopter parent while the other is more hands off? What will the rules be as the children age? How much independence are you comfortable giving them? These are things that should be discussed before having kids.
One of the reasons I didn't want to have children is because lots of parents treat their kids like best friends, and don't want to be the bad guy. This is not going to fly with me! I will not raise my kids to be entitled spoiled little brats who think the world revolves around them. I will also not raise my kids to be helpless. You hear horror stories of mothers going to job interviews for their kids, or still doing their laundry when they are in their twenties; and that just isn't going to happen. I am going to be more of a free-range parent, and teach my kids independence from an early age. Luckily, my boyfriend feels the same way. We know we are going to have to adjust as the kids grow up, but I think having a game plan beforehand will make things go smoother.
Religion, Values, and Morals
I am not a religious person, and neither is my boyfriend. So, we already know that we won't be raising our children with any religious affiliation. But what if you and your partner come from different religious backgrounds? Will you expose the children to both or will you choose one? This is an important thing to talk about before having kids.
We both want to raise our children to be good, kind people. You don't need religion for that. We will show them by example that being compassionate and caring is the way to go, even if you don't get anything in return.
We do differ on our political affiliations, he is a conservative country boy while I'm a liberal city girl (It's funny to label ourselves that way, but we both lean more towards center). We both want our children to grow up thinking for themselves though. We want to provide them with the relevant information and show them how to look critically at both sides. We don't want them to be sheep, voting for a party just because we do.
What Else should we discuss before having kids?
Obviously thinking about what we need to talk about before having kids is brand new to me. Outside of these things, I don't have a clue! Help me out! What am I missing? Am I way off base? What do we need to talk about before getting pregnant? Are there any disagreements that you and your partner have had that you wish you would have resolved before having kids? Did anything pop up that you didn't expect at all? Let me know in the comments, so we can have that adult conversation before trying for a baby!
Melanie Allen is an American journalist and happiness expert. She has bylines on MSN, the AP News Wire, Wealth of Geeks, Media Decision, and numerous media outlets across the nation. She covers a wide range of topics centered around self-actualization and the quest for a fulfilling life.