22nd Month Update
Well, we did not improve in our 22nd month like we hoped we would. In fact, our total users declined yet again, for the fourth month in a row! A few short months ago, we were narrowing in on 2000 users a month, and now we are back to hardly getting over 1000. Let's try to find out what we are doing wrong.
Readership
As I said above, our total readership is still at a decline. We only got 1100 users this month, a little less than last month. We averaged about 40 users per day, but had a good amount of days with less than thirty users.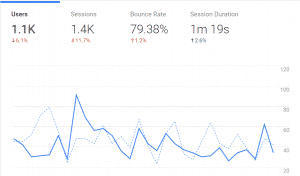 One of our biggest issues this month is that we hardly had any really good days. We only got over 60 users three times. Our saving grace this month was our awesome Fincon recap, which garnered tons of attention (probably because we were able to get it out so quickly) and got almost 100 views on the first day it was published. Other than with that post, our pageviews were fairly stagnant throughout the month. I guess the one positive is that they were fairly consistent.
Traffic Drivers
Social Media
Social media continues to be our biggest driver of traffic, but that means it's also where we've seen the biggest decreases. We only had 499 total visitors from social media this month, a decrease of over 150 from the previous month, and a continuing decline from the months prior.
Pinterest
Pinterest is the social media platform with the largest decrease in users. We only had 357 users visiting us from Pinterest, a decrease of 171 users! Most of our visitors in those months where we were approaching 2000 users were from Pinterest, so seeing the decrease on this platform really hurts our monthly user counts. It goes to show that you can't put all of your eggs into any one basket, because you never know when things will change on the platform that you are relying on.
To be fair, I don't know what changed on Pinterest. The only thing I did was join some new group boards. My total monthly viewers on the platform itself is still well over 100K. But in the last two months, that hasn't been translating into page views.
Twitter
We did slightly better on Twitter during our 22nd month than during our 21st, but not much. We had 112 users from the platform, compared to 80 last month. Most of that was from my post on Fincon getting a lot of love. I failed at posting links to old blog posts, which is kind of dumb because I was getting a lot more traffic from Twitter when I was doing that.
The sad thing is that it's a fairly simple thing to do. I'm not really sure why I stopped. Doing that is going to be blog goals for my 23rd month, and we will see if it makes a difference in the number of users coming to us from the platform.
Facebook
Our number of users from Facebook remained stagnant during our 22nd month. We had 29 users from Facebook this month compared to 28 from the month before. I haven't been focusing much on the platform, I only post my blog posts when I publish them, and I don't post any other content. I also rarely remember to even share the content on my personal page. Sometimes I do, and sometimes I don't. This is one of the other things I need to improve upon during my 23rd month.
I don't have much of a Facebook strategy at the moment, and since I can't focus on all the things at once, I probably won't develop one this month. My poor Facebook page will continue to stagnate until I build up the platforms that I feel are more important to my success.
Organic Search
We had 315 users via organic search this month, a slight drop-off from the 338 we had last month. Although I didn't go back and edit any of my old posts for better SEO results, I feel like I've been learning how to write better for SEO, and it's been showing in my new posts. Unfortunately, it takes a little bit of time for that to translate into page views, so only the future will tell if that's true or not.
I know that I say I'm going to go back and update old posts every month and I rarely do, but this month is going to be different. Rather than just saying I'm going to do it; I'm going to set myself an obtainable goal. I'm going to update two old blog posts for SEO during the month of October.
Direct Hits
The one area where we actually saw an increase in users this month is in our direct hits, which is awesome! That tells me that our Partners in fire are loving our content and keep coming back for more. Now to just get more Partners. It would be easy if I did a give-away or something like that, but I'd prefer to have subscribers who actually want to get notified of new blog posts, not ones who are just in it for the freebies.
If that's you, and you haven't subscribed yet, what are you waiting for? Click here to sign up and make sure you never miss a post!
Content
I might be biased, but I think we produced some pretty awesome content this month, even if folks weren't seeing it. We focused a lot on actual financial topics this month (weird for a finance blog, right?) such as ignoring money problems, whether you should save or invest, and peer to peer lending.
My favorite blog post of the month was related to financial independence. We published an epic piece on why living the RV life and financial independence go hand in hand. The two-year plan is still to live a life of freedom in the RV, so you can expect at least one post each month reflecting that topic.
Monetization
Affiliates
We've still been failing at monetizing Partners in Fire, but we learned some awesome things at Fincon that I think will help us improve greatly in this area. The pro-networking pass gave us an opportunity to meet with some new affiliate networks, which we just started with during the month of September. We are hoping to see an increase in affiliate sales due to these networks in the next few months.
One of my biggest concerns with affiliate networks is CJ affiliates. It has lots of great companies as part of its network, but it kicks you off if you don't make any sales in the first sixty days. The problem is that it takes a long time for individual companies to decide whether to accept you as part of their network. I've got quite a few companies in my "pending" que, and they've been there for weeks.
It's hard to make a sale when companies won't even look at your application. It's also difficult when companies reject you and don't give a reason. I'm sure that a lot of companies pass on us because of our stats, but that's just the way it is with small bloggers. We have to keep on chugging and keep on growing in order to get noticed and start working with larger affiliate companies.
Ads
Another new area of potential monetization for us is ads. You may have noticed new types of ads on the side bar and at the bottom of certain posts. These are from our new ad network, Interactive Offers. Their focus is on ads in the financial sector, and they are new company that is constantly growing. Their main focus is e-mail ads, which I haven't pursued, but they also offer the display ads that you see below. I've only been on the platform for a week or so, but I've already made a few bucks.
How We Are Going to Improve Our Readership
At this point, I think there are two main options for improving our readership. We can focus even more attention on Pinterest and try to figure out why our views from the platform have dropped so drastically, or we can focus more attention on other potential traffic sources, such as SEO.
I think it's important to not put all of your blogging eggs into one packet, so I'm going to try a tad bit of both. With all of the awesome SEO tips I learned at FINCON, I think that focusing on my goal of rewriting two posts for SEO will help improve the number of users finding us via organic search over time.
But I also realize that Pinterest can be an amazing source of traffic, so I don't want ignore it just because it's been down for me. Even at it's worst, it's still driving more traffic than all of my other sources. I think one of the things I can improve upon is writing titles for pins with calls to action. This will give users a reason why they NEED to click the pin and read more at Partners in Fire.
The Blogging Journey
As you can see from all my Blog Growth Strategies updates, blogging isn't a get rich quick scheme. It takes tons of work, patience, and commitment. But if you love writing and want to give it a try, I say go for it! It doesn't cost that much to get started, and even if you never make any money off of it, you will learn so many things. The investment is worth it for the personal development alone.
Starting Your Own Journey
If you are interested in starting a blogging journey of your own, check out Bluehost. They will help you get started with hosting for as little as 3.99 per month! They are one of the best platforms for beginner bloggers, and the first one I ever used.
I'm with Inmotion hosting now. They offer some extra features and have a discount for the two websites that I'm hosting. If you're looking for something at the intermediate level rather than at the beginner's level, check them out!
My blogging journey has clearly had it's ups and downs, but I'm so happy that I've done it. I'm also happy that I decided to stick with it for so long – most bloggers quit in the first 6 months! I've learned so many amazing things about writing, networking, social media, and SEO so far, and I'm excited for all the new things to come.
Melanie launched Partners in Fire in 2017 to document her quest for financial independence with a mix of finance, fun, and solving the world's problems. She's self educated in personal finance and passionate about fighting systematic problems that prevent others from achieving their own financial goals. She also loves travel, anthropology, gaming and her cats.