Blog Growth Strategies for our Fourth Month
Readership
This fourth month was Partner's in Fire's first month with a decrease in readership. According to Google Analytics, we only had 459 users as compared to 516 during out third month. However, given all that happened this month, I think that's still pretty freaking awesome!
Why did our Readership decrease?
I'm fairly certain that the main reason for our decrease in readership is the fact that Jonathan and I broke up and mutually decided that he shouldn't be a part of the blog. In previous months, he was sharing the posts on his personal Facebook page and gaining users from Instagram. Most of his Facebook friends who were supporting us by reading the blog decided to stop following when he was no longer a part of it. I totally understand this though, and I kind of expected it. I knew I'd have to work harder to gain and maintain readers, and I'm working on it.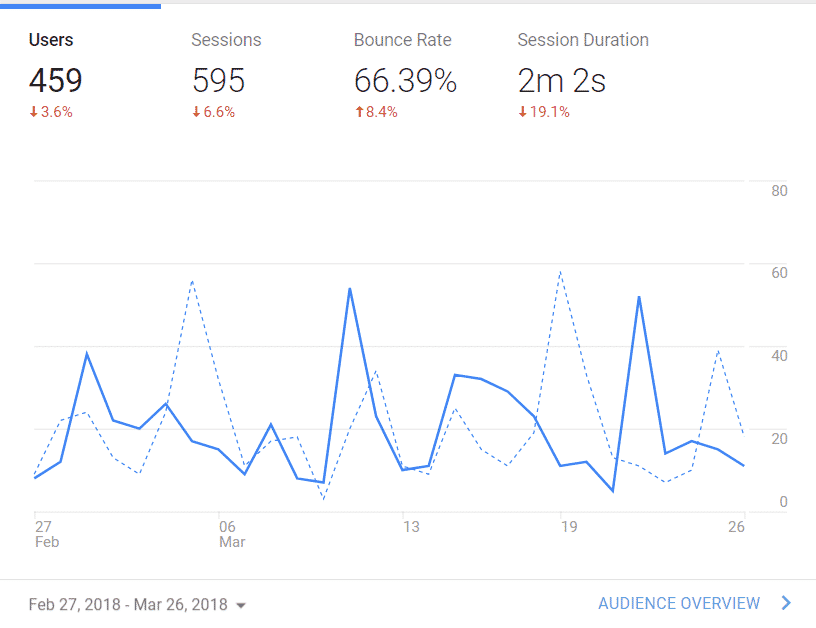 I've also been enjoying my life a bit more and that means I'm dedicating a little more time to going out and having fun with my new boyfriend and my friends than I was before. Unfortunately, I don't have an unlimited amount of time, so that means I spent a bit less time on the blog. But I'm actually really happy for the first time in a long time, so I'll take the trade-off. I'm sure when the buzz wears off I'll be able to focus more on blogging.
Posting
Another reason why (in my opinion) our readership decreased is that I didn't exactly stick to my posting schedule. I missed a Sunday. We only lost a few users as compared to last month, but I'm sure some of it was due to the missing post. However, I went out of town that weekend and had a blast in Orlando, so I don't regret not posting. You have to enjoy your real life first.
Social Media
The majority of our users are still coming from Social Media. The top referrer this month was Facebook, with 102 users coming from there alone. I think a big portion of that was due to my friend from Tread Lightly, Retire Early posting The Worst Financial Decision of My Life in a group dedicated to helping women in Finance (Thank You!). I think another part of that was my real friends and family's interest in what was going on with Jonathan for all those years. Either way, I appreciate all the support.
Twitter and Pinterest were neck in neck this month! I had 85 users from each platform. This is the first time that my Pinterest stats are even close other stats, so maybe using Tailwind is starting to pay off. It's definitely something that I'm going to keep working on moving forward, and I can already see the potential for amazing growth through that platform.
Monetization
Affiliates
Monetizing the blog through the use of affiliates still isn't bringing in any income, but I'm still working on it! We did get a few clicks to Amazon this month, but none of them resulted in any sales. None of the other affiliate networks that we've been utilizing has resulted in a sale yet either, however I rarely include them in my blog posts. I don't want to be spammy or sell products that I don't believe in, so although I am a member of these affiliate programs, it's hard to find products that fit with me and the themes of my post. I'd rather be authentic than make extra money pushing products I don't believe in.
Ads
We are still using Adsense to generate ad revenue for our blog. Currently, we've made about thirteen bucks with it (one dollar over last month, woot!). We are still hoping to get enough unique visitors and pageviews in the next few months to upgrade to a better ad program. I keep eyeing mediavine; but I don't have nearly enough users yet for that!
What's Next?
My goal for my fifth month is the same as my goal was for this month…get to 500 users on my own! I was super close this time (I only missed it by 40 users!) so I think I should be able to get there if I stick to my posting schedule and participate a bit more in my Facebook blogger groups (I've kind of neglected them this month unfortunately; maybe that's another reason why my numbers were a bit lower).
All in all though, I'm super happy with the progress that Partners in Fire has made during the four months that we've been a live blog, and I'm looking forward to continued growth in the coming months.
What are your favorite blog growth strategies? Leave a comment and let us know!
Melanie launched Partners in Fire in 2017 to document her quest for financial independence with a mix of finance, fun, and solving the world's problems. She's self educated in personal finance and passionate about fighting systematic problems that prevent others from achieving their own financial goals. She also loves travel, anthropology, gaming and her cats.