The MEE6 Bot is one of the best Discord bots out there. It has a ton of functionality and is perfect for all of your Discord moderation needs.
However, for those new to Discord and making their first server, it can be confusing. There's a lot to learn about integrating MEE6 into your server and how to set up its coolest functions. This guide is designed to help you with that. Here are the best features of both the free and premium versions of MEE6 and how to set it up in your server.
Is MEE6 the best Discord bot? Let's find out! Take this survey so we can determine which Discord bots truly are the best!
What Does the MEE6 Bot Do?
MEE6 is, at its heart, a moderation bot. It can help reduce spam in your Discord community, prohibit inappropriate language, and give server owners easy access to a plethora of commands.
However, one of the best features of MEE6 is its functionality. It is far more than a moderation bot. It can produce automatic welcomes, allow server members to level up for their engagement, and even allow you to record voice chats.
Do I Need the Premium Version of MEE6?
The premium version of MEE6 does offer increased functionality. The two big bonuses of upgrading to the premium version are that you unlock more reaction roles and you unlock the ability to integrate MEE6 with other social accounts.
If you want one bot to do everything on your server, then it might be worth upgrading to the premium version. It's also nice to upgrade to support the bot creators. A lifetime premium plan only costs $90 and you can use it for every server you moderate. The monthly cost is $12 if you pay month to month, but only $5 if you pay for the full year.
Here's a complete comparison of what MEE6 premium offers in comparison to the free version, sourced directly from the MEE6 website: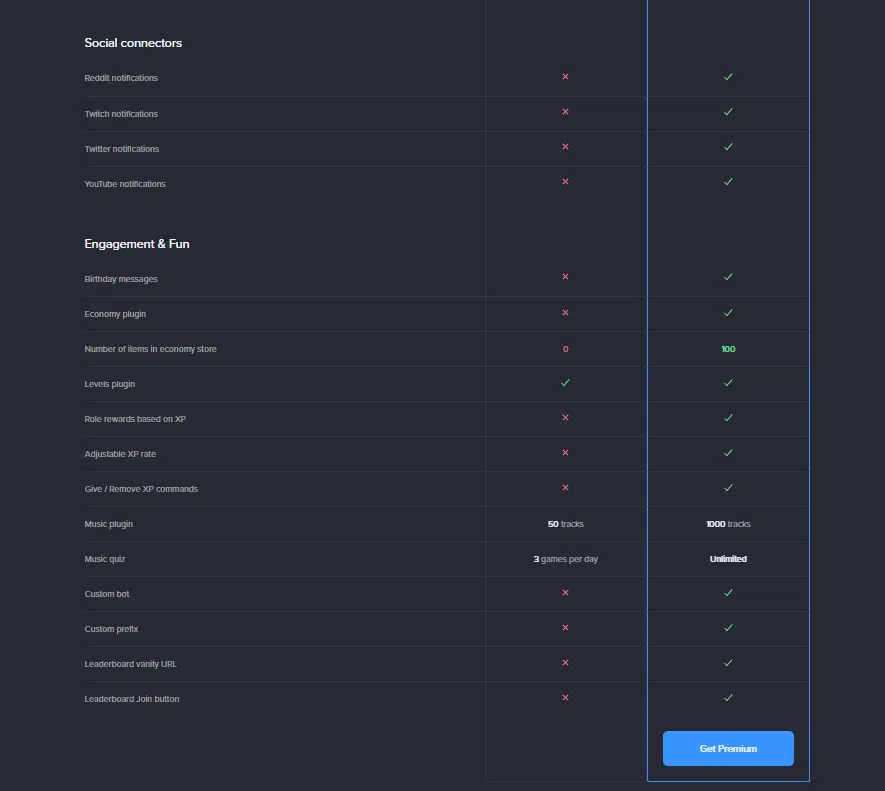 If you want the functionality of more roles and integrating Twitch without paying for the MEE6 upgrade, you can add additional bots to your server. YAGPDB (Yet Another General-Purpose Discord Bot) offers free integration with Twitch, so you can set up a "now live" channel to showcase streamers who are currently live on Twitch. This is a great option for Discord servers that are dedicated to streaming. If you are running a server with a lot of user-selected roles, add Carl-Bot. Carlbot allows you to add far more emoji reaction roles in its free version than MEE6.
How Do I Add MEE6 to My Server?
It's easy to add the Mee6 bot to your server. Simply go to their website and click the "add to Discord" button. You will have to sign in to your Discord account, and you will need to have moderation authority over the server you are trying to add the bot to. This means that only server administrators can add MEE6 to a server, and only administrators can adjust the permissions and settings of the bot.
Getting Started with MEE6
Once you have the bot added to your server, you will have access to the MEE6 Dashboard. This is the online platform that allows you to customize the settings of your bot. Here, you will find a list of the available plugins and a link to the MEE6 support Discord, in case you need assistance.
The bulk of the functionality of Mee6 is found in the plethora of plugins available for the app.
Plugins Available for MEE6
Plugins are what make the MEE6 bot work for you. There are a variety of plugins available, and you probably don't need them all. You can easily turn any plugin on or off by clicking the green slider button. Once the plugin is turned on, you can click on the name of the plugin to configure it.
Here are the plugins available and a brief overview of how they can help you manage and customize the perfect Discord server.
Server Management
The server management suite of plugins offers a variety of different tools designed to help you manage your server. These plugins include a welcome message, reaction roles, the ability to add custom commands, and moderation tools.
Utilities
The utility suite of plugins allows you to add more functionality to your Discord server. These tools give you the ability to embed messages, set timers, record conversations, and track statistics both within Discord and from social media.
Social Connections
Speaking of social media, the premium version of MEE6 offers a suite of social media integrations. MEE6 integrates with Twitch, Twitter, Instagram, Youtube, and Reddit. You can set the bot up to automatically post tweets from your favorite Twitter accounts, showcase when your favorite streamers go live, and post your favorite YouTubers' latest videos.
Engagement/Fun
Everything is not about utility. One important aspect of managing a Discord server is making it a fun place so that users will want to hang out there and engage. MEE6 offers a few engagement plugins to help make your server a more friendly, welcoming place. This includes an option to add levels, so that the most active users can be celebrated, a happy birthday channel, and even the option to add an in-server currency.

The MEE6 bot also has a music feature. This allows you to play music in one of the voice channels of your Discord server. However, with the music-only bots like Groovy getting removed by Google, keep in mind that the music functionality may change or disappear.
Monetization
Speaking of currency, MEE6 also offers server owners the ability to monetize their servers. You can add premium membership roles to your Discord server, which users pay a monthly fee to enjoy. These roles can be given access to extra content, or they can be set on a volunteer basis. The MEE6 bot gives you the ability to add three paid tiers so that users can pay different amounts each month based on their roles.
Using MEE6 Bot Commands
With so much functionality packed into this bot, it can be hard to remember what everything does and how to use it. This is where the commands list comes into play.
Like most bots, MEE6 offers users the ability to find information with a variety of text commands. In order to use the commands, users need to type the command prefix (which defaults to an exclamation point, but server owners can change this) and the command. For example, if a user wanted to know their rank in the discord, they could type! rank and the bot will send a message that shows their rank.
Server owners can also set up custom commands, which add an additional layer of functionality to the server. For example, if a server owner wanted to create a custom welcome message that everyone could access, they could add it to the commands list and use the command !welcome. When anyone in the server types "!welcome" the custom message would pop up.
To see a full list of MEE6 bot commands available in any given server, type !help. This command will cause the bot to display a message featuring the available commands.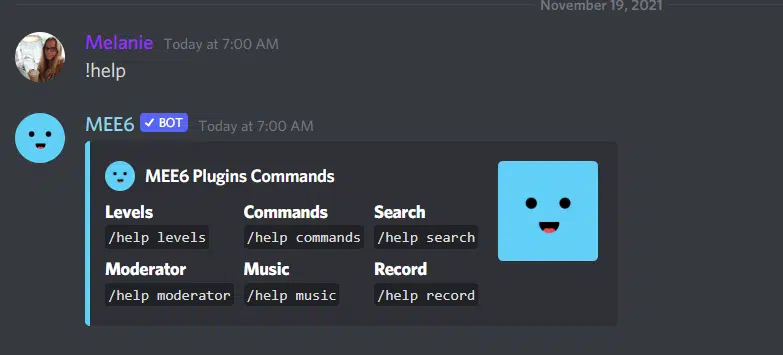 Note: None of the commands need to be italicized in Discord, and they do not need periods at the end.
Make an Epic Server with MEE6!
MEE6 is an incredibly versatile bot, and that's why it's often regarded as one of the best bots for Discord. It's an all-in-one moderation, engagement, and server management bot that will help Discord server owners make the perfect server.
Melanie Allen is an American journalist and happiness expert. She has bylines on MSN, the AP News Wire, Wealth of Geeks, Media Decision, and numerous media outlets across the nation. She covers a wide range of topics centered around self-actualization and the quest for a fulfilling life.