California is a massive state bursting with ecosystems to explore, mountains to climb, and roads to travel. The state features so many fantastic sights and hip cities that it's hard to know where to start!
I lived in the Golden State for over ten years and made the absolute best of my time there. The best things to do in California span the entire state, so whether you plan to catch some sun in San Diego, stalk Celebrities in Los Angeles, or visit the Golden Gate Bridge, there's a unique experience to discover!
The Best Things to Do in California
The complete list of things to do in California is enormous. I did my best to group it from South to North, but some options are available throughout the state.
Here's a table of contents so you can skip to the things that speak to you.
Wine Tasting Temecula
Northern California is renowned for its wine, but did you know that the Southern part of the state also has delectable wine?
Temecula is a charming little town just to the East of San Diego. The tourist town features an old Western atmosphere and motif with a modern, clean feel. The city, nestled among a slew of local wineries, is the epicenter of the Socal wine industry.
Hire a limo or small bus with a group of friends for the best Temecula wine-tasting experience. You can hop from vineyard to vineyard without worrying about who has to drive home.
Add Wilson Creek to your winery list and try some of their iconic almond champagne. The delectable vintage dances on your tastebuds with the sweet yet slightly nutty almond flavor. I dare you to leave without a bottle.
San Diego Zoo
In the iconic show "Friends," Ross must give up his beloved pet monkey Marcel to a zoo. Much like a parent hoping for the best college for his child, Ross dreams of getting Marcel accepted into the zoo of all zoos: San Diego.
The show wasn't exaggerating. San Diego Zoo is one of the best zoos in the county and a marvel of animal welfare and conservation.
The Balboa Park zoo is home to nearly four thousand animals representing over 600 species from across the globe. It also features a lush botanical garden showcasing over 7000 plant species.
A fun bonus of the zoo is the sky tram, a unique way to transverse the park. Observe the grounds from above as you travel from one end of the park to another via sky tram!
San Diego Safari Park
The sister to the magnificent zoo is the iconic San Diego Safari Park. Often referred to as the wild animal park, this 1800-acre park is the best way to see wild animals in their natural environments. Most of this park's residents are in massive enclosures and can roam freely with other species, as they would in their native habitats.
The predators are kept in separate enclosures to prevent mishaps, but they have huge territories to explore and considerable engagement opportunities.
Although you can't drive a personal vehicle through the park, you can upgrade from a walking tour (don't worry – all enclosures are fenced in!) to a guided safari tour, which brings you as close as safely possible to the animals. If you're lucky, you can even hand-feed a giraffe!
San Diego Brewery Hopping
Small microbrews are all the rage, and you wouldn't think San Diego is at the leading edge of that trend, but it is. Breweries hailing from San Diego receive countless national and even international prestige.
There are nearly 100 breweries in the San Diego area, and it's almost impossible to visit them all. To get the most out of your time, choose your top five and hire a party bus to transport you across the city to each location. Not all the breweries serve food, so be sure to plan meal times into your tour and visit some of the tempting restaurants San Diego offers.
See the Metal Sculptures at Anza Borrego
There are so many wonders in California that people often miss Anza Borrego, and that's a mistake. It's an experience unlike any other. This desert state park is one of Southern California's best places to visit.
Although the desert landscape is breathtaking, it's only a tiny portion of the appeal. Anza Borrego is home to giant metal sculptures of dragons, scorpions, bugs, and dinosaurs. Ricardo Breceda created the statues, and the monuments displayed in the park represent the most extensive collection of his famous metalworks in the world.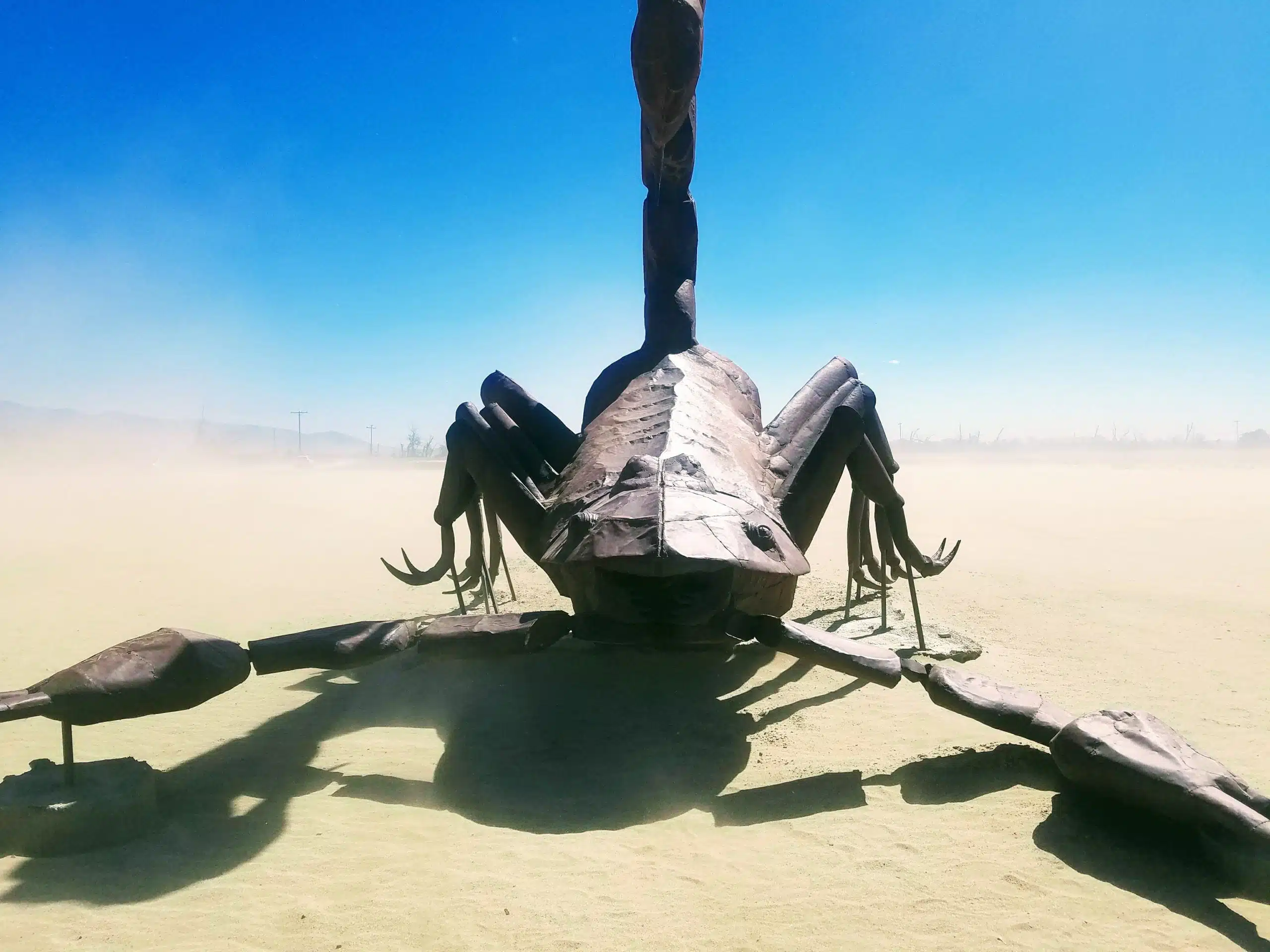 The best time to visit Anza Borrego is during the spring when the desert wildflowers are in bloom. During this time of year, the ordinarily barren desert landscape explodes with an abundance of color, and the hills are covered with flowers as far as the eye can see. The flower show is impressive every year, but rare super bloom events create a spectacular carpet of flowers across the desert.
Salton Sea
If visiting Anza Borrego, you should also drive a few extra miles and check out the Salton Sea. The sea lies east of the park, on the other side of HWY 86.
Be warned – travelers don't visit this saltwater lake for a good time. It's notorious as one of California's most significant environmental disasters. Farm runoff polluted the lake to the point of no return, and the resulting evaporation created colossal dust storms. It's a real-life example of how human pollution leads to climate and environmental change.
Ride the Waves
The Salton Sea is not ideal for surfing, but if you travel back west to the Pacific coast, you will find an abundance of surfing beaches. Huntington Beach, in Orange County (located between San Diego and Los Angeles but closer to LA), is known as surf city USA. The vast beach offers tons of opportunities for water sports.
I recommend taking surf lessons if you've never tried it before. I made the mistake of thinking it was easy, and during my three hours of "surfing," I didn't manage to stand up on the surfboard a single time.
If surfing is too tricky, you can always try body boarding or good old-fashioned swimming. The water is colder than you'd expect, though – as the currents come down to California from Alaska. The water is an excellent reprieve from the hot California summer sun, but it's too cold to swim without a wetsuit in the winter.
Dive Bar Hopping in Long Beach
Long Beach is one of my favorite cities in California. It's not overall touristy but has a ton of charm. One of my favorite things about Long Beach is all the dive bars scattered along Broadway and second street in the Belmont Heights and Bluff Heights area.
If you enjoy a livelier crowd, simply travel a little to the East for the famed second street bars of Belmont Shores or a little to the West to head into Downtown Long Beach for fantastic nightlife.
Queen Mary
Long Beach's most prestigious attraction is the Queen Mary. Sister ship of the Titanic, the Queen Mary began her illustrious career in 1937 with a maiden voyage from Southampton, England, across the Atlantic. She sailed for thirty glorious years before retiring to a life of luxury on the docks of Long Beach.
The Queen Mary still captures the imagination of millions of tourists, acting as a hotel and events center. People come from far and wide to tour her cabins and engine rooms, marveling at the engineering masterpiece.
According to legend, a ghostly guest haunts the ship. During the Halloween season, guests can see for themselves when her grounds transform into spooky haunts and mazes.
Whether you're into history or ghosts, the Queen Mary is a perfect place to explore.
Get Your Queen Mary Tickets Here!
Choose Your Beach
With over 800 miles of Coastline, California has many beautiful beaches. From the sunny sandy beaches of SoCal to the rocky northern coast, there's an idyllic beach for everyone.
If you're looking for a scenic beach, check out Laguna in Orange County. If you want to surf, head to Huntington Beach. People looking for a trendy hip community should check out Hermosa Beach, and celebrity hunters should head up to Malibu.
Ventura Beach in the central part of the state is a lot less crowded but just as beautiful. You will see rockier beaches when you head further up the coast (take Pacific Coast Hwy for an epic drive!). The Northern beaches aren't ideal for swimming as the water tends to be much colder, but they offer breathtaking views.
Venice Beach
Venice Beach is one of the state's most iconic beaches, so I'd be remiss if it didn't get its own small paragraph. Venice is the famed muscle beach. It's where all the bodybuilders of the eighties would hang out and show off their strength. The beach still has some workout equipment for people to test out and compete with, but the bodybuilding scene isn't as intense as it once was.
A flourishing art community and an enormous skate park replaced the bodybuilders. Local aspiring artists can show up and claim a space on the beach walk for free, as long as they sell art and not a crafted good. It's a great place to sample the flavors of the new and upcoming artists of the area.
The skate park is excellent for kids to hang out and show off their skateboarding skills. Spectators can watch rising stars practice their tricks!
Santa Monica Pier
Santa Monica is directly to the North of Venice Beach, and you can walk or bike between them on the beach trail. The beach itself is typical of California beaches, but the fantastic pier community makes it the hot place to be.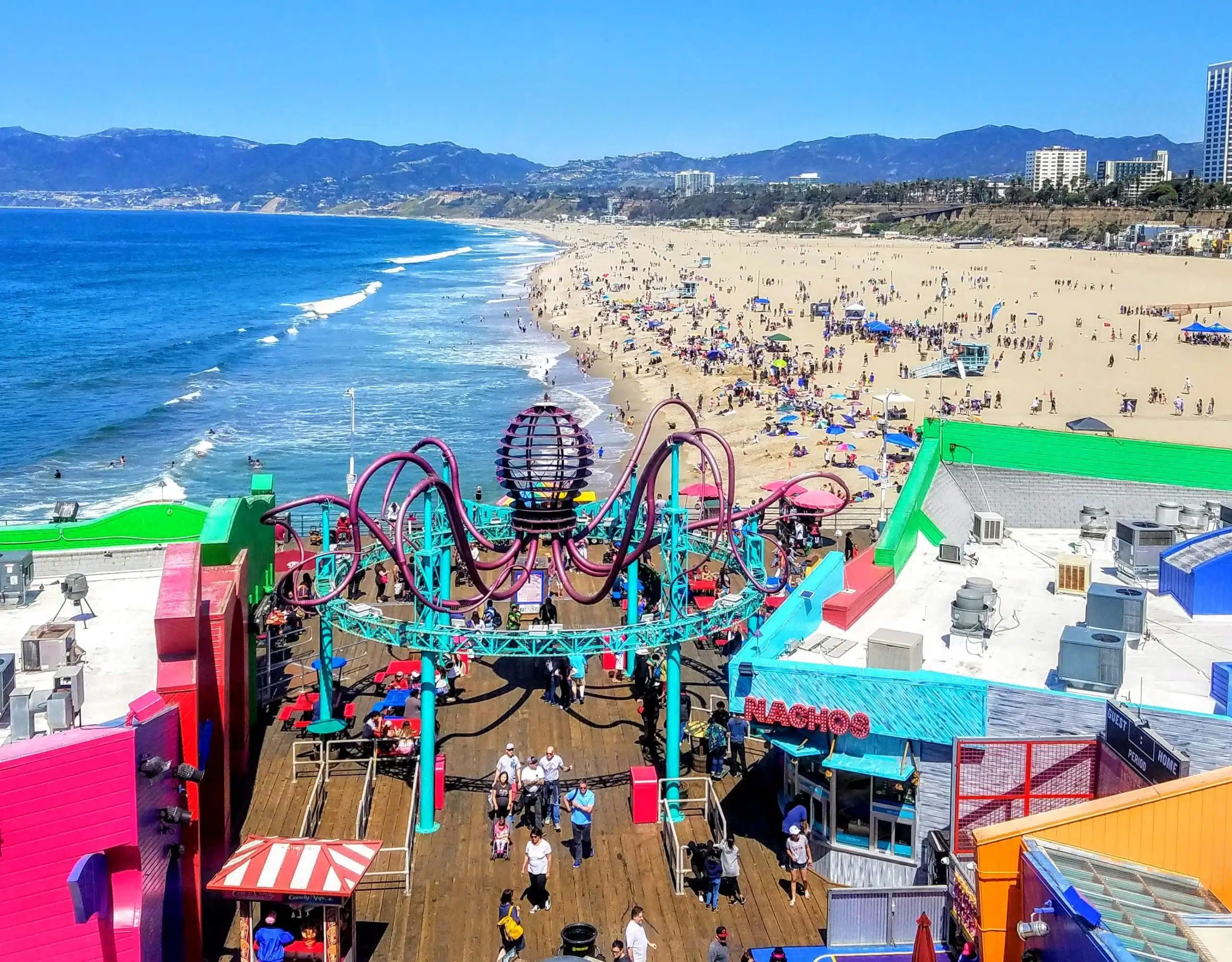 The Santa Monica Pier features rides, games, and restaurants. It's like a mini-fair atop a pier sitting next to the ocean.
My favorite ride is the Ferris Wheel, known as the Pacific Wheel. You can see a good portion of the city from atop the wheel and enjoy spectacular coastline views.
The Last Bookstore
You must visit The Last Bookstore in downtown LA if you love books. The store fills two stories with old books and has a separate room for rare and unique volumes.
The iconic tunnel of books sits at the top of the stairs. It's a literal tunnel made of books you must walk through to browse the selections upstairs. Take a book tunnel selfie in the cut-out circle for the perfect memento of your visit.
The clever ambiance is a large part of the appeal, but regardless, there's also something magical about getting lost in an old bookshop.
Eat at the Grand Central Market
While in downtown LA, you need to stop at the Grand Central Market. The only challenge is deciding which mouthwatering foods to sample.
Grand Central Market is a mall food court combined with good restaurants. Imagine going to a mall, and instead of seeing the same old Subways and Burger Kings, you have French bakeries, eggaries, ramen shops, currywurst stands, specialty PB&J stands, and over 15 other small, local, delicious eateries.
Every meal I've tasted at the Grand Central Market has been delicious, and every Los Angeles visitor needs to try it.
Berth 55 in San Pedro
Do you want a tray piled to the moon with fresh seafood? Then you need to visit Berth 55 in San Pedro. Berth 55, just south of Los Angeles, isn't a typical tourist attraction. No one plans their trip around it. But if you're in the area and want to get a sample of the local flavor, Berth 55 is the place to go.
It's a fish market and restaurant all in one. People go to buy fresh cuts of fish for later and sample the various vendors' takes on seafood. For ridiculously low prices, you can get a tray piled high with fries, fish, and chicken. It's a great value, and it's delicious.
The Oldest Street in Los Angeles
Olvera Street in downtown LA is considered the oldest street in the city. Dating back to when LA was part of Mexico, the street honors its Mexican heritage. Restaurants and vendors celebrating Mexican culture fill the pedestrian-only walkway.
The street is also home to several historic buildings built in the Spanish style. These include treasures such as the Sepulveda House, the Pico House, and a handful of old Spanish churches.
All the Art Museums
California is the place to visit if you're into fine art. Sure, New York has the MET, but Los Angeles has the LACMA complex, the Getty Center, and the Broad, while San Francisco is home to the Legion of Honor and a Cartoon Art Museum. The capital, Sacramento, is home to the Crocker Art Museum.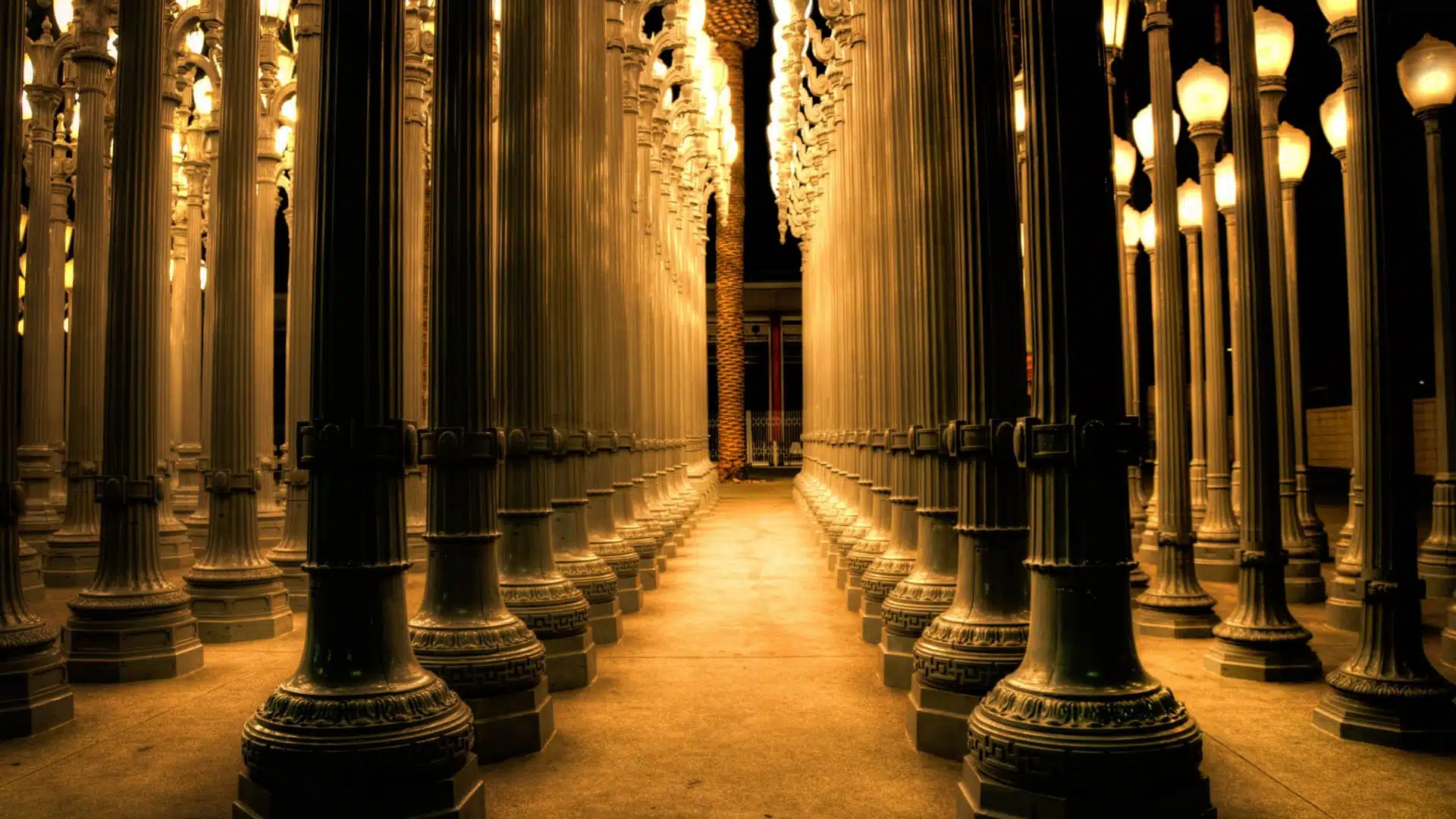 LACMA is my favorite of the bunch, only because it's so vast. You can start your day at the iconic light display in front of the building and stroll around various museums, including a Museum of Modern Art (MOMA), an Asian Art Museum, a botanical garden, and of course, the main LACMA building, which houses European arts throughout the ages. There are thousands of paintings by some of the most influential artists hanging on those walls.
The Getty Center is North of Los Angeles, near Beverly Hills. It also has an impressive collection, but even if you aren't into art, it's worth checking out due to the fantastic view of the city from the top of the villa.
Visit the Tar Pits
You'll find the iconic La Brea Tar Pits right next to LACMA. The thousand-year-old tar pits showcase preserved remnants of the last glacier period. During the great ice age, tar-filled chasms swallowed mammoths, dire wolves, and other species roaming the Earth in the Ice Age. Transport yourself to a wilder time with a stroll through the grounds once inhabited by these magnificent paleolithic creatures.
Of course, the pits themselves are no longer a threat (and parts that might be are fenced off!), but it's interesting to see the fossils paleontologists have uncovered and get a taste of an earlier epoch right in the center of Los Angeles.
Art Walk – Galleries in LA
If you're more interested in modern art and lesser-known artists, explore the various art walks scattered throughout the city. The most well-known is the Second Thursday art walk in downtown Los Angeles.
Every second Thursday of the month, the LA galleries open to the general public and entice visitors with wines, cheeses, and spectacular artistic showcases. It's an opportunity for visitors to peek into the city's thriving arts culture. Located in the gallery row area of downtown LA, the art walk is self-guided so that spectators can visit the various galleries at their leisure.
Art walks abound in the greater LA area. Laguna Beach in Orange County has its First Thursday. Long Beach has Second Saturday. Venice Beach is always open for artists displaying their wares. The LA area is a top place to visit if you're into art.
Visit Catalina
A unique thing to do in California is to visit Catalina Island, a small island located a few miles off the Southern Coast. You can take a ferry to the island and spend the day at a beach bar, zip-lining through the forest, or on an undersea adventure.
Catalina is a different vibe from the rest of the state. Though a bustling tourist community in the day, the town closes down in the evening and seems to be a retirement community. Only the grocery store is open past 8 PM, and it seems the locals all go to sleep as soon as the last ferry leaves.
It's a fun place to visit and a tourist's paradise during the day. It's worth checking out if you have a free day in your California itinerary.
Central Coast Beach Cities
Most people think of Los Angeles, San Francisco, and San Diego when they think of California, but there are plenty of fantastic cities in between. The state features central valley wine cities like Santa Barbara and San Louis Obispo, scenic beach towns like Morro Bay and Monterey Bay, and even fun suburbs like Pasadena just outside Los Angeles and Santa Rosa to the North of San Francisco.
Each of these cities (and so many more!) has its own flavor that is quite different from the big cities. Travelers shouldn't shy away from exploring the small towns and experiencing everything California offers!
Wine Hop Santa Barbara
California's central valley isn't renowned for its wine, but it should be. I already mentioned Santa Barbara as one of the coastal cities you should visit – but that was more for the picturesque beach scenes. Santa Barbara is also one of the best places for wine tasting.
Most of the area wineries have small tasting rooms within the city center, making walking from one tasting room to the next a breeze. You don't have to worry about how you will get from one winery to the next when you visit Santa Barbara! It also has many cute local restaurants, so keep your belly full while tasting the fruits of the valley, so you don't overdo it!
Hearst Castle
The United States isn't known for its castles, but that doesn't mean we don't have any. One of the most iconic castles in the nation is Hearst Castle in central California. It was built in the early 20th century by William Randolph Hearst, a media mogul who started the world-renowned Hearst Magazines (Cosmo and Country Living are among the many Hearst brands).
With over 68000 square feet of living space, 38 bedrooms, 42 bedrooms, and 14 bathrooms, the main castle of the complex is a shining example of early 20th-century luxury. There are three other buildings on the complex as well.
You can take numerous tours through the castle, including an art tour, a tour of the kitchens and cottages (where the servants would have lived and worked), and tours highlighting the architecture of the masterpiece. If you are looking for something different to do in California, a castle tour is just the ticket.
Monterey Bay Aquarium
Speaking of Monterey Bay, it's home to one of the most iconic aquariums in the country. Built right on the rocky coast of the bay, this aquarium offers a close look at the ecosystem of the surrounding ocean. It features a kelp forest exhibit, tide pools, and everyone's favorite, the lovable and playful sea otters.
Monterey Bay is located about 120 miles to the South of San Francisco and is a perfect destination for a day trip from the city.
The Valley of Giants
California is home to some of the most enormous living creatures on Earth. Of course, I'm talking about the giant sequoias in California's Sequoia and King's Canyon National Parks.
The General Sherman Tree is the largest tree on the planet based on mass. Comprised of over 52000 cubic feet of wood, he's a wonder to behold. It's impossible not to feel insignificant when standing beside such a giant. The knowledge that his roots go as deep into the Earth as he is tall, thus doubling his size, makes his enormity even more impressive.
General Sherman isn't the only giant in these two parks. This area of California is the only place in the world where these sequoias grow, and the parks have a great deal of them within their boundaries. Three of the five largest trees in the world live in these two parks, and there are quite runner ups in the parks as well.
Death Valley
We are heading away from lush forests and into scorching deserts for the next place on our list.
Death Valley, California, is a desert landscape typically considered the hottest place in the country. It's also the driest location and lowest point in the United States.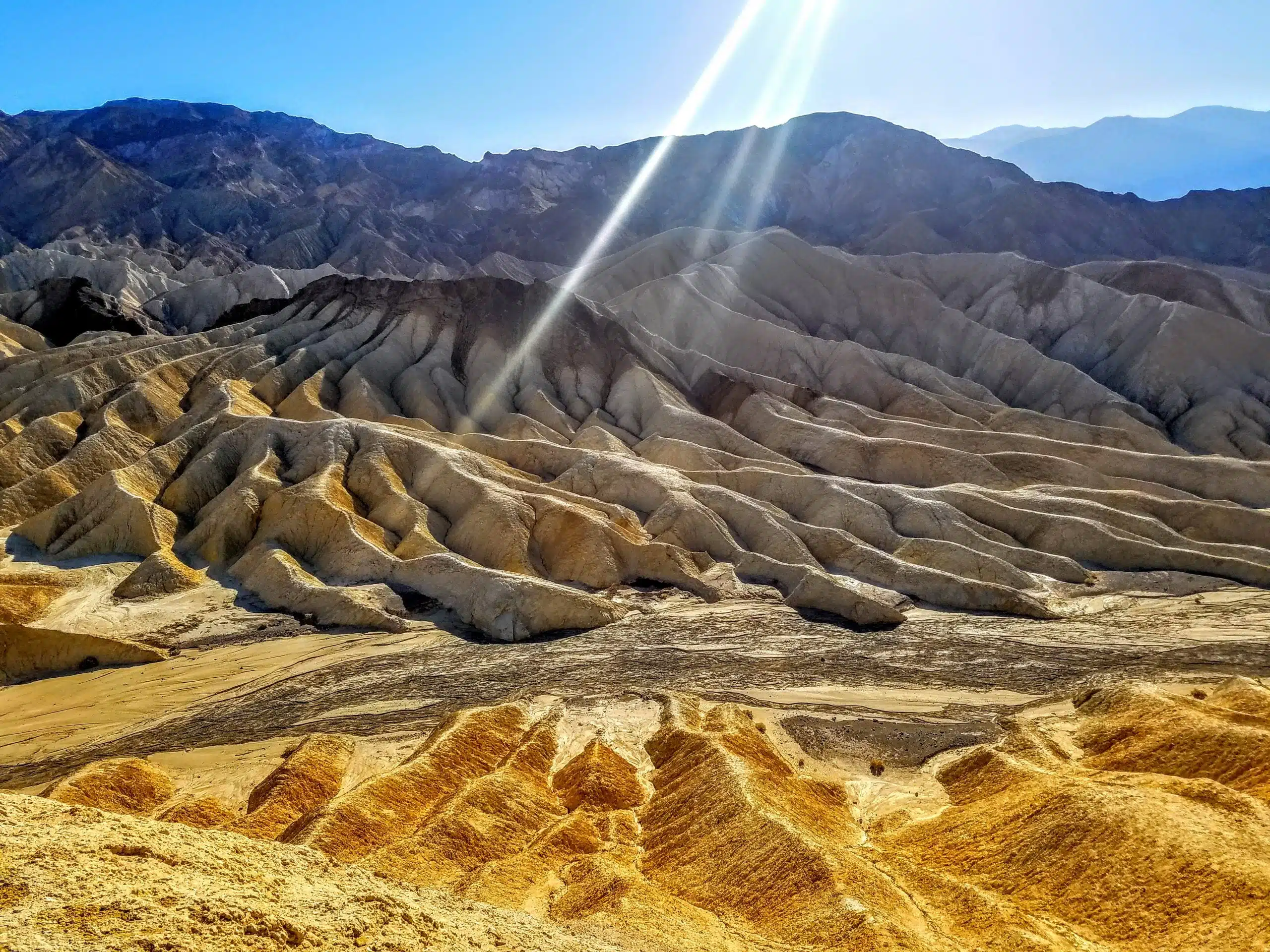 You wouldn't think visiting a place known as the hottest and driest would be fun. However, it's one of the best places to view iconic desert landscapes.
Although it is home to the lowest point in the US, the landscape abounds with hills, rocks, and mountains. Numerous viewing points scattered throughout the park allow you to view the breathtaking landscapes.
The park also features numerous hiking trails and paths. I wouldn't recommend hiking in the summer, and also, please be sure to bring plenty of water. It gets hot out there!
Yosemite
Yosemite National Park is one of the most iconic parks in the state. Featuring magnificent cliffs, gorgeous valleys, and an abundance of wildlife, it's one nature lovers need to visit.
There are two iconic cliffs in Yosemite, the Half Dome and El Capitan. You can drive up to scenic overlays to see both from a distance, but the hiking trails and paths are ideal choices for those willing to trek. Be wary, though – hiking down is far easier than hiking back up, as I learned on my first visit to the park.
The gorgeous views and natural beauty make it easy to see why Yosemite is a Unesco World Heritage Site.
Big Sur
Big Sur is a coastal community between Los Angeles and San Francisco, but closer to San Francisco. Visiting this area isn't about the city, though. It's about the gorgeous rocky cliffs you can find throughout the region.
If you want to see one of the most beautiful cliff faces in the world, head to Big Sur in the springtime. Blooming wildflowers dot the cliffs leading up to the ocean while the tide pools below pop with the deep blues of cold ocean water blanketed with algae growths. The crashing waves provide a soundtrack to the breathtaking scene that's almost impossible to describe.
Alcatraz
One of the most iconic things to do in California is visit the famous Alcatraz prison. Although renowned for being a prison, it was only functional as one for about thirty years, from 1934-1936. It spent the majority of its time as a military base, operating as such as early as the 1850s.
After the prison closed, Native Americans occupied the site, protesting the unfair treatment of Native tribes in the states. That occupation lasted approximately 19 months, from 1969-1971.
In 1973, Alcatraz opened as a National Park. Tourists flock to Alcatraz to learn its sordid history and glimpse what life would have been like for those imprisoned on the island.
Eat Through San Francisco
San Francisco is a foodie's paradise. With their eclectic mix of ethnic cuisines, modern gastropubs, and bread bowls, San Francisco has something for everyone.
The city is known for having one of the best Chinatowns in the nation (though I'm partial to Chicago's – the Moon Palace restaurant there is one of my top five favorite restaurants in the world) so start there with authentic dumplings. Then, head down to the Fisherman's Wharf area to scope out the best bread bowls in the nation. San Francisco is the birthplace of sourdough – so you won't want to skip out on this famed delicacy.
San Francisco is home to restaurants, gastropubs, and food stands sure to please even the most sensitive palates. Be sure to bring your appetite when you visit this iconic city.
Lake Tahoe
Lake Tahoe is a gorgeous mountain town in Northern California, just on the California side of the border with Nevada. The lake that supplies its name is one of the clearest, most pristine lakes you will ever see.
It is known as a skiing town, but it has a ton of charm outside of that. Many folks stay near Lake Tahoe when they visit Reno, as it's a gorgeous locale near Nevada's second-tier gambling spot.
Lake Tahoe is perfect for outdoor activities. It boasts incredible views, great hiking, and also a ton of modern amenities. Whether looking for an adventure or a relaxing weekend getaway, Lake Tahoe is a fantastic choice.
Winchester House
If you're looking for a spooky adventure, look no further than the Winchester Mystery House in San Jose. The house was a simple 8-room farmhouse when purchased by Sara Winchester (heiress to the Winchester Arms fortune) near the end of the 19th century.
Upon buying the structure, Sara began what is now considered one of the most prolonged construction periods on any building. From the time she bought the small home until she died in 1922, the construction never ceased. The tiny farmhouse morphed into a gigantic mansion, boasting 160 rooms with 10000 windows and 2000 doors.
Sara was thought to be crazy. Legend has it that she felt some great tragedy would befall her if she ever stopped construction on the home. There are numerous stairways and doorways to nowhere, random hallways and windows, and corridors that make no sense throughout the 24000 square foot masterpiece, which led some to believe that she was attempting to confuse the ghosts haunting her.
No one knows her true motivation for building such a maze of a mansion, but it is indeed a fascinating place to visit.
Ski/Snowboard
California is the only state where you can ski and surf on the same day. Big Bear Mountain is just an hour's drive from Los Angeles and a well-known get-away for the folks living in the massive city. However, for the best winter sports experience, you'll want to head into the Sierra Nevada mountains.
Magnificent ski and snowboard resorts are scattered throughout the state, but most are in the central region near the Nevada border. Head to June Mountain for a laid-back, family-friendly atmosphere or Mt. Rose for a more competitive winter sports vibe.
Visit a Lesser-Known Park
California is home to a plethora of State and National parks. Although most aren't as iconic as Yosemite or Sequoia, they are all inspiring in their own right and deserve some attention.
I've already mentioned quite a few of the National Parks in the post, but there are plenty more that you need to check out.
Of course, there is Joshua Tree in the Mojave Desert. It's another desert park, but iconic for the unique desert flora you can see there (specifically the Joshua tree).
Check out these astonishing facts about Joshua Tree if you're thinking of planning a visit there, and if you aren't into camping, consider staying in one of the posh hotels in nearby Palm Springs.
There are plenty of other state parks located in all the different ecosystems that California has to offer. There are beach state parks, desert state parks, parks nestled in the Sierra Nevada mountains, and parks next to scenic lakes.
Whichever adventure you are looking for, California has a state park to meet it.
All the Mountain Towns
If you're heading to California to escape the hustle and bustle of a big city, you may want to skip Los Angeles, San Francisco, and San Diego. There are tons of things to do in California outside of these three cities.
One of those things is escaping to a small mountain town. The Sierra Nevada mountain range cuts through half the state, so you can find a quaint little mountain town near you no matter which city you are near. My favorites include Mammoth Lakes, to the South of Yosemite, and Lake Arrowhead, in the mountains East of Los Angeles.
Ask any California native, though, and they are bound to have their own favorites. These little mountain towns are usually close to the national parks and have antique shops, local diners, and cozy bed and breakfasts. They are the perfect retreat from busy city life.
Old Town Sacramento
Did you want to see an old Western town on your visit to California? Then you should check out Old Town Sacramento!
Dedicated to the Western frontier, the old town transports you back in time to the California gold rush. Most buildings date to the 1800s and have been renovated just enough to give them a theme park vibe. Some folks think it's a cheesy tourist trap, but I think it's cute and fun.
Museum of Science and Curiosity
Visitors to Sacramento must check out its newest museum. The Museum of Science and Curiosity opened in 2021 and celebrates humanity's thirst for knowledge.
The museum is a hotbed of discovery, featuring interactive exhibits on space, healthcare, engineering, and more. Visitors can get hands-on in the design and challenge zone or learn about space and time in the UC Davis Multiverse Theater.
Visitors interested in space should also visit the Sacramento State Planetarium, which offers viewings of the first images from the James Webb telescope.
Napa Valley
Although I already mentioned two excellent places to have a wine-tasting adventure, I'd be remiss if I didn't include visiting Napa Valley on a list of the best things to do in California. It's the quintessential location for indulging in California wine.
Napa Valley is home to over 400 wineries and is located about two hours north of San Francisco. There are also luxury resorts, fine dining experiences, and opportunities for epic adventures (like hot balloon rides!).
Napa Valley is the most iconic and posh locale for wine tasting
Book Your Napa Valley Wine Tour!
Theme Parks
California has some of the best theme parks in the country, and I'd argue that it rivals even Florida as the best place to go for a theme park adventure. The original Disneyland sits in Orange County, just south of Los Angeles. It's smaller than Orlando's Disney World but just as iconic.
It's not all about Disney, though. The original Universal Studios is in Hollywood, and I'd argue this park is better than its Orlando counterpart. During Halloween Horror Nights, you can even access some of the back lots to see the Norman Bates house from Psycho and the clock tower from Back to the Future.
The Los Angeles area also hosts Knotts Berry Farm, a theme park geared toward a younger crowd, and Six Flags, featuring some of the most exhilarating roller coasters I've ever experienced.
The theme parks aren't limited to the Los Angeles area. There is another Six Flags in Vallejo, closer to San Francisco, and San Diego hosts Sea World and Legoland.
Deep-Sea Fishing
One of the best things to do in California is head out into the middle of the sea and be one with nature – catching yourself dinner for the next few days. Of course, I'm talking about the deep sea fishing tours you can take all along the coast.
These chartered trips take you to the best fishing locations off the California coast. Here you can catch various fish and take them home to eat.
One great thing about these tours (for me, at least) is that the deckhands will help you with any part of the fishing you aren't comfortable with. You can even pay them to gut and filet your fresh catches so that you bring home only the edible parts!
Use Fishing Booker to book your deep-sea fishing trip today!
Sea Life Tours
If you want to be one with the sea without partaking in its bounty, you can go out on any number of sea life tours. These include whale-watching tours and glass-bottom boat tours. It can be tough to spot the whales, even on a self-proclaimed whale-watching trip, but you will almost always see dolphins and California sea lions, which are just as much fun, especially to those who don't have sea life around them regularly.
Honorable Mention
Fresno will never make any list of places to visit in California. It's a typical mid-sized American city without a lot for tourists to do.
However, it is right off Route 99 and a gateway to some of the gorgeous parks we discussed above. If you're driving by Fresno and you get hungry, you need to stop at the Dog House Grill for the absolute best BBQ brisket sandwich you will ever have in your life. After lunch, get out of Fresno. There's nothing else worth seeing there.
Things to Skip in California
You may have noticed that Hollywood Boulevard is not on this list. Although everyone thinks of Hollywood as one of the top things to do in California, and although the city is home to the Hollywood Bowl and some superb restaurants, Hollywood Boulevard is a dud. Unless you are obsessed with celebrities and movie life, it's not worth your time.
Hollywood Boulevard and the corresponding Walk of Fame are dirty and filled with folks poorly dressed as superheroes trying to sucker tourists into paying for photos. The stars in the pavement aren't exceptional. Stores and restaurants are overpriced, and it doesn't even have a lot of silly hokey tourist shops to make it entertaining.
You can see the Hollywood sign from many places in Northern Los Angeles, even just driving down the 101 freeway. So take a scenic drive through LA to see the iconic sign, and skip the visit to Hollywood boulevard.
Things To Do in California
There are so many things to do in California; it's impossible to fit them all into one list. It's a vast state rich in culture and with various ecosystems and environments. There is something for everyone to enjoy in the enormous expanse of land that makes up the state.
If you're favorite iconic thing to do in California didn't make the list – send me an email and tell me about it! I'm always happy to feature more resources from people who have been there. Let's showcase the best the Golden State has to offer together!
Melanie Allen is an American journalist and happiness expert. She has bylines on MSN, the AP News Wire, Wealth of Geeks, Media Decision, and numerous media outlets across the nation. She covers a wide range of topics centered around self-actualization and the quest for a fulfilling life.