Are you traveling from LA to San Francisco? The path along Route 101 is one of the most scenic road trips in the US. Taking the 5 north instead is a little faster and takes you through rolling hills and closer to the iconic state parks. You could also take a short flight between the two iconic cities if you're short on time.
Here's everything you need to know about getting from Los Angeles to San Francisco and why you should consider each route!
LA to San Francisco: The Basics
The shortest road from Los Angeles to San Francisco is a little under 400 miles. That means it will take about six hours to drive.
Both cities are iconic examples of California culture, and a road trip between them is one of the best road trips in the country.
Different Ways to Get from Los Angeles to San Francisco
There are numerous ways to travel between these two iconic California cities. Many people prefer to drive one of the two main roads: the fast route or the scenic way. However, there's also a third, round-about option that will take you through some of the state's most iconic National Parks.
Driving isn't the only way to get from LA to San Francisco. If you're short on time, you can fly, and if you want a more leisurely trip, you can take a train ride.
Los Angeles to San Francisco via Route 5
The fastest way to get from Los Angeles to the San Francisco area by car is Route 5. This is a direct route on a major highway that avoids most big cities and attractions. You will see some rolling hills but need to get away from the highway to see any inspiring scenery.
Many people choose this route because they'd rather drive than fly, and they want to make the trip without many stops or fanfare. It's the most direct route between the two cities, with the highest speed limits and the most effortless drive.
The Best Stops on Route 5
Let's be honest. You are taking highway 5 because you want to get to San Francisco quickly and easily. There aren't many cool stops along this route unless you're interested in central valley agriculture (or driving when wildflowers are in bloom!)
There's only one major city along the route, Bakersfield, which isn't generally known for tourism. There are a few small museums in the town and a nature walk.
LA to San Francisco via Route 101 or 1
If you're making the trip to explore the coastal regions between the two cities or have extra time and want to take the scenic route, I highly recommend taking 101.
This freeway hugs the coast from Los Angeles to Santa Barbara, and there are tons of iconic little towns and wineries to stop at during your trip. Once you hit San Luis Obispo, the 101 will take you around the coastal mountains in a straight shot up to San Francisco.
If you want to take even longer and see more scenery, stay on route 1, Pacific Coast Highway, for the duration of your trip. It will be a much longer ride, but the view off the coast of Big Sur heading into Monterrey will be well worth the extra time.
The Best Stops on Route 101
Santa Barbara
Santa Barbara is a gorgeous town on the California coast. Situated about an hour and a half north of Los Angeles, it's a perfect location for a first stop.
The main strip has many shops, bars, restaurants, and tasting rooms from some of central California's best wineries. It's best to make this stop overnight if you have time in your itinerary.
San Luis Obispo
San Luis Obispo is in the middle of wine central. The charming city is famous for its Spanish missions, with a museum at the Mission San Luis Obispo de Tolosa and also has an art museum dedicated to contemporary California artists.
Another great thing about stopping in San Luis Obispo is the opportunity to visit the nearby beaches and coastal cities. To the south, Pismo Beach has a monarch butterfly sanctuary and beach trails, while Morro Bay to the North is famous for the giant rock structure out in the bay.
Another bonus of San Luis Obispo is that it's about halfway between San Francisco and Los Angeles, so if you're only going to stop once, this is the ideal location.
Hearst Castle
An hour north of San Luis Obispo lies the unassuming beach town of San Simeon. This town is famous for the iconic Hearst Castle, the iconic home of William Randolph Hearst, built in the early 1900s.
The estate is now a museum, and there are numerous daily tours through the castle. The décor remains how it was in the 1930s and is a perfect way to see the arts and styles of the time, along with a variety of unique decorative arts.
Big Sur
If you want idealistic beach cliffs and ocean coves, you need to stop by Big Sur. The drive along Pacific Coast Highway near Big Sur is one of the most beautiful you will ever encounter.
The highway through Big Sur has mountains on the east and the ocean on the west. There are a few stopping points along PCH where you can stop and take photos or have a picnic, but if you want to stay longer, you can stay at the Big Sur Inn or in the numerous campgrounds surrounding the area.
Monterey Area
About two hours from your final destination in San Francisco, Monterey sits on a tiny peninsula jutting out into the Pacific.
The city is most famous for its iconic aquarium, which features a living kelp forest. The region also features numerous beaches and small towns, including Carmel-by-the-sea, Salinas, and Santa Cruz. These smaller towns are perfect for stretching your legs after a long car ride.
Exploring California Between San Francisco and Los Angeles
If your entire trip is about seeing the beauty of California between its two most iconic cities, consider taking the 5 up to route 99 into the Fresno area.
Sequoia National Park, Kings Canyon National Park, and Yosemite National Park lie in the Sierra Nevada mountains to the east of Fresno. This route is well out of your way if you need to make it to San Francisco in a day, but the national parks are worth the extra time.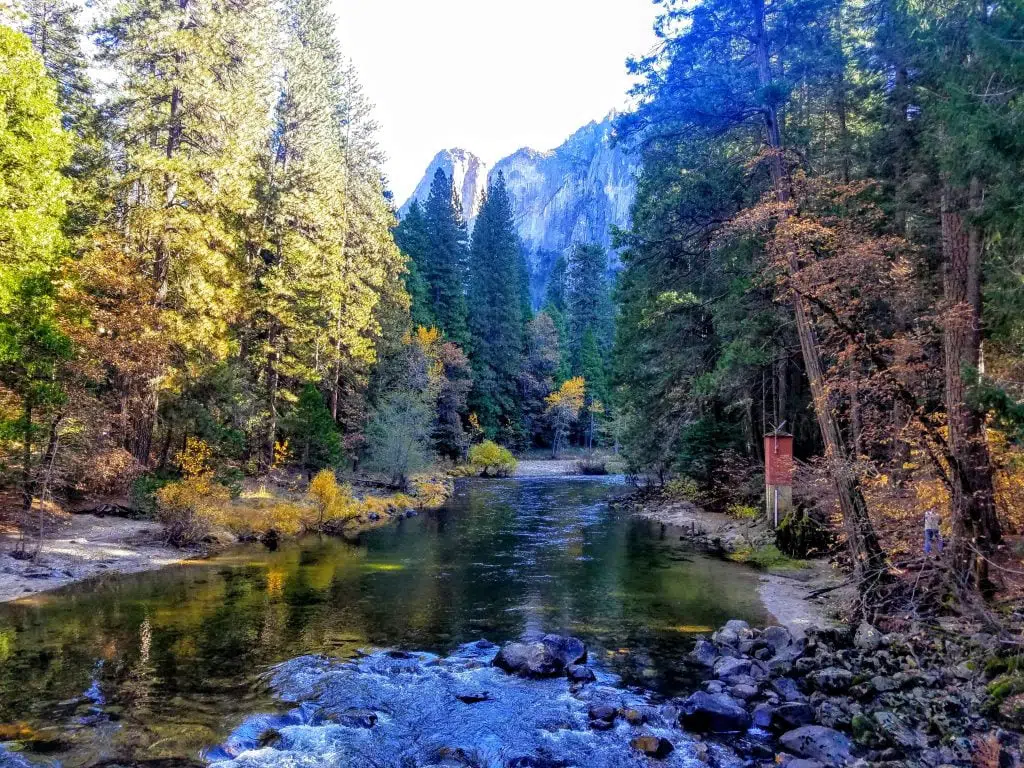 If you decide to go this route, add an extra 2-3 days into your itinerary. That's not enough time to see everything they have to offer but it should allow you to see the most iconic features of each park.
For a well-rounded trip, take Pacific Coast Highway on your way back to explore the coastal beauty of California.
Flights from Los Angeles to San Francisco
If you are traveling from LA to San Francisco on business and need to get there and back quickly, a flight is your best option. The flights are non-stop and less than two hours. It may take you longer to park and get through security than to make the trip!
LAX has flights to SFO every day and at all hours. Many airlines offer this flight path, including Jetblue, Alaska, and Delta. It's easy to fly there and back in one day if you need to.
Not all smaller, regional airports offer direct flights between these two cities. Be sure to check your regional airport before making any travel plans.
Getting from La to San Francisco by Train or Bus
A final way to travel between these two coastal cities is by train or bus. The greyhound bus is cheaper, but I don't recommend taking it unless you have no other options.
The Amtrak train, however, is a great way to travel. A round trip ticket between these two cities costs approximately $110. The shortest trip takes a little under 10 hours.
Numerous trains make this trip, including the iconic Coast Starlight, which connects Los Angeles to Seattle, and the Pacific Surfliner, which hugs the coast from LA to San Luis Obispo. You'll need to transfer in SLO to a train that continues the trip to San Francisco, as the Surfliner doesn't go all the way there.
Traveling by train is a wonderful way to go if you have free time, don't want to drive, and want to enjoy the scenery as it passes by. You can also take an overnight train and sleep during your journey if you'd rather skip most of the traveling part.
San Francisco to LA – the Journey Home
When I travel between these two cities, I like to take one way there and a different way back. I'll usually take the scenic route there and the fast way home. If you live in San Francisco and are visiting LA, you may want to do the opposite.
FAQs About getting from LA to San Francisco
How Far is LA to San Francisco by Plane?
LAX and SFO are 378 miles apart.
LA to San Francisco Flight Time
It depends on the airline, but typically between 1 hour 20 minutes and 1 hour 40 minutes.
How Long is the Ride from LA to San Francisco?
The shortest path is route 5, which will take about 6 hours to drive
How Much is a Train Ticket from Los Angeles to San Francisco?
A one-way coach ticket from LA to San Francisco on Amtrak is $54
Is Driving from LA to San Francisco Easy?
Route 5 is an easy drive. It's all freeway driving. The scenic routes are a little more complicated but well worth it.
Where Can I See the Redwoods in San Francisco, Ca?
The giant redwood forest is a sight to behold. Unfortunately, Redwood National Park is five hours north of San Francisco by car.
Melanie Allen is an American journalist and happiness expert. She has bylines on MSN, the AP News Wire, Wealth of Geeks, Media Decision, and numerous media outlets across the nation. She covers a wide range of topics centered around self-actualization and the quest for a fulfilling life.