Hey folks! Transparency Disclosure- Some of the links in this article are affiliate links. That means I'll receive a small commission if you decide to click on it and buy something. Don't worry, it doesn't cost you anything extra!
Discord is a fantastic messaging service, and one of the best things about it is how customizable it is. One amazing way to make your Discord server stand out and add a splash of personality (or branding!) is with customizable discord emotes.
The standard emoticons available in Discord are similar to those available in text messages, on Twitter, and everywhere else you will find smileys or images that express emotion. However, Discord makes your use of emojis epic!
There are a variety of ways you can use Discord emotes, and it's not just to convey a feeling. There are fun integrations, custom emojis, and even wumboji on Discord, all of which work to enhance user experience.
Here is everything you need to know about using Discord emotes on your server.
Do you use Discord? We need your help! Take this survey so we can determine which Discord bots truly are the best!
What Are Discord Emotes?
Discord emotes are fun extras that you get to add to your server for more personalization and customization. Emotes can be used for a variety of things across the discord. Many people use them like they would on Twitch or via text -basically – as a normal part of the conversation to express certain emotions. As with other messenger apps, they can be added to a line of text or used on their own as a complete message.
How Do Discord Emotes Work?
There are a variety of ways to use Discord emotes. If you want to send an emote by itself or as part of a message, all you have to do is click on the emoji icon at the far right of the chatbox. This icon changes facial expressions whenever you hover over it, so sometimes it's a smiley but it can also be a frown face, smirking, or even crying.
When you click on the icon, a pop-up will arise that has a massive list of all the emojis available for your use. The top will showcase the emotes you frequently use, and below that is a list of the emotes from all of the servers you are in, and below that are the global emotes available to everyone. The emojis that you can use will be colorful, while those that you don't have access to will be greyed out. Simply click on the emote of your choice, and it will appear in the message.
Alternatively, you can use punctuation to create an emote. The traditional smileys are easy to create using a variation of colons, semi-colons, and parenthesis. Simply typing 🙂 will create a smiley emoji, for example. More complex emojis can be typed out by typing a colon and a description of the emote. For example, the woman shrugging emote (🤷‍♀️) can be accessed by typing ":woman_shrugging". Once you start typing, a list of emotes starting with the same letters will pop up so that you don't have to type the full thing.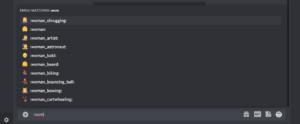 Using Emojis for Reaction Roles
Something unique to Discord is that you can also use emotes to react to messages. You can react to any message with any Discord emote that you have available to use. This is similar to the iPhone IMessage app's ability to react to messages with a few different symbols, but you can use any of the emotes available to react on Discord.
The ability to use emotes as reaction tools comes in handy when you want to integrate reaction roles into your server. Numerous Discord bots allow users to choose their own roles. This is usually done by allowing users to "react" to a certain post with a specific emoji.
The below photo is an example that illustrates using a bot for reaction roles. In this instance, users are given the ability to choose their pronouns by reacting to the message with various colored hearts. When they click on the heart that corresponds to their pronoun, they are automatically assigned a role that tells everyone else in the server what their pronoun is.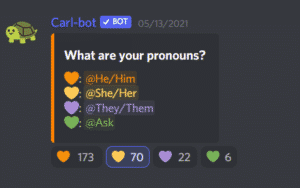 If a user wants to see what role anyone else has, they can click on their name on the right-hand side of Discord. The person's information will pop up which includes all of the roles they have on the server. As you can see, in this case, I reacted to the message with the yellow heart, and I was assigned the "she/her" role automatically.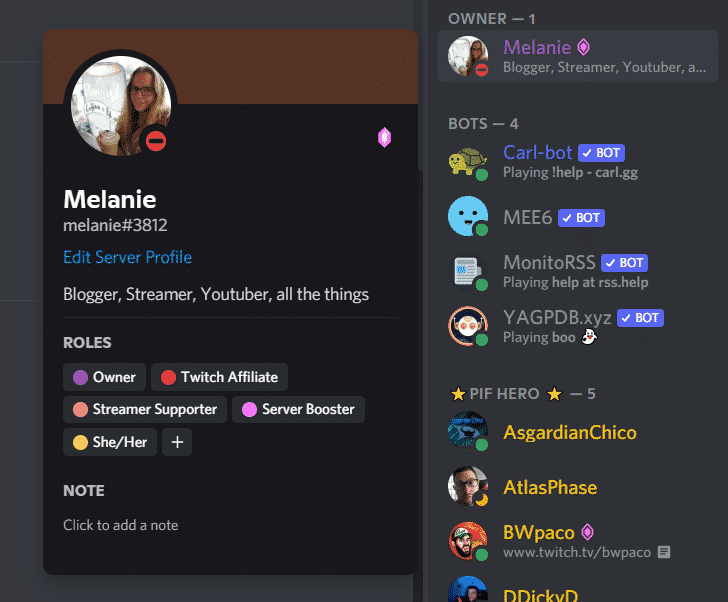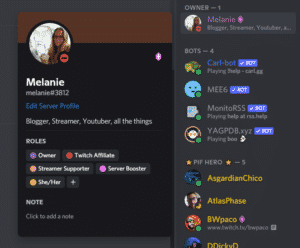 Any user can change their own assigned role at any time. In order to do so, unclick the first emote to remove the role, then click the emote which corresponds to the new role you'd like to select.
What is Wumboji?
Wumboji are emotes that are used by themselves on a chat line. If you use a singular emoji on Discord, it will appear larger than a normal one. In fact, you can use up to 27 emojis on one line and have them appear larger than normal emotes!
Here's an example of Wumboji versus regular Discord Emojis, using smileys. As you can see, when you use just one smiley face, or a group of smileys, the emote is a lot bigger than if you combine the smiley with words!


How Do I Use Custom Emotes?
One really cool thing about Discord is that you can use a variety of custom emotes in your server. Every server automatically has 50 custom emote slots. That means you can upload a wide variety of emotes that represent your brand in various fun ways.
To upload custom emotes into your own server, go to your server settings and scroll down to emotes. Under the server emoji heading, you will see a brief description of how to upload emotes.
It reads:
"Add up to 50 custom emojis that anyone can use in this server. Animated gif emoji may be used by members with Discord nitro. Emoji names must be at least two characters long and can only contain alphanumeric characters and underscores. Emoji must be under 256kb in size."
You can get more custom emotes as your server grows. Members have to opportunity to pay to boost a server, and collecting multiple server boosts unlocks more emote slots. You only need two members to boost the server to unlock an additional 50 slots at level one. It takes 15 server boosts to unlock level 2 and 30 boosts to unlock the final level. Each boost unlocks an additional 50 -100 custom emote slots for that specific server.
Unless you have Discord Nitro, you can only use the custom emotes in the server that owns them.
What Are Global Discord Emotes?
If you want to use any emote in any channel, you need Discord Nitro. This is a paid subscription that starts at five dollars a month. Your Nitro subscription gives you the ability to use any emote from any server you are a member of in any other server. This is known as a global discord emotes.
There was a lot of drama and controversy surrounding global emotes. Users found a work-around to get global discord emotes without paying for Discord Nitro. This involved integrating your server with BTTV (BetterTTV). Discord suspended BTTV's emote integration ability, which caused a huge ruckus within the community. Users were upset that they could no longer have free global emotes. Many saw it as a huge cash grab on Discord's part.
However, Discord never intended for users to get free global emotes. Discord offers a ton of services and functionality for free and only charges for a few perks. The ability to use emoticons globally is one of those perks. Discord has to make money somehow – it must cost a fortune to host all the data stored on the millions of servers out there. I completely understand their decision to shut down the ability to get one of the few paid services for free.
How Do I Make My Own Emotes for Discord?
A cool thing about Discord is that you can make your own custom emotes for use on your server. Some people have amazing graphic design skills and can craft perfect emotes with Adobe or a free program like Gimp. When making your own emotes, ensure that they are 128×128 pixels in resolution and that the file size is less than 256kb.
However, there are lots of options for those of us who aren't graphic designers. There are thousands of graphic designers all over the web offering their emote-making services. Fivver and Etsy are the top places to look for artists willing to design emotes for you, but remember to pay your artists.
You can also look to both of these websites for premade emoji packages. These are generally cheaper, and you don't have to wait for them. Once you find a package that you like, you can download them with a click of a button, then upload them to your server.
A final way to make your own custom emotes is to use an emote maker. These websites allow you to design custom emotes using a variety of pre-made components. They aren't the best emotes, but if you are building your server just for fun, it's a free way to get a few silly custom emotes. Here's one that I made in a few seconds:

There are tons of websites that allow you to turn images into emotes, create your own random emotes, or download emote templates. It's up to you to decide which types of emotes you want and whether to go with professional-looking ones or use templates.
Animoji
One final cool thing about discord is the ability to use animated emoji, called animoji. These are similar to gifs, in that they move around, but more like emojis in that, they are used to convey expressions and emotions. They can be used for all the same things that regular Discord emotes can be used for.
In order to use animated emotes on Discord, you must have Discord Nitro and you must be in a server that offers them. There are no animated emojis available for everyone (the emotes available for everyone are the general emotes you'd find with windows or on your text app), so the ones you see around Discord are custom emotes created and uploaded by users.
Emotes and Branding
A lot of Twitch streamers and gamers will upload their Twitch emotes for use on their Discord server. This allows their fans and followers to use their emotes on Discord in addition to Twitch and ensures that they are keeping their brand logos consistent across platforms.
This is important to remember if you're building a server based on a certain brand. You will want to ensure that some of the emotes you create and upload fit your brand's profile. If your server is just for fun, this isn't as important.
FAQs about Discord Emojis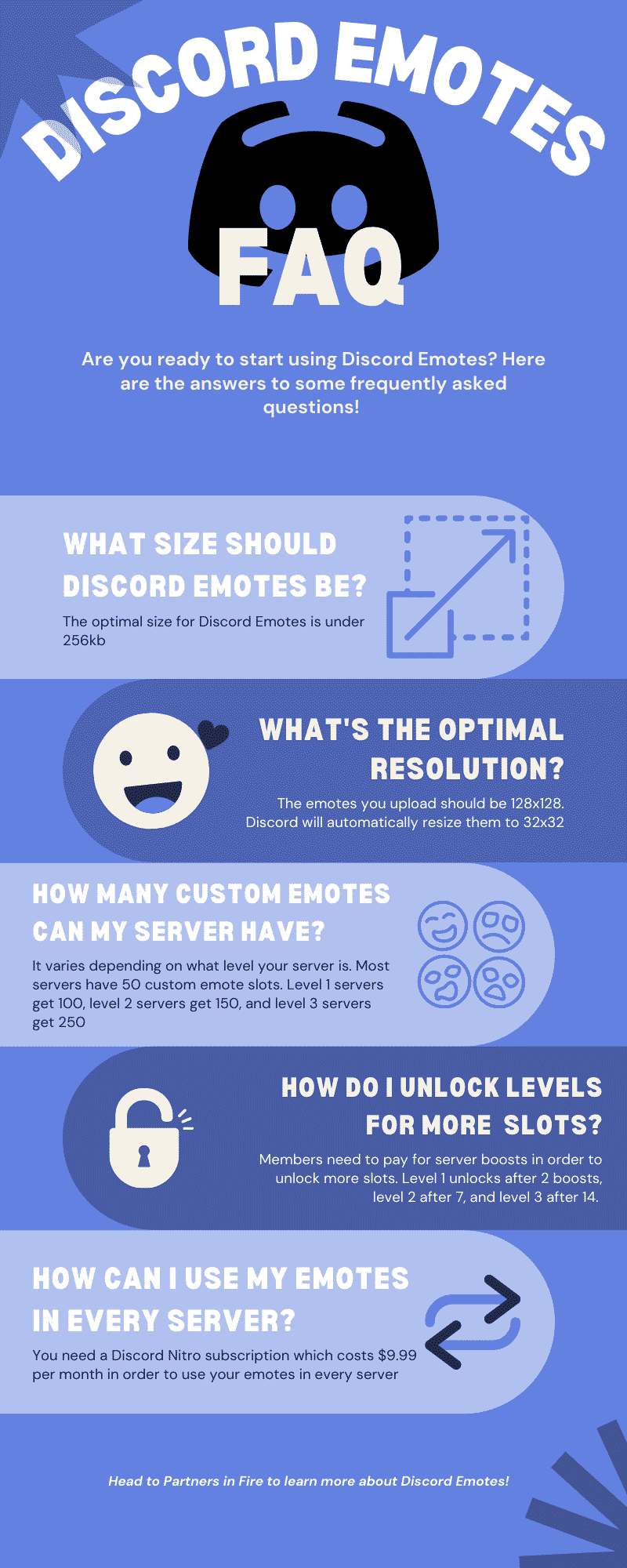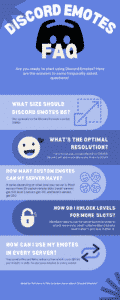 What is the Right Size for Discord Emotes?
Under 256kb
What's the Optimal Resolution for Discord Emotes?
The optimal resolution for uploading emotes is 128×128 pixels. Discord will resize your image to 32×32 pixels.
How Many Custom Emotes Can my Server Have?
No Level – 50
Level 1 – 100
Level 2 – 150
Level 3 – 250
How Do I Unlock Levels to Get More Custom Emotes?
Server boosts. Level 1 unlocks after two boosts, level 2 unlocks after 7, and level 3 unlocks with 14 boosts.
How Can I Use My Emotes in Every Server?
You need a Discord Nitro subscription to use your custom emotes globally.
What Other Questions Do You Have about Discord Emotes?
I hope this answered all of your pressing questions about Discord emotes, but if there's anything else you'd like to know, please leave a comment, and I'll add the answer to the FAQ!
Melanie launched Partners in Fire in 2017 to document her quest for financial independence with a mix of finance, fun, and solving the world's problems. She's self educated in personal finance and passionate about fighting systematic problems that prevent others from achieving their own financial goals. She also loves travel, anthropology, gaming and her cats.