Discord is one of the fasted growing messaging apps out there. Although it originally started as a place for gamers to gather and communicate for online play, it quickly morphed into the go-to messaging system for thousands of people.
Users can find servers about nearly any topic they desire, from personal finance to gaming, anime to life coaching.
Every user can get Discord's basic functionality for free. However, the platform offers a premium service with various perks and bonuses: Discord Nitro.
What is Discord Nitro
Discord Nitro is Discord's premium service and one of the top ways the popular messaging app makes money. Users can upgrade to Discord Nitro to receive perks, bonuses, and extra features that aren't available to free users.
The great thing about Discord is that they allow everyone to access the basic functionality for free. Nobody needs to pay for Discord. However, users who want fun features, cool functions, and more of the swag they've come to love from Discord can pay a nominal monthly fee to get it.
What Does Discord Nitro Get You?
Discord Nitro provides users with various extras, which differ based on your chosen subscription plan. Discord only had one premium offering in the past, but they rolled out new tiers in October 2022 to give users more options.
The extra features you get with Discord Nitro depend on your chosen plan.
Nitro Basic
Nitro Basic in the new plan Discord rolled out in 2022. It offers users one of the top perks of Discord nitro for a lower cost.
Here's what you get with Nitro Basic:
50mb uploads

Custom Emoji Anywhere

Custom stickers + Nitro exclusives

Special Nitro Badge on Your Profile

Custom video backgrounds
The ability to use custom emotes anywhere in Discord is one of the top perks of Nitro Basic. Users love to share their favorite emojis in all of their servers, and Discord offered them a lower-cost way to do it.
Nitro basic only costs $2.99 per month.
You May Also Like: 40 Proven Ways to Get More Twitch Viewers
Discord Nitro
Discord Nitro is the original plan. It costs $9.99 a month and offers far more than the basic subscription.
Here's what you get with a Discord Nitro Subscription:
500mb uploads

Custom emoji anywhere

Custom stickers + Nitro exclusives

HD video streaming

2 server boosts + 30% off additional boosts

Custom profiles

Access to more activities

Animated avatar, profile, and custom tag

Custom server profiles

Custom video backgrounds

Join up to 200 servers

Longer messages up to 4,000 characters
A full Discord Nitro subscription offers users a wide range of extras. Power users may love the ability to send longer messages (free users are limited to 2000 characters) and stream in HD. Server owners might want it for the custom server profiles and free boosts (rather than paying separately to boost their server.)
Nitro Classic
With the arrival of Nitro Basic, Discord retired its Nitro Classic plan. However, users who were on the plan and wanted to keep it were grandfathered in.
Also Read: How to Find the Best Communities on Discord
How Much Does Discord Nitro Cost?
Discord Nitro's cost varies depending on whether you choose a monthly subscription or pay for the whole year.
Discord Nitro Basic Cost
Nitro Basic costs $2.99 per month or $29.99 per year. Subscriber's opting to pay yearly will save $5.89 on their subscription over the year.
Discord Nitro Cost
A full Discord Nitro subscription costs $9.99 per month or $99.99 per year. Users who pay for the entire year will save $19.89 on their Discord Nitro subscription.
Why Did Discord Change its Nitro Offerings?
According to the October press release, Discord changed its Nitro offerings to "better serve the needs of our growing user base." The new plan offers a selection of users' favorite nitro features at a fraction of the cost.
We suspect this change will tempt more users to purchase a premium subscription, as the ability to use custom emotes everywhere is extremely popular. The lower price to access this feature may be attractive to many users.
Can You Get Discord Nitro For Free?
Discord users get flooded with private messages claiming they can get Discord Nitro for free. More often than not, the message came from a nefarious bot attempting to spam users or access their private information. Never trust a random message claiming you can get Discord Nitro for free.
You can, however, gift Discord Nitro subscriptions to users. If you receive Discord Nitro for free as a gift, ensure you verify it's legitimate and only accept from trusted sources.
The best way to get Discord Nitro is to pay for it. Discord offers a wide range of functionality, even for its free users. The small fee for the fun perks Discord Nitro offers is more than worthwhile for those who frequently use the messaging app.
Bot Integration
Some bots and third-party platforms may offer functionality comparable to Discord Nitro, but we don't recommend using them. If you want the services provided by Discord Nitro, you should pay for them.
You should integrate Discord bots into your server if you want to add additional functionality not offered by Discord, such as games, extra moderation, tracking, and more.
Read Next: Why MEE6 is the Best Moderation Bot for Discord
Is Discord Nitro Worth the Cost?
If you love Discord, the paid premium offering is worthwhile. Most users will get everything they want with the basic subscription, which is so cheap that it's almost silly not to buy it. It's also a great way to support one of the best messaging apps on the internet.
Discord Nitro's full plan is a little more pricey but worthwhile for those who own servers and spend a lot of time on Discord.
How To Get Discord Nitro
Are you ready to dive in and explore what Discord Nitro offers?
You can purchase Discord Nitro either through the website or through the App.
Subscribing Via the Website
Head to the Discord Nitro page and hit the "subscribe" button for the Nitro offering that best meets your needs. If you have the app, a message will pop up asking whether you want to continue in the app, but you can opt to use the browser.
Once you log in, you'll be taken to a page where you can manage, purchase, or gift your subscriptions. When you hit subscribe on either plan, you'll be given a final opportunity to select your subscription tier before the payment screen pops up.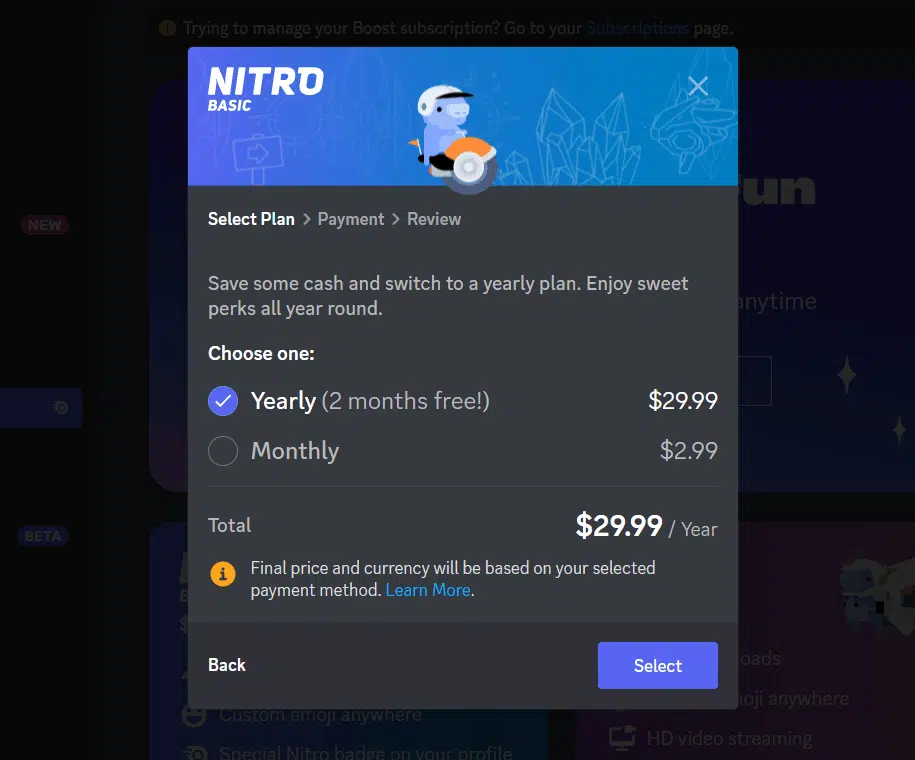 You can select whether you want a monthly or yearly subscription on the payment screen. Once you decide, hit "select" to complete your transaction.
Subscribing Via the App
While in the app, select the Discord icon in the far upper left-hand corner of your screen. It will be above all your servers. Your direct messages or friends list will typically appear on the main screen first.
When you look to the left, you will find a column listing all your previous conversations. Above that, you will see two options. One says "friends," and below that, you will see "Nitro."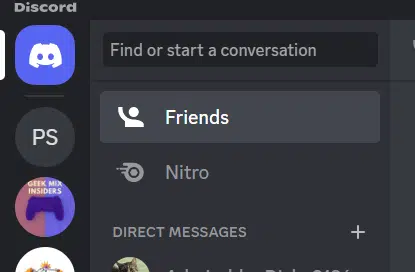 Selecting Nitro will take you to the in-app Discord Nitro page, where you can manage your subscriptions or make additional purchases. Select the nitro options you want, and follow the prompts to continue to payment.
Alternatively, you can select the gear in the far lower-hand corner of your Discord app screen to visit the "user settings" page, where you will find a list of options. You will find "Nitro" and "Subscriptions" under your billing settings.
Canceling Discord Nitro
To cancel a subscription, you will need to navigate back to the Discord Nitro page, either in the app or on the website. Once there, you will see a banner at the top, offering a link to the "subscriptions page" where you can manage your subscriptions.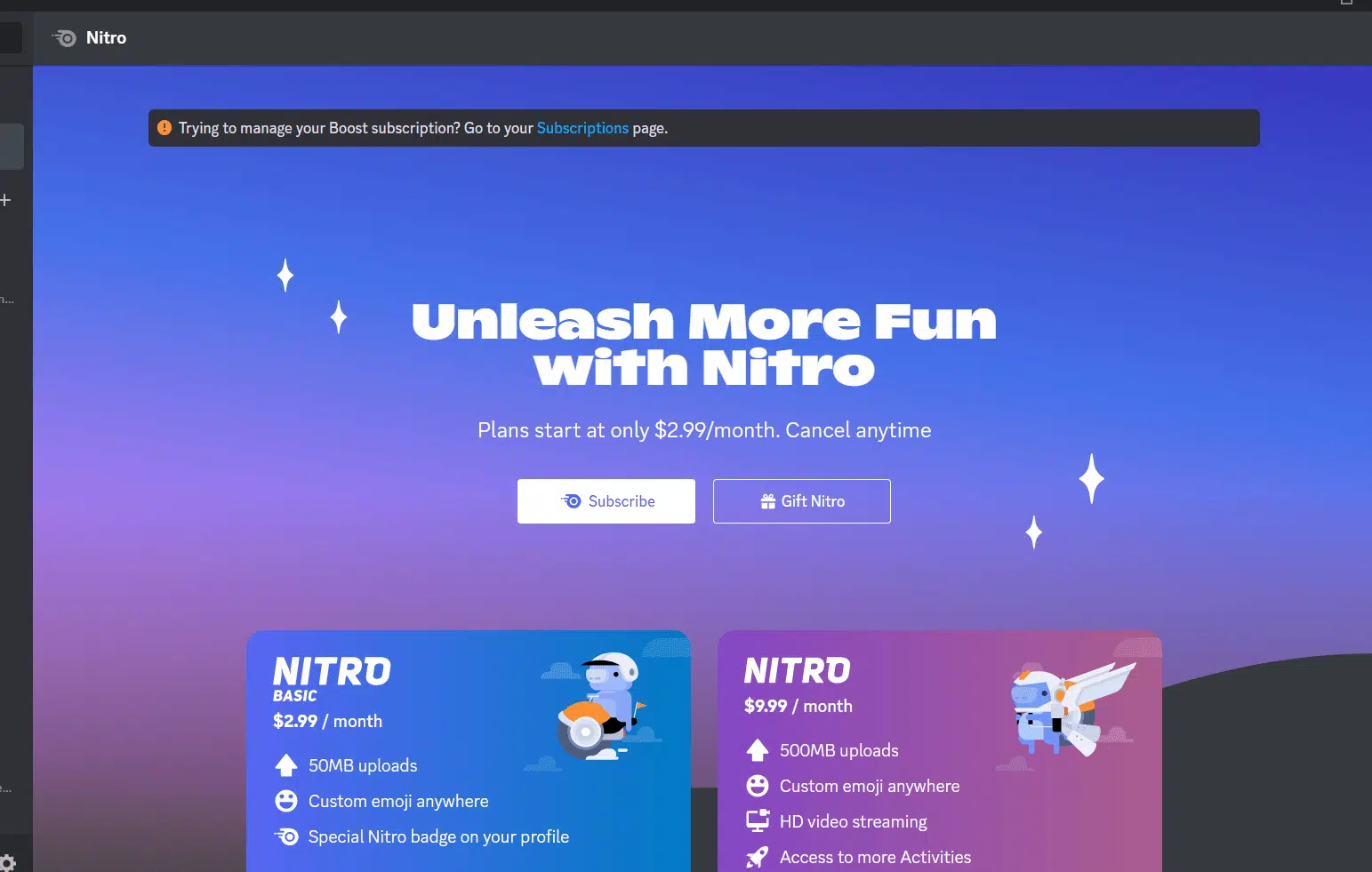 Discord Nitro is a Great Option
Discord Nitro is everything we want to see in a premium subscription offering. It offers users cool perks and bonuses but doesn't gatekeep the app's core functionality.
It's an excellent product for those who want to show swag on Discord and those who wish to support the popular messaging app.
Melanie launched Partners in Fire in 2017 to document her quest for financial independence with a mix of finance, fun, and solving the world's problems. She's self educated in personal finance and passionate about fighting systematic problems that prevent others from achieving their own financial goals. She also loves travel, anthropology, gaming and her cats.