Shopping for a new journal isn't as easy as it appears. There are many different types of journals, but there are also different styles of journals as well. Some are versatile, lending themselves to a variety of uses, while others are narrowed down to a specific niche or purpose.
Here's everything you need to know about the different styles and types of journals to get the perfect journal for your needs.
Styles of Journals
First, you need to pick the correct journal style. You can choose from three main styles of journal: the lined journal, the blank page journal, and the bullet journal.
A blank journal in any of these styles can be anything you want, but some are better suited to particular types of journals than others.
Lined Journals
Most people think of a traditional lined journal when they think journal. It's your typical diary-style journal with lined pages for writing.
Lined journals are versatile and easy to use for almost anything.
However, they typically don't offer extra inspiration, include prompts, or help you along your journey. Many of the types of journals on this list are lined journals with goodies to support your specific needs.
Blank Page Journal
A blank-page journal is better than a lined journal if you want to add sketches and drawings to your journal. Some of us use our journals for doodling, and it's far more fun if you don't have lines blocking your way!
The disadvantage of a blank journal is that writing in a straight line is challenging for some. Line journals provide more structure for even writing but aren't the best for artistic ventures.
Bullet Journal
A bullet journal contains pages filled with little dots, or bullets, in a grid. These bullets help you design your perfect journal.
You can draw lines using the grid, but you can also use it to create a planner, to-do lists, and even doodle without bold lines getting in the way.
Bullet journals are all the rage, and they are fantastic for folks who want a blank template to design a unique journal fitting their individual needs.
One of the great things about bullet journals is that you can use them for nearly anything. However, a few kinds of journals lend themselves to bullet journaling rather than the other journal styles.
As you'll see below, a bullet journal is typically best when creating productivity journals, planners, and tracking journals.
20 Types of Journals to Keep
Varying styles of journals are best suited to different types of journals. Bullet journals are best for planning, time management, tracking, and other essential life tasks, while blank journals are ideal for artists, sketching, or memory keeping.
Some lined journals offer prompts, images, quotes, and other design elements specifically related to a niche purpose, giving you even more inspiration to kick off your journaling journey.
Here are the different types of journals to explore, grouped by which journal style is best for that particular need.
Remember that journaling is personal. No rule states you must use a bullet journal for productivity or a blank journal for art.
You can use any style of journal for anything you want.
Bullet Journals are Best for these 7 Journal Types
Productivity Journals
Productivity journals help you stay motivated to achieve your goals. They allow you to keep track of task lists, block your time, and visualize your progress.
This type of journal is ideal for folks who need to visualize their goals or get immense satisfaction from checking things off a to-do list.
Planning Journals
Planning journals help you plan your days, weeks, and even months. Many create monthly spreads in their bullet journals to keep track of appointments, chores, and activities, while others make weekly spreads to monitor assignment due dates and keep track of their week at a glance.
Planning journals are great for families. You can create chore charts and see where everyone needs to be in one easy-to-use resource.
They're also great for folks who love outlines. Planning journals can help you plan a trip, a move, or a big project at work, but they can also help you plan your days, weeks, and months. The versatility is a big bonus.
A standard planner may better suit your needs if you're primarily concerned about keeping track of schedules and daily plans. The benefit of a planner is that you don't have to draw anything, but you lose the ability to create unique spreads.
Tracking Journals
Journaling is a great way to track anything, from goals to bodily functions to natural occurrences.
Many use their journals as mood trackers, fitness trackers, cycle trackers, and even to keep tabs on the weather or moon phases.
A bullet journal works best for tracking because you can draw a simple chart, illustrate your progress visually, or make complex tracking templates filled with keys representing various activities.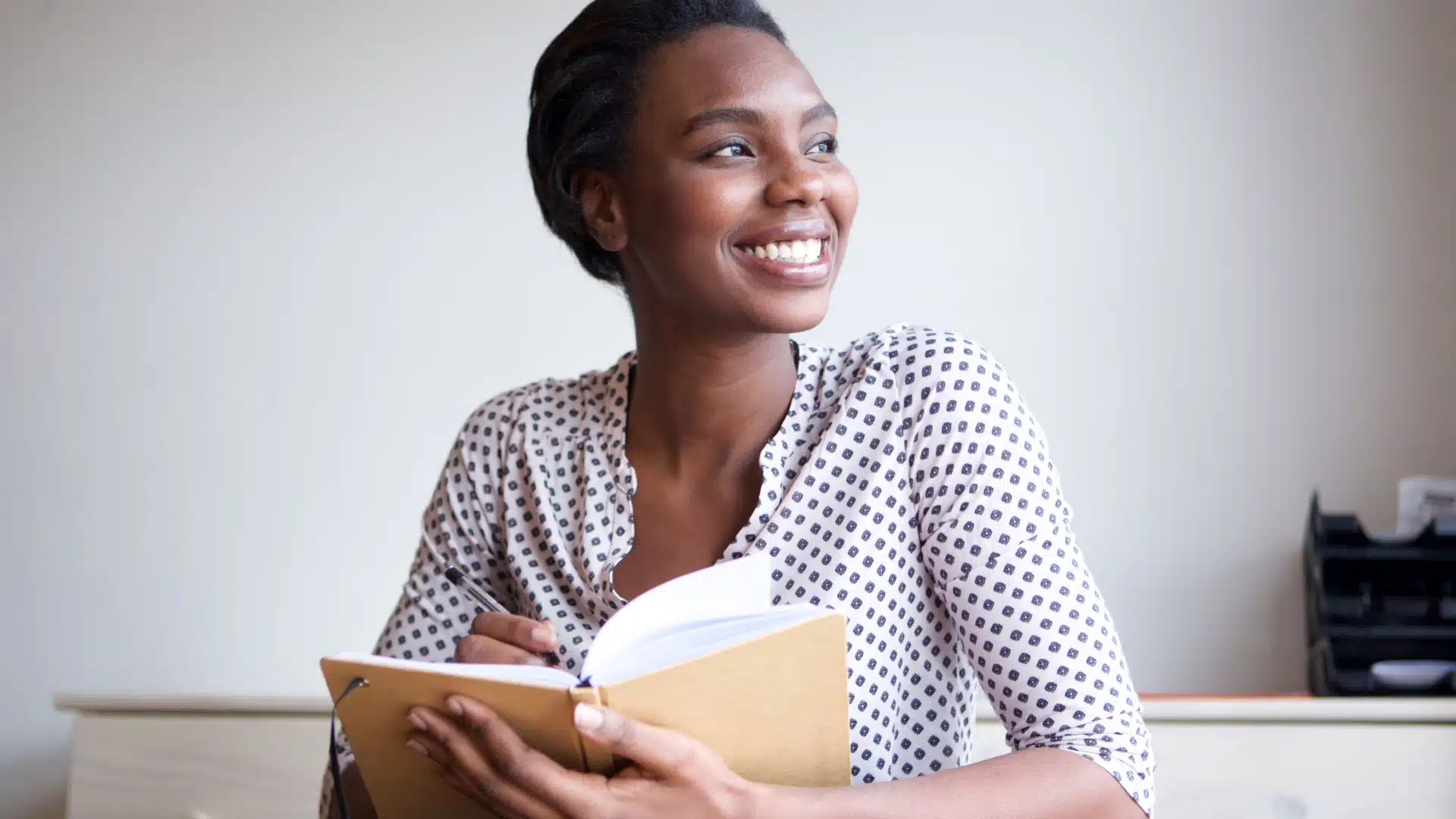 Project Journal
A project journal can help you manage all aspects of a complex project. Use it to outline project phases, assign tasks, track progress, and keep notes related to completion.
While project journals are ideal for work, they can also be used for complex personal projects, like a big move or a home remodel.
Money Journal
Keeping track of your finances is essential, and a money journal can help. This type of journal can help you develop a budget, track your spending, and create a progress report for long-term financial goals.
A money journal lets you consider what you want from life and develop a financial plan to achieve those goals.
Bullet journals are well suited for money journaling, as they offer space to create the unique charts you need to keep tabs on cash flow. Those wanting to do a deep dive into their relationship with money can use prompts to better understand their financial goals right in the bullet journal pages.
Check out our money dreams journal prompts available on Etsy.
Food Journal
Food journals can help you on your weight loss journey. In this type of journal, you write down your meals, including everything you ate for breakfast, lunch, dinner, and snacks. You also record the calories to get an idea of how many calories you consume each week.
The best food journals also allow you to write down your daily exercise. The key to losing weight is calories in versus calories out, so the food is only half the journey. You can get free printable food journal pages on WebMD to help you along your journey.
If you don't want to create your own food journaling spread, consider the Life and Apples Wellness planner on Amazon. It's a bullet journal style with premade prompts and templates.
The Everything Bullet Journal
The best thing about a bullet journal is its versatility. If you opt for a bullet journal, you can combine numerous types of journals into one.
Create a weekly spread with your daily schedules and a habit tracker. Incorporate your fitness goals into your productivity journal along with your work goals.
There's an endless supply of ideas for your bullet journal. The only limit is your imagination.
10 Types of Journals Best Suited for Lined Journals
Lined journals are best for diaries, introspection, and traditional writing. Though your lined journal can be anything you want it to be, some lined journals offer prompts or inspiration related to a specific goal.
Here are some niche journal ideas that work well with lined journals.
Gratitude Journal
A gratitude journal is explicitly designed to help you embrace gratitude and thankfulness.
Although you can use any journal as a gratitude journal, those who need help getting started or discovering things to be thankful for can purchase one that includes prompts, quotes, and ideas designed to inspire daily appreciation.
Some offer tips for showing gratitude to the important people in your life and pausing to appreciate all the good things around you.
Best Gratitude Journal
Promptly Journals has a beautiful gratitude journal that will help you realize all the beautiful things you have going on in your life and enables you to be thankful for those things.
Diary
A diary is a specific type of journal that allows you to record your thoughts and feelings for a particular day and time. Many people also use their diaries to record important events in their lives and their corresponding emotions.
The great thing about a diary is that there is no right or wrong way to use one. Write whatever you want in it. Use it to tell a story about your day or explain why you feel a certain way about a specific event. Write letters to your past or future self, explaining how you feel. The options are endless.
Diaries can help us work out complex feelings we didn't know we had or simply allow us to record the happenings in our daily lives.
Self-Help Journals
Self-help journals assist you on journeys of self-discovery. Use them to reflect, work out your emotions, or engage in shadow work.
Sometimes, therapists recommend their patients keep a journal to help them work through grief, trauma, or complex emotions. The self-help journal is typically best for this type of work.
The best self-help journals are simple lined journals offering space to work out your inner turmoil. Consider grabbing a blank-lined journal and using journal prompts to assist you in your journey of self-discovery.
Check out our self-discovery and introspection journal prompts on Etsy for some inspiration.
Travel Journal
If you want a journal that will help you remember your travel experiences, keep track of your bucket list destinations, and help you find new and exciting places to visit, you need a travel journal.
Travel journals come in many shapes and sizes. Some prefer a tiny pocket-sized journal that fits easily in any suitcase, while others want something with prompts and ideas to help them plan adventures.
Those bringing the journal along for an adventure should consider durability. Get something with a hard cover that won't get destroyed if shuffled around in your backpack.
Best Travel Journals
Ideas Journal
Use your journal as an external storage drive for your head with an ideas journal. Record your story ideas, the things you want to follow up on, and your next big project ideas. Flesh them out on the pages of your idea journal to determine what will work and what won't.
You can also use an ideas journal to brain dump. Get everything out of your head and down on paper to determine which ideas need your focus and which can wait for later.
Creative Writing Journal
If you love writing, consider keeping a creative writing journal. Record your best story ideas and get an outline going in your journal pages.
Write poetry in the pages or get the first draft of your first story down on paper. Jot down notes whenever inspiration strikes, or use the journal to refine your writing skills.
Check out our creative writing prompts on Etsy for a head start on filling yours.
Grief Journal
A grief journal helps you heal from a traumatic event. These events might include losing a loved one or difficulty starting a family. Grief journals contain prompts to help you work through the complicated emotions inherent in loss.
While it's heartbreaking that this journal is needed, many of us experience loss. A grief journal can help us process that loss.
Best Grief Journals
Meditation Journal
A meditation journal will help guide you through your meditative process. Some might have prompts for setting intentions for your meditation, while others may ask that you reflect upon your thoughts while meditating.
A great way to get into the process of journaling for meditation is by joining Silk & Sonder's journaling club. Their subscription-based journaling program includes access to their app, a member's only community, and daily affirmations and exercises to help you on your journey. You will also receive a themed journal in the mail each month!
Dream Journal
A dream journal helps you remember and understand your dreams. Writing your dreams when fresh in your head is the best way to remember them, so keep a dream journal under the bed. Grab it first thing in the morning, and write down everything you remember from the night's escapades.
After writing the details from your dream, consider what they might mean. Dig deep to analyze the messages your subconscious was trying to tell you.
A dream journal may include prompts, whimsical imagery, or notes on how symbolism works in dreams.
Best Dream Journals
Pocket Journal
A pocket journal is a small journal that fits in your purse or pocket. These journals allow you to jot down notes, ideas, and inspiration as it strikes.
All too often, our best ideas hit us when we're far from our notepads at home. Grab a pocket journal to record these strokes of genius wherever they hit.
3 Types of Journals Well Suited for Blank Page Journals
Blank-page journals offer a completely blank slate. They don't have lines for writing or laser dots for creating charts.
You can use them for anything and everything, but three types of journals work best with blank pages.
Memory Journal
A memory journal can help us remember important events in our lives. It's akin to a diary, where you write down what you want to remember, but it should be much more than that.
A memory journal is a cross between a journal and a scrapbook. Use it to record significant events, doodle, and store memorabilia like concert tickets.
The blank pages make it easy to tape or glue in photographs or ephemera while also providing room to jot down notes, write captions, and record your thoughts and feelings about particular events.
The great thing about a memory journal is that it can be whatever you want. You can get a blank journal and use it as a memory journal, or you can go to a craft store like Michaels for some scrapbooking stuff and turn your memory journal into an image-filled scrapbook.
Journaling is a personal experience, and the right way to do it is whatever way works for you.
Scrap Book Journal
Scrapbooks are a particular type of memory journal focused more on photos and mementos from important events in your life than writing.
Scrapbook journals take a little more than pen and paper. Many like to include stickers, stamps, washi tape, and craft paper to make their memories come to life.
You must also collect photographs and scraps related to special events to fill your scrapbook journal.
Art Journal
Artists and creatives use art journals to jot down ideas and sketch prototypes. These journals are made for doodling!
Sometimes artists want to do a quick sketch of an idea they were considering or write notes about the next masterpiece they will create. A journal is perfect for artists to collect their thoughts and keep their projects on track.
Traditional, unlined journals are best for art journals, but you must be careful about which you choose.
Art journal paper is generally thicker than the paper in traditional journals, allowing you to experiment with different mediums on the journal pages without ruining the book.
Great Art Journal Options
6 Examples of Niche Journals You Can Explore
There's a specific type of journal for nearly everyone. Here is a small collection of fun niche journals to give you an idea of the various journaling options available.
Junk Journal
A junk journal is a journal you can make from stuff you find around the house. Use paper scraps, cardboard, poster board, and notepads to create a journal that is uniquely yours.
Junk journals are fun because you get a bonus crafting activity with them. Many people use their junk journals as art journals or diaries, but your imagination is the only limit.
Hobby Journals
Thousands of hobbies lend themselves to journaling. Here are some examples of using a journal to track and appreciate different hobbies:
There's a way to incorporate journaling into any hobby you enjoy. It offers a fantastic way to track things, keep track of your progress, and look back at where you were at any given point in the past.
The best hobby journal depends on your hobby. Artists may prefer an art journal, but collectors may want to create unique spreads in a bullet journal. Photographers may find that a scrapbook journal best suits their needs.
The Stuff I Hate Journal
Emily Rose created a niche journal to flip the script on traditional journaling. Many journaling proponents embrace positivity, growth, and development.
While those are fantastic goals everyone should strive for; sometimes we need to vent. Life isn't always rainbows and butterflies, and everything isn't positive all the time.
Rose considered these competing thoughts when creating The Stuf I Hate Journal. The journal throws positivity out the window and allows users an outlet for the rage, snark, and negative feelings everyone experiences. It's an excellent tool for shadow work, venting, or allowing yourself to dislike things.
Grimoire
Witches need journals too. A grimoire, or Book of Shadows, is a witch's journal filled with spells, charms, and ideas to help a witch refine her craft.
Many practicing witches craft their own grimoires, but those dabbling in the craft may prefer something that comes prefilled with prompts, charts, and guides to help them get started.
The Grimoire Journal on Amazon is a perfect choice!
A Hunter's Journal
Niche fandoms can produce entertaining resources. The hit show Supernatural spawned a new genre of journaling: The Hunters Journal.
A Hunter's Journal is just for fun. It's a fictional resource allowing users to pretend to hunt the supernatural beings found in the show. Some may contain dictionaries of the creatures or hints about defeating them.
Although this is just for fun, it also showcases that there are journals for everything you can imagine.
Bonus: Real Hunter's Journal
Though the Supernatural Hunter's journal is just for fun, those who enjoy hunting as a real hobby can also benefit from journaling.
Hunter's logs allow hunters to record details of their hunts, helping them remember the most successful setups and the best hunting conditions.
Grab a real Hunter's Journal on Amazon.
Journal Without Writing – the Video Journal
Writing isn't for everyone, but that doesn't mean you can't reap the benefits of journaling. If you don't enjoy journal writing, consider making a video journal instead.
Grab your webcam and microphone and spill your guts out. Talk to yourself about anything and everything, and get those complex feelings out of your head and onto the screen.
Scholarly Journals
Scholarly journals are a very different type of journal. They showcase the latest research from scientific communities and allow scientists to communicate their findings with other scientists and the general public.
Scholarly journals include scientific journals, medical journals, and research journals. These peer-reviewed journals are essential for building scientific consensus and understanding the world's workings.
Scientists in most fields use scholarly journals for research and to develop their own theories based on the work of others. Getting published in a prestigious journal is a top career goal for many scientists.
Check out this website if you're looking for information on scholarly research!
Bonus: All-in-One Planner/Journal
All-in-one notebooks are a cross between a journal and a planner. These have schedules, calendars, task lists, and extra room to write out your daily thoughts, all built right into the pages.
These all-in-ones are mostly planners but also have loads of extra space for journaling. They are ideal for those who only want to keep one book but don't want to draw out their own spreads like in a bullet journal.
Best All-in-One Planners
My favorite all-in-one is the All-in-One Planner from Ivory Paper Co. Remember that these resources are planning-focused and ideal for those looking to add a bit of journal writing to their planner.
A Journal For Everything
Journaling is a great habit to get into, regardless of why you choose to start. Hopefully, this post gave you fabulous inspiration and ideas on why you should start journaling.
The best thing about journaling is that there's something for everyone. There is a specific journal type to fit many different needs. There may even be more niche journals that we haven't yet discovered!
A regular lined or blank journal is the perfect fit if you're unsure where to start. Grab one and start writing today!
Melanie launched Partners in Fire in 2017 to document her quest for financial independence with a mix of finance, fun, and solving the world's problems. She's self educated in personal finance and passionate about fighting systematic problems that prevent others from achieving their own financial goals. She also loves travel, anthropology, gaming and her cats.